It's gonna be kinda hard to review Wrestlemania 27, because I ended up only catching half of it but I'll do my best. Crucially I'm aware that you're all dying to see how my predictions matched up to the reality, so it's kind of my duty to do it anyway. If anyone cares as to why I didn't watch it, my two friends who said they would probably go to Walkabout with me and watch it bailed, so I went for some beers in Sutton Coldfield with my buddy Dirty Otter in the hopes I might be able to convince him to go into Birmingham for it. Didn't work out and we ended up at Rosie's drinking £1.50 drinks with about 6 other people and a DJ who only played Rihanna songs. I also thought Wrestlemania started at 1, not 12, so figured if I got back at around 2:30 I'd be able to see most of it. Clearly I was wrong. However, from what I've heard it doesn't sound like I missed much: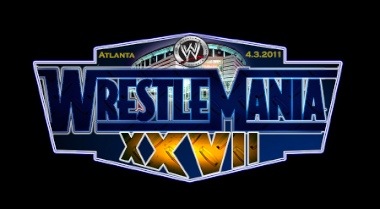 UNITED STATES TITLE MATCH SEAMUS V DANIEL BRYAN – This match didn't even make it onto Wrestlemania as it was so crap and it actually turned into a Battle Royale halfway through and The Great Khali ended up winning the title!? What!? I'm gonna give myself a win for this as I did say that Bryan would win and there would be a new champion, and when something as dumb as this happens you can't really predict it. If anyone has a problem with this let me know and I'll send The Great Khali round to batter you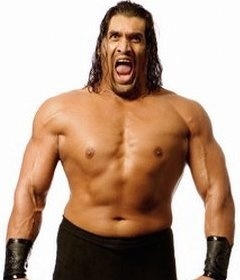 WORLD HEAVYWEIGHT CHAMPIONSHIP MATCH EDGE V ALBERTO DEL RIO – I got this one wrong, as Edge managed to beat Albert Rio. Damn. 1-1. But seriously how stupid is it that this match opened up the show?? Del Rio won the Royal Rumble, surely he and the World Heavyweight Championship should get more respect than that with a place higher up the card? Guess not.
CODY RHODES V REY MYSTERIO – nailed this one with Rhodes beating Mysterio with some kind of screw job I think. Apparently it was a good match too, which I also predicted. 2-1. Here's a cool picture from the match, looks like Rey got hit pretty hard there: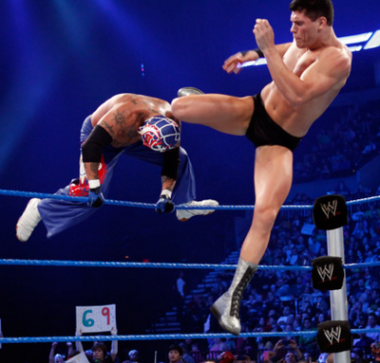 THE CORRE V KANE, BIG SHOW, SANTINO MORELLO AND KOFI KINGSTON – apparently Vladmir Kozlov couldn't make this match for some reason and so Kofi Kingston stood in for him, which probably shows how important/relevant this match was. This was further exemplified by the fact it was over in two minutes, with the Corre pretty much being destroyed by the other wrestlers. Damn, got that one wrong. 2-2
RANDY ORTON V CM PUNK – Randy Orton pulled this one out of the bag in another good match. Predicted that too. 3-2
JERRY THE KING LAWLER V MICHAEL COLE – Predictably The King picked up the win and beat the shit out of Michael Cole, and then Austin did the stunner on everyone except The King and they celebrated together and drank beers on the turnbuckles. So predictable but probably still pretty fun. Everybody loves a good stunner.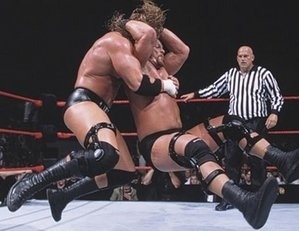 However, after the match the Raw General Manager (what!??!) reversed the decision because Austin had got involved in the match….this is bullshit so I'm counting Michael Cole tapping out as the win. 4-2
HHH V UNDERTAKER – I started watching around here. This was a pretty exciting match with a lot of near falls. Undertaker kicked out three pedigrees and a tombstone. Yeah, HHH tombstoned him – mad lolz. The ending was utter bullshit though with a battered Undertaker somehow managing to lock some kind of chokehold on HHH leading to him tapping out just before he passed out. Lamest ending ever. Great match though. And another correct prediction 5-2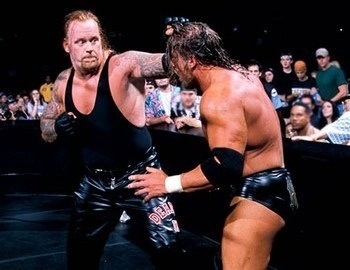 TRISH STRATUS, SNOOKI AND JOHN MORRISON V MICHELLE MCCOOL, LAYLA AND DOLPH ZIGGLER – It was pretty stupid that this match was so high up the card but I guess Wrestlemania needed something dumb to come down from the epic violence in the Undertaker V HHH match previously. Snooki was actually pretty good and hit a back flip into a butt thump on Michelle McCool so mad props for that. Predictably her team won, so that makes it 6-2.
WWE CHAMPIONSHIP MATCH JOHN CENA V THE MIZ – This match actually ended with a double count out. What bullshit. But fortunately special guest host The Rock came out and made it no DQ and demanded that they continue! Alrite! But then he just Rock Bottomed John Cena and The Miz pinned him. Then The Rock did the People's Elbow on The Miz. Dumb. I guess this was mainly to get people like me who tune in simply for Wrestlemania to get watching Raw again because The Rock might get back into the ring to wrestle John Cena sometime soon. Sorry, not gonna happen. Still my prediction held up so that's 7-2.
John Cena's entrance was perhaps the dumbest thing I have ever seen in wrestling, as he was joined by a gospel choir of about 100 black people singing and clapping followed by some dumb promo about God and then Cena sprinting into the ring – I guess this was sucking up to the 'black church culture' that is prevalent in Atlanta. It was so long that I went out for a smoke and by the time I got back Cena still hadn't come out. Check out a video of the entrance below (sorry for the shitty quality, best I could find):
httpv://www.youtube.com/watch?v=G-5ZDdesP1w&feature=related
Overall, I was pretty underwhelmed with what I saw of Wrestlemania and was pretty glad I didn't bother to watch it all or pay for it like a chump (although my streams were pretty crappy). Admittedly, it would probably have been a lot more fun getting wasted and watching it with a bunch of buddies and wrestling geeks at the Walkabout – essentially though it still would have been crap. Importantly, despite not knowing much about any of the wrestlers or the storylines I was still able to go 7-2 on my predictions, which I guess just goes to show that wrestling is constantly recycling the same old tired storylines. If you've got an issue with how I scored my predictions, well, IT DOESN'T MATTER WHAT YOU THINK