Wrestlemania 27 Preview: If you've been tuning in to Sick Chirpse for a while then you probably remember one of the most popular articles we ran in February where I talked about The Rock's return to WWE Raw, and how he was scheduled to be the guest host of Wrestlemania 27. Of course, this was pretty exciting to me and a lot of other people I grew up with who used to spend their days playing WWF (it was WWF back then) Attitude on our N64's and shouting at each other saying dumb stuff like 'it doesn't matter what you think' and I thought maybe I would try and catch a few episodes of Raw in the buildup to Wrestlemania to really get into it. Of course this didn't happen, but I did make a mental note to try and catch the event on April 3rd.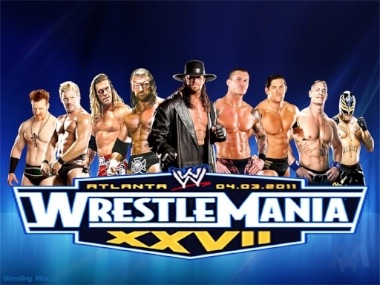 And now it's April 3rd. I'm in Birmingham and there's a party going on at Walkabout. Yeah, Walkabout. Should I go down? Admittedly it would be funny to watch Wrestlemania with a bunch of drunk students/wrestling fanatics/weirdoes on Broad Street but is it actually worth it? Glancing over the card, I barely know any of the wrestlers and none of the matches sound particularly interesting, I mean there aren't even any gimmick matches or a TLC match….I thought there HAD to be a TLC match at Wrestlemania these days. Anyway, I'm still undecided about whether I'll even go, but here are the matches and my (relatively useless) thoughts on each:
WWE CHAMPIONSHIP MATCH
THE MIZ VS JOHN CENA
The last time I watched WWE The Miz was some annoying little fvck who was in a tag team with some other dude and used to come down before matches and say 'I'm the Miz and I'm awesome.' I think that was pretty much his whole gimmick. And now he's headlining Wrestlemania? WTF? How did this happen? I don't really care but I hope he still say's I'm Awesome before the match. Here's a video of him doing it:
httpv://www.youtube.com/watch?v=d4gqsJ3Fz1k
John Cena, on the other hand, is pretty boring. He's a boring wrestler who only has a couple of moves and his whole rapper/thug/chain gang thing was pretty old even when I still cared about wrestling. Whenever that was. Read the comment on my article about The Rock's return from some guy who likes wrestling way too much for reasons as to why he sucks.
Anyway I guess Cena is the face and the Miz is the heel and it's the main event and the Miz is the champion, so you would probably expect Cena to win, maybe with the Rock interfering or something. But I fancy the Miz to do it. John Cena needs to take a walk and work on some new lyrics or something. Shit is tired.
WORLD HEAVYWEIGHT CHAMPIONSHIP MATCH
EDGE VS ALBERTO DEL RIO
OK I have no idea who Alberto Del Rio is, but I heard he won the Royal Rumble so he must be a pretty big deal. Edge used to be pretty cool but I guess he's getting pretty old now. I have no idea who is even the face or heel in this match. The guy who wins the Rumble normally ends up taking the title at Wrestlemania so I'm gonna go for him to win this match too. Here's a picture of Alberto Del Rio. He doesn't look that cool, I still think it probably makes sense for him to win it though.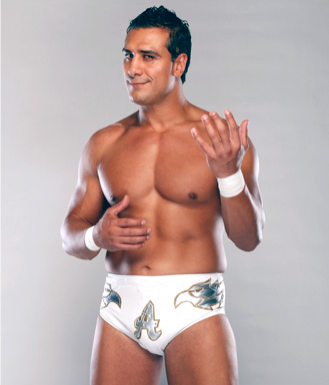 NO HOLDS BARRED MATCH
UNDERTAKER VS HHH
Ok, so this is pretty much the only match that has got me excited on the Wrestlemania card. Everyone who knows anything about wrestling knows all about the Undertaker's infamous winning streak (18-0 now) and how every year someone pops up to try and end it but ultimately gets taken out in what usually ends up being the Undertaker's only watchable match of the year. In fact the whole storyline about this match is just that HHH wants to end the Undertaker's winning streak, as he's done everything else in the business. The storylines just get worse and worse huh? So will HHH end the streak?? Possibly. I don't think so though. The streak has been going on so long I think that the person who ends it will be a major up and coming star, not someone who's already made it like HHH. More importantly though, will these ageing husks of men be able to put on a decent match? It is Wrestlemania so they'll probably go the extra mile. Their match at Wrestlemania 17 (10 fvcking years ago!!!!) was actually pretty decent, despite my thinking that they were too old and fat to pull off a decent match. This is ten years on but I don't think guys like HHH and the Undertaker ever really lose it.
JERRY THE KING LAWLER VS MICHAEL COLE W/SPECIAL GUEST REFEREE STONE COLD STEVE AUSTIN
Why the hell is a match between two commentators even on the Wrestlemania card? Why the hell is it so high up as well? Don't they have actual wrestlers who should be getting the slot? Anyway, it's fairly obvious that Stone Cold is going to pull out the stunner on Michael Cole and help Jerry The King Lawler win, then they'll crack out the beers and pour them all over themselves while they're celebrating on the turnbuckles. Austin will probably do the stunner on The King too after that.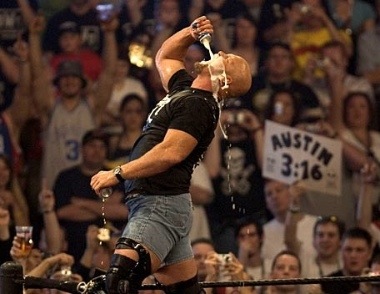 RANDY ORTON VS CM PUNK
This might be kind of a cool match. I don't really know why they're fighting but both of them are decent wrestlers and pretty cool so hopefully it could be good. Last time I was watching both of these guys were bad guys though, so I guess one of them turned? No idea what to expect except a good match, so I'll go with Randy Orton. Here's a picture of Randy Orton looking shocked that I picked him to win: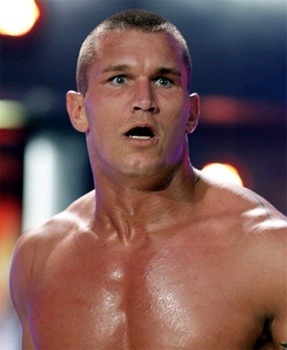 REY MYSTERIO VS CODY RHODES
Again, when I was watching wrestling last Cody Rhodes was some idiot in a tag team who was playing off the success of his father Dusty Rhodes. I think he might even have been in some kind of alliance with Randy Orton, I don't remember. Anyway, I don't know what this match is about or why it's happening, but Rey Mysterio always looks good when he wrestles so this could be good. I kind of get the feeling that he's more into putting over other talent now though and as I gave the last match to the old timer, I'll give this one to Cody Rhodes
TRISH STRATUS, SNOOKI AND JOHN MORRISON V MICHELLE MCCOOL, LAYLA AND DOLPH ZIGGLER
I thought Trish Stratus had retired. Women's wrestling is stupid anyway, and getting Snooki from Jersey Shore involved in Wrestlemania just makes it even stupider. Snooki's team will win but I don't care about it and the match will be horrible. Hopefully it'll be really short. I'm interested to see what Dolph Ziggler looks like though. Fvck it i'll just google it and find an image. Wow! This guy looks great, I'm edging closer to heading over to Walkabout. Check it out: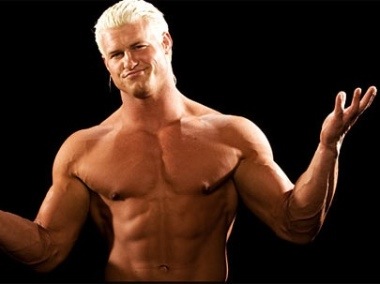 WWE US CHAMPIONSHIP MATCH
SEAMUS VS DANIEL BRYAN
Who the hell are these two wrestlers?? I watched wrestling about a year ago and Seamus was some angry Irish twat and inexplicably a world champion. He looked really boring. I'll go for Daniel Bryan to win this as I have no idea who he is and it seems like Seamus' stock has fallen.
THE CORRE (WADE BARRETT, EZEKIEL JACKSON, JUSTIN GABRIEL & HEATH SLATER) VS BIG SHOW, KANE, SANTINO MARELLA & VLADIMIR KOZLOV
Ok, so I don't know who any of these people are except Big Show and Kane, and I find it hard to believe that they're really anything other than glorified jobbers now. So with that in mind, and the fact that THE CORRE have a group name whereas the other team just seems to be four random dudes thrown together means they'll be coming out of this with the win.
So that's Wrestlemania. Running through the matches I guess I got a bit more excited about some of the matches (Orton V Punk, Mysterio V Rhodes) but I also realised there were a bunch of crap matches on the card with a bunch of people I have never even heard of. I guess this was always going to be the case for me though as I'm hardly an active viewer of WWE anymore. Admittedly, this could make it even more fun when I see what dumbass characters they've come up with now. I don't think any of them could beat the first time I saw Mr Kennedy at a Royal Rumble though, which probably went something like this (sorry I couldn't find the original clip):
httpv://www.youtube.com/watch?v=ecgqWJulHrk
I still don't know if I'm going to watch it, if I do though i'll be tweeting my opinions so follow me on twitter here if you're interested.