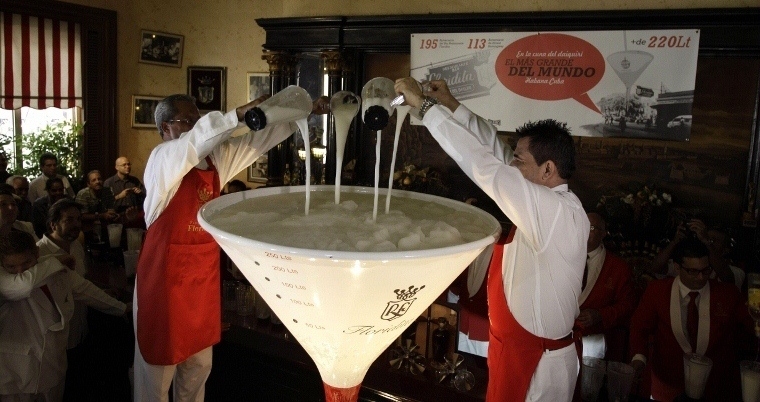 Right, before I get started, let me just get this out there: Hemingway was a boss. A real fvcking dude. He did what he wanted, when he wanted, didn't give a flying dog turd about anyone else and look where it got him. Famous as fvck. One of the most well-known writers around.
If you haven't got a clue what I'm talking about then you've probably only ever read Mr. Men books when you were like 6 or you're so far outside of culture you may as well still be a sperm in your father's balls. Get a grip and look him up. Or you can just click here. Maybe even buy a book instead of the box of condoms you're gonna use for a few posh wanks.
I'm mentioning Hemingway (R.I.P) because the bar he used to drink in when he lived in Cuba has just shown why he chose to spend his coins there and has proven to be nearly as awesome as the great man. The bar is older than me, you and my cat put together – it's 195 years old – and the staff decided to celebrate the bar's anniversary, combined with the celebration of what would have been Hemingway's 113th birthday. The result? A 6″5, 250 litre glass full of the devil's sweet nothing – daiquiri. In the process, a record was broken and the bar and the drink is now etched into the Guinness World Records forever. Or at least until someone else is even more awesome and creates a bigger daiquiri.
What's not to like about that, right? Hemingway, daiquiri and Cuba all in one = ultra good times. Check it:
[yframe url='http://www.youtube.com/watch?v=zK_et5ALbTA']