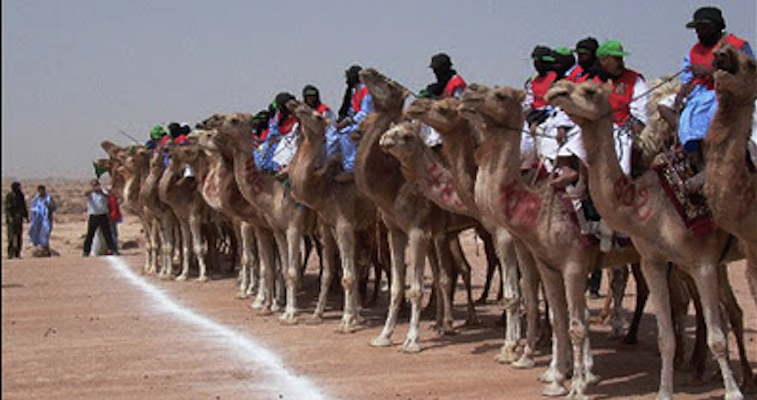 It might not be a relay race between midgets and a camel, but on Sunday some guys in Inner Mongolia decided to break the record for the world's largest camel race. 555 camels competed in a race that was over 5km long. Apparently in order to get them into top condition for the race the camels had to be trained for over 6 months prior to the event. That's a lot of training, -I mean were all the camel riders seriously thinking they were going to win the world's largest camel race to put that much effort into training for the world it? I mean there's a lot of competition in a camel race that big, surely there isn't that much point in actually going for it and wasting 6 months of your life training a camel for it? You've got like less than a 1% chance of winning….
It seems as though the camel who won the world's largest camel race was called Elatu (sp?!) but we didn't get any information on who was riding him or what his special 6 month training regime had consisted of which is kind of disappointing. Apparently the race took three whole hours to complete though, although it wasn't clear if that was for the first or last camel to finish. The commentary says that 555 camels challenged the record, so I guess that means 555 camels finished the race!? So maybe there were more camels to begin with and they were hedging their bets to make sure they broke the record for the world's largest camel race. I'm not sure, I wish there were more details about the world's largest camel race but most of the reports I've read on it have been severely lacking and Sick Chirpse doesn't have the budget to send someone over to Inner Mongolia to cover it. Also, we didn't know it was happening until we read the said reports.
In any case, you can watch this news clip of the world's largest camel race below for some exciting and dangerous footage of 555 camels racing against each other for the title of winner of the world's largest camel race. Check it!
[yframe url='http://www.youtube.com/watch?v=M19geD6ZuJ8′]