The woman who was world renowned as the ugliest in the world after winning the championship a record 28 times through excelling in gurning competitions all over the world has unfortunately passed away at the age of 67.
There are no details about the death of Anne Woods at this time but it's not thought to be related to gurning. She first turned up at the Crab Fair in Egremont in Scotland in 1977 and was well loved for performing her gurns to 'You're Gorgeous' by Babybird. It was renowned as her signature track during her four minute performances where she would contort her face all over the place. There were health concerns in 2010 when she collapsed outside a competition, but she continued to compete and there were no other problems up until this weekend.
The Crab Fair committee plan to honour her this September when the event takes place again. Secretary and Vice Chairman Callum Scott had this to say: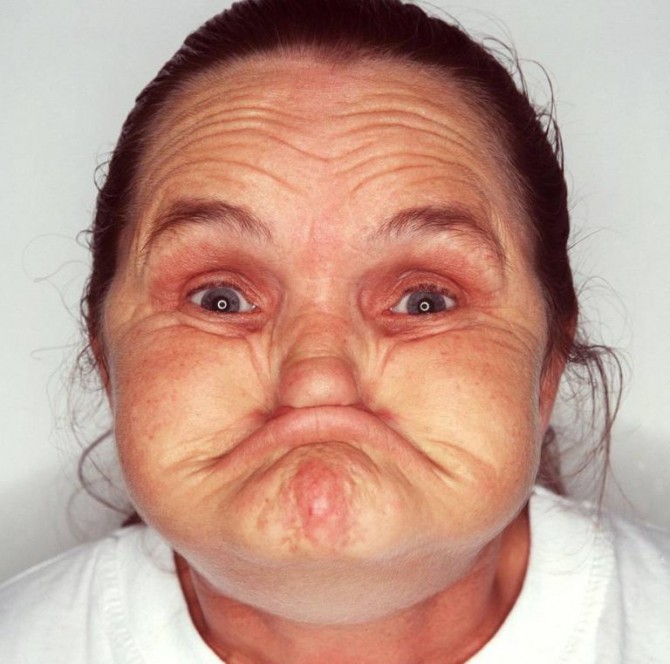 Images VIA 
Anne was very popular in the town and Crab Fair will not be the same this year.

Anne couldn't sit in the audience and watch the gurning as she was so popular. She was very passionate.

We will be doing something in her name at this year's event.
What a great tribute to a fantastic world champion of a woman. I won't be attending the event but I'm sure it will be an amazing time for everyone involved.
Not sure how many times Anne would have won the competition if she came up against the guy who took 40,000 ecstasy tablets and could no longer open his jaw though. That's surely a gurn that can't be beaten under any circumstances right?