I can't really understand how anyone who's already morbidly obese would actively try and become even fatter, but then I suppose I don't share the mentality of Monica Riley, who already weighs 50 stone but yearns to tip the scales at 70 stone, making her the world's fattest woman.
Images VIA
Monica – who is one of those weird super fat models that you hear about – luckily has a feeder boyfriend named Sid who spends all day cooking for her and feeding her through a tube at their home in Fort Worth, Texas. Sounds like a healthy relationship.
Here's what Monica had to say about her goal: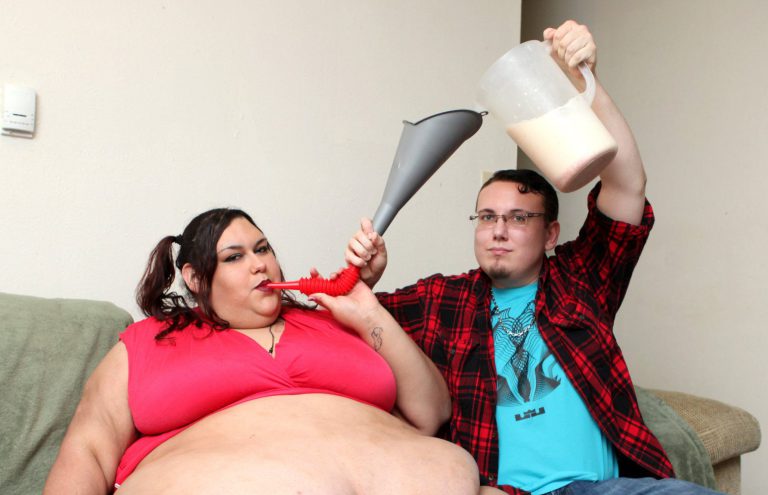 The plan is to reach 1,000lbs [50st] and become immobile. I would feel like a queen because Sid would be waiting on me hand and foot and he's excited about it too.

It's a sexual fantasy for us and we talk about it a lot. He already has to help me get off the sofa and get me out of bed.

If I lay down after a big dinner he has to help me roll over because my belly is too full for me to roll – it's a big turn-on for both of us.

We do plan to have children – there's nothing to stop me raising a child from my bedroom.

We would get a nanny in to help around the house and take the baby out and about.

There's nothing to stop us raising a child. Some people might think it's selfish but I'm confident we would be good parents.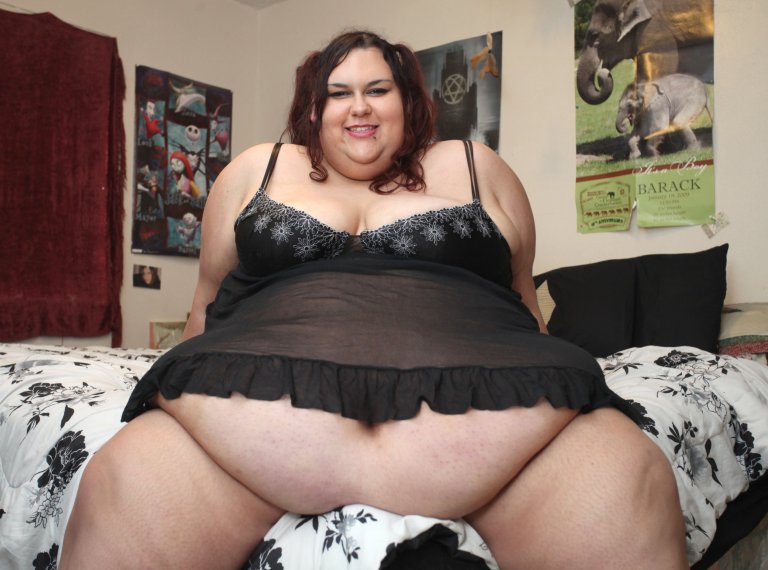 The bigger I get the sexier I feel. I love my big soft belly and stuffing myself with food really turns me on.

Sid loves to cook for me and hand-feed me and I've achieved so much since we got together. He feeds me around the clock and I never have to get up to do anything.

My mum doesn't understand it at all and she says I'm killing myself. I understand her concerns but it's my life and gaining weight makes me happy.

I do worry a little bit about losing my independence but I know Sid loves taking care of me and would never let me suffer.

The funnel feeding is what I really look forward to. I find it to be a very sexual experience and I know Sid likes it too.

I have 20,000 online fans and they love to watch the funnel feeding – it's a big hit.

I could get hit by a car tomorrow and my life would be over. At least if I die this way I will have lived out the life I wanted and fulfilled all of my dreams.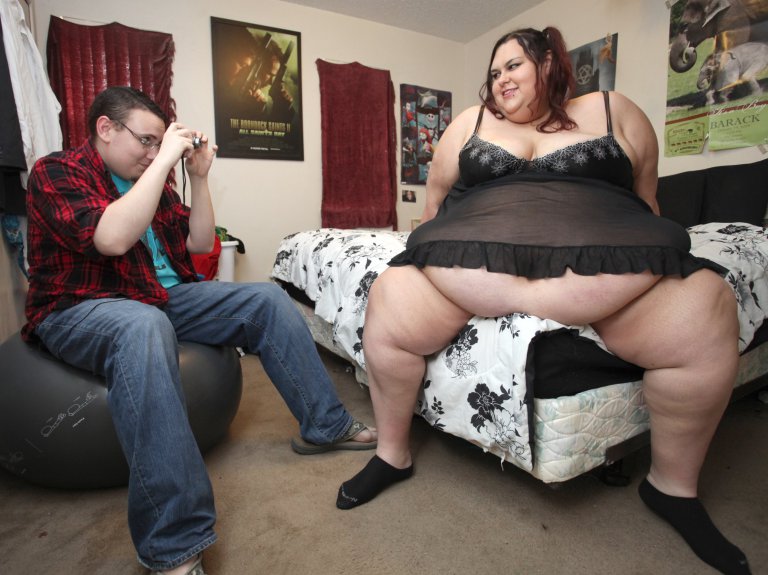 Hmmm, where to begin with all that crap going into and flowing out of this woman's mouth? What an absolute stain on the human race – I love it when she says stuff like "I've achieved so much since we got together" and "I've fulfilled my dreams" because it's like dude, your dream is literally to sit on your humongous ass and stuff yourself with food all day. That's not even hard to achieve.
It gets even better when you learn that her and Sid have only even been together for four months and this is how their relationship has progressed. She's gained four stone in that time by splurging on a special shake that Steve makes her consisting of ten Pop Tarts, heavy-duty cream, ice cream, milk and weight-gain power, totalling 3,500 calories. Sounds delicious.
I suppose these two really deserve each other eh? Whatever makes you happy I guess – I hope Monica reaches her goal of being completely immobile by the age of 32 and doesn't die beforehand. We're rooting for you baby.
Maybe it's all because fat people are apparently 100% better than skinny people at sex. At least according to that study.