Despite the fact that women's bodies are stretched for nine months whilst another human grow inside them during pregnancy, they're often expected to ping straight back into shape because celebrities like Kim Kardashian do that and don't let anyone photograph them afterwards.
Images VIA
This isn't the reality of the situation though, and the fact that hardly any women are willing to share what they look like immediately after childbirth is probably another reason why there is such a stigma surrounding it. Elise Requel wanted to challenge this attitude though, and so decided to share the following selfie of herself in the shower following the birth of her child on her Instagram account to 31, 500 followers: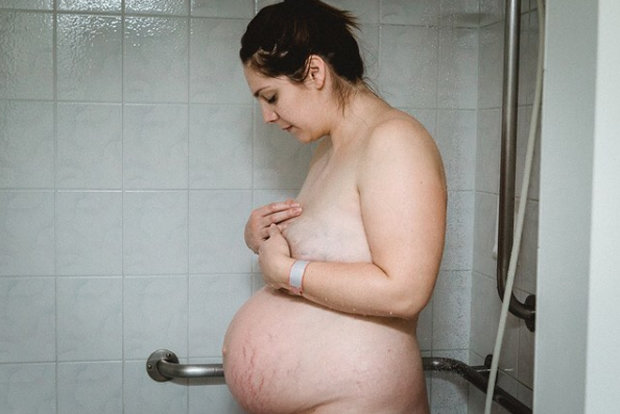 Powerful. Elise had this to say about why she decided to post the photograph:
I was in pain and I was overcome by a flood of emotions. Elated to have welcomed our beautiful girl and so empowered and proud of what my body and I had just done."

I's a strange feeling to still see a bump when you're holding your baby – and to still wear maternity clothes once home.

With my first I was adamant I would just 'bounce back'. Everyone would say 'you're young, you'll loose the baby weight in no time!' But you know what, I didn't, I never have in fact.

With each baby I've gained a few more kilos and a few more stretch marks. I used to feel the need to cover up in this newborn stage, I didn't want to see my body in this state, so why would anyone else?

It's taken me three babies, but I've finally realised this postpartum body isn't something to hide.

Let's celebrate postpartum bodies, in all their glory. The female body is incredible and I am so proud of what mine has done!
Right on sister. That's an awesome photograph to share and hopefully it's going to make a hell of a lot of women feel less bad about themselves following childbirth. Nice work.
For more awesome photographs, here are the 37 most powerful photographs of all time. Nice.