Yes, we're over in Florida. A guy called Joshua Sinclair got the crap beaten out of him by his 48 year old wife Chao Gao after she discovered his secret dildo.
The item had been discovered in a house move, but it wasn't until they were both driving in a car – Gao was driving – that Sinclair chose to admit that he had bought it to use on himself. Gao reportedly went absolutely crazy and slapped and punched him for half an hour whilst screaming at him and driving around. You can read Sinclair's statement below but it sounds like a pretty scary time for him:
Images VIA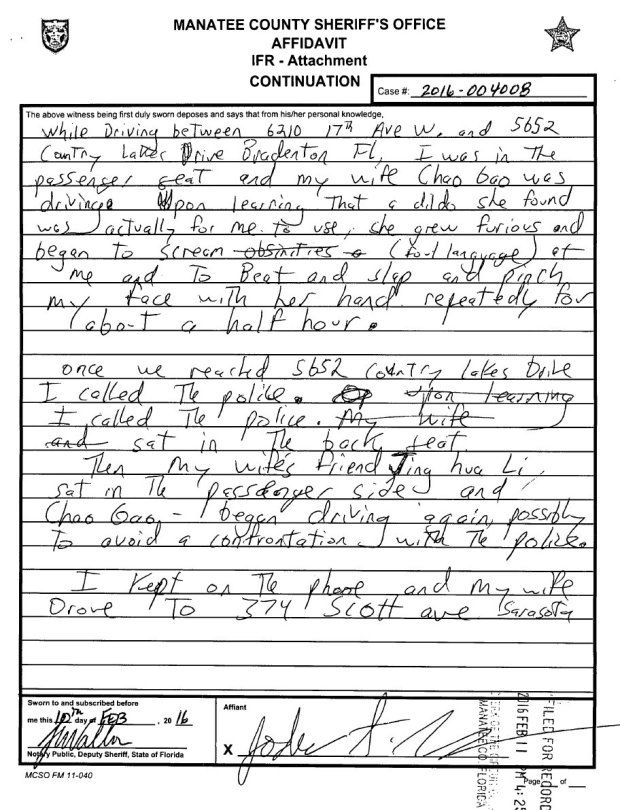 Chao has now been arrested and charged with domestic battery. If Sinclair is pressing charges against her for this then it kind of sounds like they had some problems going on in their marriage even before Chao found out that he liked ramming himself with a dildo. I don't know why people just don't discuss that kinda stuff – especially when they're married – as it can probably get sorted out without the need for violence or abuse if people just communicated what they liked and didn't like in the bedroom.
Unfortunately though, it seems like most people are too frigid to discuss their weirdest sexual desires – or just that they like dildos in their butts – with the people they're going to spend the rest of their lives with and that kinda sucks. I mean it's not even anything as bad as the most deprived things that people have ever done for sexual gratification, so what's the big deal?