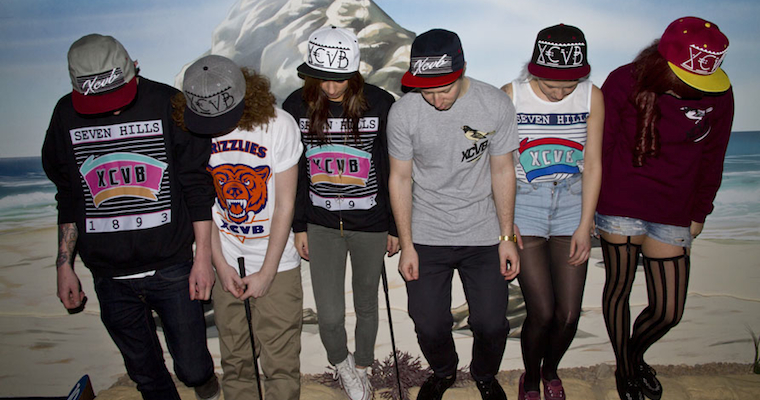 XCVB is a dope new streetwear clothing company that we've wanted to work with ever since we started Sick Chirpse at the tail end of 2010. Back then they said we weren't big time enough but it seems like a year and a half can change a lot as they've now given us a prize of £100 worth of store credit for the winner of this competition.
Here's how to enter:
1. Head on over to XCVB's Facebook page HERE and 'like' it.
2. Like and share the XCVB picture that will be appearing on the Sick Chirpse Facebook page.
3. Cross your fingers and hope you win some of the swag.
The competition is running for one week and will close next Sunday, May 27th at midnight.
If you haven't heard of XCVB – and by all means you might not have as it's pretty underground – it's a clothing brand that was formed in Sheffield in April 2011. It's mainly based online as they don't have a store yet, although some of their stuff is sold at independent stores across the country. They're a streetwear/urban brand and the stuff that they are putting out there is totally fvcking sick. It's fresh, hip, right on trend and it's happening right now.
Most of their stuff is clean and tidy and the kind of garms you could see someone rocking in a skate video or at an illegal rave in Dalston. There is a kind of vintage/Americana vibe to some of their shit with the old American football team designs, but it's a lot sicker than the faded crap that's covered in hair and fluff that you would find down your local charity shop. The lookbook on their site is particularly class as it's shot in a mini golf course – everyone knows that mini golf is really cool and it looks even cooler when the people are playing in XCVB threads. Where the hell are the mini golf courses in the UK though? Anyway, in short, XCVB might be underground now but is set to blow up and you want to be wearing it when it does, no doubt.
In their online store they've got a great range of products, mainly consisting of t-shirts and jumpers at the moment. You can check out the store HERE but there are a selection of a couple of my favourite designs below this paragraph. They also do caps and vests and are expanding to include wooden arm sunglasses, coaches jackets and some new snapbacks, so if you're the winner you might want to hold on to that store credit a little longer to see what they come up with. £100 of store credit goes a long way and you're gonna look pretty swag (do people still say swag in 2012 or is the OFWGKTA hype done?) if you win it. So yeah, make sure you remember to follow them on Facebook and share the picture . Oh yeah, and they do men and women's sizes, so if you're a girl there's no need to worry, you can still enter the competition and get a hold of some of these sweet threads in the right size.