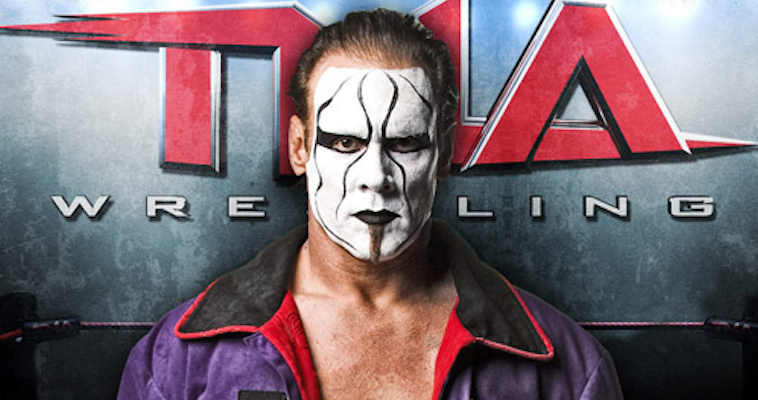 TNA Maximum Impact IV is coming to England at the end of January. I've talked on Sick Chirpse a couple of times about how I used to really love wrestling when i was a teenager (you know, back when it was good, right?) and how I usually still try and watch Wrestlemania every year and how I got really excited when The Rock returned, but I don't think it's any secret that I'm not really that into it anymore. Even though The Rock is back and I enjoyed the art of dead wrestlers recently I'm just not interested in what is going on with WWE anymore.
I've never really been that interested in TNA either but I knew that there were a bunch of old WWE wrestlers there and that the ring wasn't shaped like a rectangle but it's like a hexagon instead or something? Maybe I got that wrong. In any case I knew that TNA stood for Total Nonstop Action but I never got around to watching it- it sure sounds exciting though and this tour does sound good a features a load of old WWE wrestlers so if you have any interest in wrestling you might as well check it out and enter our competition to win free tickets.
Some really cool wrestlers are going to be there like Kurt Angle and Rob Van Dam and more importantly Sting!! Sting hasn't been in the UK for over 10 years so that's pretty crazy. I saw him wrestle once at WCW Spring Stampede one year though when I was randomly in the same city in America and Jeff Jarret beat him for the title which is pretty embarrassing. That's probably one he wants to forget.
It's kind of crazy that Sting is still wrestling considering he was big back in the early 90's or whatever. You would think his body had given up on him by now. I used to love playing WCW vs NWO on my N64 and putting some sucker like Ultime Dragon in the scorpion deathlock. Or dropping them with a scorpion deathdrop. I guess it's kind of crazy RVD is still wrestling too considering how he got the crap beaten out of him in like every single match he's ever been in. Hopefully we'll get to see a Van Damminator.
There are a bunch of other wrestlers on the tour too but I've never heard of any of them. Maybe some of them will be good:  "The Phenomenal" AJ Styles, "Samoan Submission Machine" Samoa Joe, TNA Knockout Velvet Sky, Mr. Anderson, Matt Morgan, Bully Ray, Mexican America. I think I've heard of AJ Styles vaguely too and I remember him being kind of cool.
Anyway, enough of me talking about old wrestling memories, if you want to win 2 free tickets to TNA Maximum Impact in either Nottingham at the arena on January 26th or London at Wembley Arena on January 28th (we have tickets for each) simply send an email to info@sickchirpse.com with the answer to the following question that any wrestling geek should know the answer to –
'Who recently returned to WWE Raw on January 2nd?'
Also make sure you 'like' Sick Chirpse on Facebook here and include your username in your email. Otherwise you won't be entered into the draw. Good luck and if you win tickets to Wembley I'll see you there as I'll be getting crunk at the wrestling again.