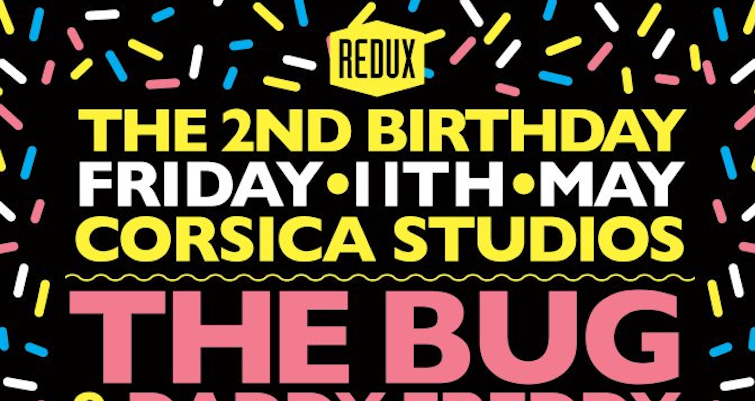 The guys from Redux just hit us up about their 2nd birthday party that's happening on Friday night at Corsica Studios in Elephant and Castle (LDN) and asked us to hype it a bit. You can't beat a good rave, dancing around a bit, smoking cigarettes and having a good time laughing at the drugged up gurners who are pulling faces harder than we are (like these guys).
Redux is turning two and what a couple of years it has been. Our mission has been to provide ravers with the very best of the UK underground, from the pioneers of sound system and rave culture to those blazing bright new trails through bass. Thanks entirely to our loyal crowd we've been able to achieve that, and we're grateful that so many people have believed in what we're doing and supported. A massive thank you goes out to everyone who has come to any one of our events in the last two years, we couldn't have done it without you. So as we roll in to our third year we've put together a very special birthday party that we feel perfectly reflects what Redux represents musically and, even if we say so ourselves, the line-up is dangerous.
Our headliner in room 1, The Bug, needs little introduction, his mutant fusion of dancehall, dubstep, and noise is a dance floor destroyer every time. Tunes like Imitator, Poison Dart, and Skeng all blew out speakers across the country. He's got the equally legendary Daddy Freddy coming to MC too. Also from the London MC hall of fame we have Trim. Easily one of the most talented MCs to have come out the grime scene and a former member of Roll Deep, sometimes spitting lyrics just seems to easy for this guy and his sharp wit. A true grime legend, in fact we'd go so far as to say he's our favourite MC. Also on a grime tip we've got the hottest producer out there in the form of Preditah. Rising stars Murlo and Pedro123 round off room 1 but not before a set from our special secret guest…but we're not telling you who that is, it's a secret.
Room 2 is every bit as hype with two of our favourite producers and giants of 2 step headlining. Namely Wookie, who will be playing us a special 'history of garage' set, and the DJ behind Groove Chronicles – Noodles. Joining them will be a man of many styles with a new LP dropping in May – Rinse FM's Brackles. Hot new talent Thefft will be there dropping freshness galore, whilst Anushka will be doing us a live set. Henry Wu and Better Never Than Late's Timzed round off a line-up that also includes all our residents. It's going to be absolutely ridiculous, a proper birthday blowout. Grab a ticket while you still can.
Unfortunately most of the early bird tickets have gone, there are some available for £11 though or you could risk turning up on the day but why do that when you can go for FREE just by entering this little competition that Sick Chirpse and Redux have set up.  All you have to do is follow us on Facebook HERE or twitter HERE, and then email us at info@sickchirpse.com telling us your name/username and specifying that it's in regard to this competition. That's it. That takes like less than 2 minutes to do. So what are you waiting for? Banish those post bank holiday blues and get the summer kickstarted by winning some free tickets to a banging rave.
Murlo also created a special promo mix for the event, so maybe if you're caught in two minds about whether or not to go down to Corsica Studios on Friday for the rave check out the mix below and then decide. It's a bashment/dancehall tip.