Will.i.am has claimed a flight attendant called the police on him after he accused her of being racist towards him and his group.
Featured Image VIA
The rapper/producer says the air hostess was rude to him when he couldn't hear the in-flight announcement to put electronics away because he was wearing noise-cancelling headphones. After she told him off he Tweeted the following to his 12million+ followers: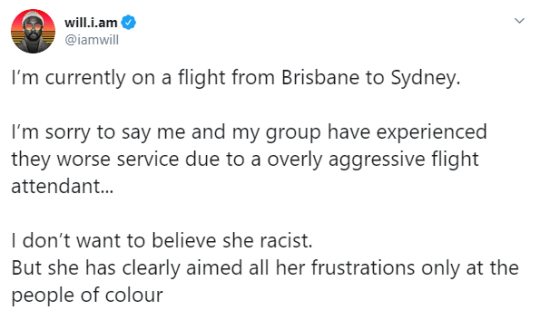 Love how he says "I don't want to believe she racist" like that's not exactly what he's going for. He then Tweeted out this photo of a police officer who met him when he landed: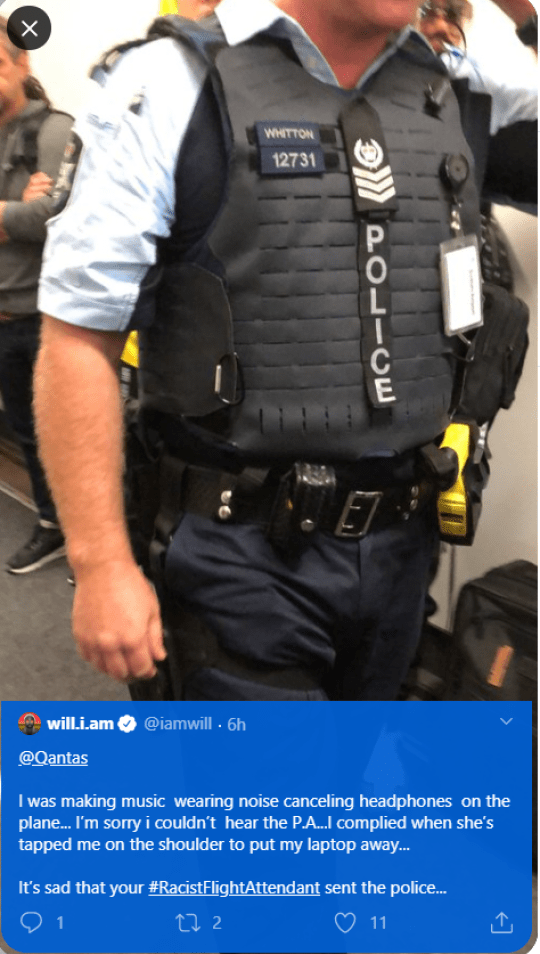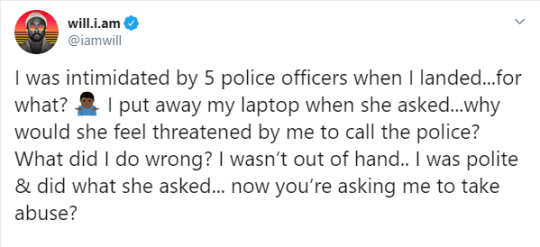 Luckily for Will he had a load of other passengers backing him up so maybe this flight attendant was being unprofessional and/or racist like he says. Either way he was pissed off enough about it to Tweet her name out to the world:

This is where many people thought Will.i.Am crossed the line as the woman instantly started receiving abuse: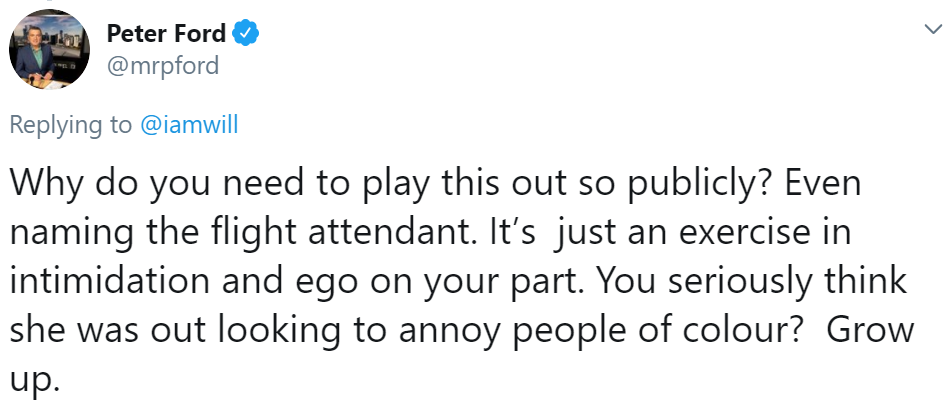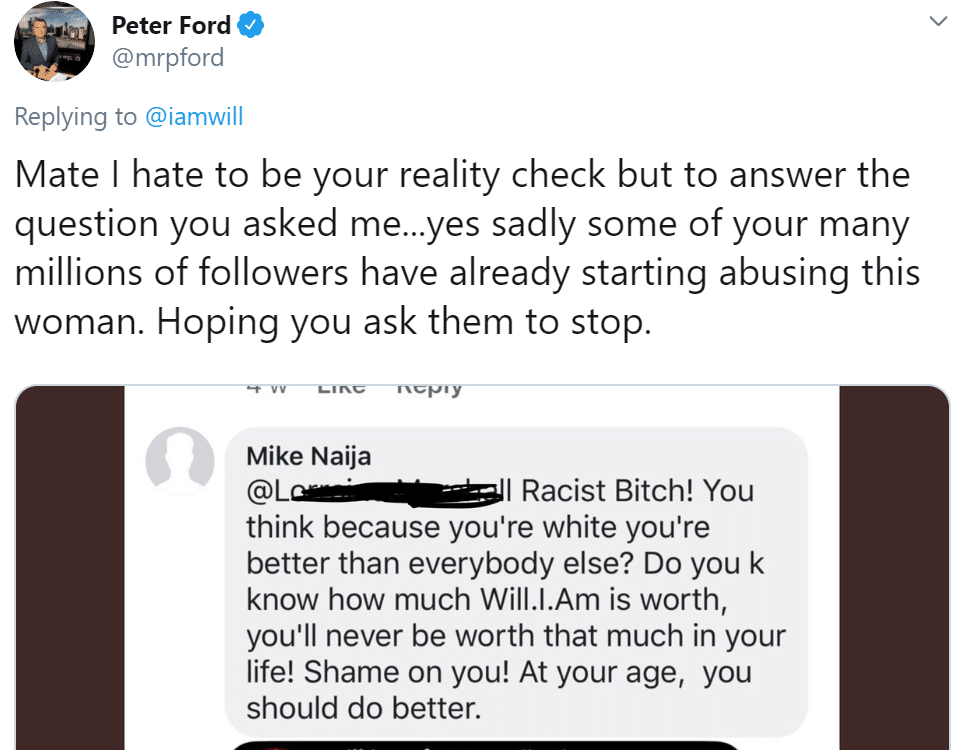 Will.i.am defended his decision to name and shame the woman because 'that's what Twitter is for'. Um, is it? Well I guess that's one of the things it's for…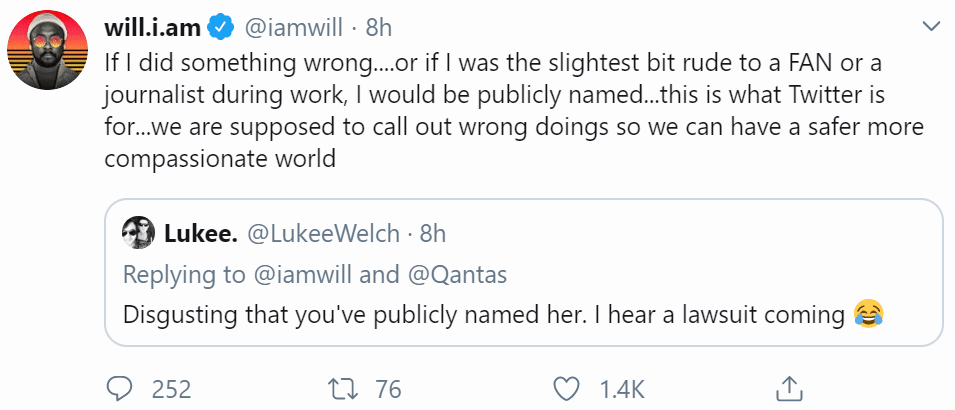 Hilariously, Will even ReTweeted someone else's Tweet that was clearly sarcastic and taking the piss out of the whole situation (at least I hope it's sarcastic):

Fair play to the guy though – he eventually asked his fans to stop attacking the flight attendant: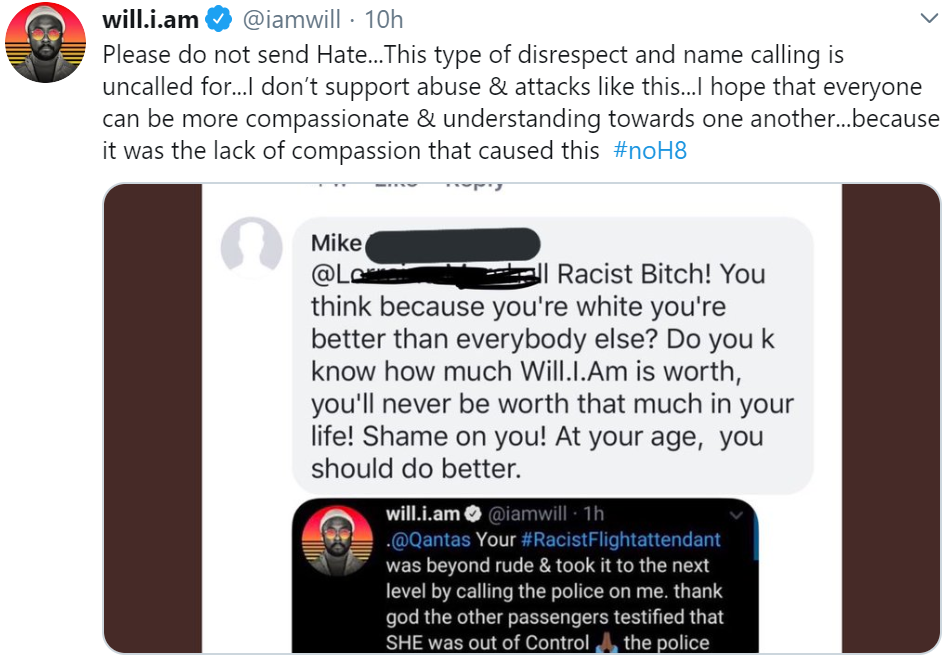 Amazingly, Qantas actually stuck up for their staff member instead of bending over for a celebrity & their Twitter mob.
A Qantas spokesman told The Independent:
There was a misunderstanding on board, which seems to have been exacerbated by will.i.am wearing noise cancelling headphones and not being able to hear instructions from crew.

We completely reject the suggestion this had anything to do with race. We'll be following up with will.i.am and wish him well for the rest of the tour.
So there you have it – maybe the flight attendant was racist or maybe it had nothing to do with race. It's hard to say without being there. But Will.i.am says the other passengers were backing him up so maybe he's right. Would be good to hear from the flight attendant who maybe thought Will.i.am was being an entitled celebrity primadonna by wearing his headphones and not listening to instructions. We'll have to see what kind of report Qantas follows up with.
For the time Will.i.am claimed he owns the rights to the phrase 'I am' and took Pharrell Williams to court over it, click HERE.