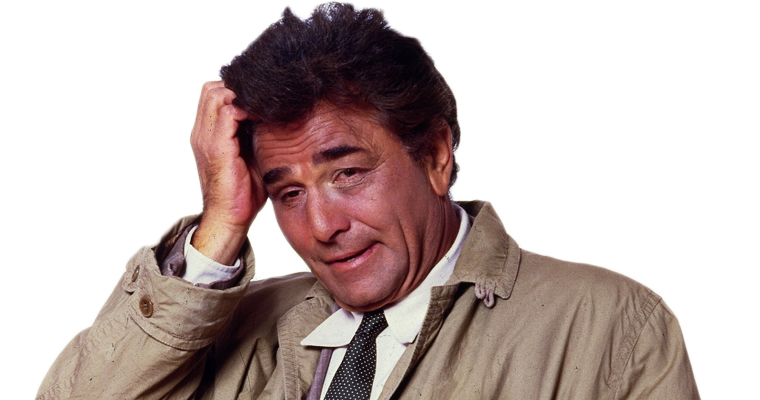 While there's something inescapably gratifying about the misery of multi-millionaires, news of Cristiano Ronaldo's discontent at Real Madrid is a stark reminder that €12 million a year (plus numerous endor$ements) cannot buy you happiness. Sad shit, right? We at Sick Chirpse called in 1970s TV detective Columbo to investigate what might be eating the Portuguese preener from the inside.
So I asks him, I says "Ronnie, you're making all this money. What's a matter?" He shot me a steely glare, lips pursed in ire. This was no monetary matter but one that stemmed from tumultuous relations with both playing staff and board members at the Bernabeu. It was then that I inquired about his infant son, born of eerily similar circumstances to that of recently out-of-the-closet 90s pop sensation Ricky Martin's offspring. Resentful of the implied accusation, Ronnie's anger grew. My question regarding Andres Iniesta's recent European Footballer of the Year accolade, was the straw that broke the camel's back.
Ronnie was irate; he stood poised, chest out, arms hulking as if he were about to unleash a trademark free kick; the ball in this instance being my handsome button. And then he sobbed. I met his sadness with an embrace. "Hey mister, hug it out" I says.
With an arm around his shoulder I assured Ronnie that his legacy would be remembered far longer and with more fondness than that of Ricky Martin; that while Xabi Alonso may have cornered the MILF market, there were plenty of ropey gals in their twenties that would be glad of a night in his company.
His spirits palpably lifted. His pout had transposed into some semblance of a smile. It was then that I realised that beneath his swaggering, petulant façade was a man driven by an insatiable thirst to be the best at his profession. I respected that.
"Just one more thing" I asks. "What do you know about Lionel Messi?"