A Chinese man who likes to travel on the tube in Beijing with a hollowed-out watermelon on his head has been arrested after basically freaking everyone out and causing concern for public safety during his commutes.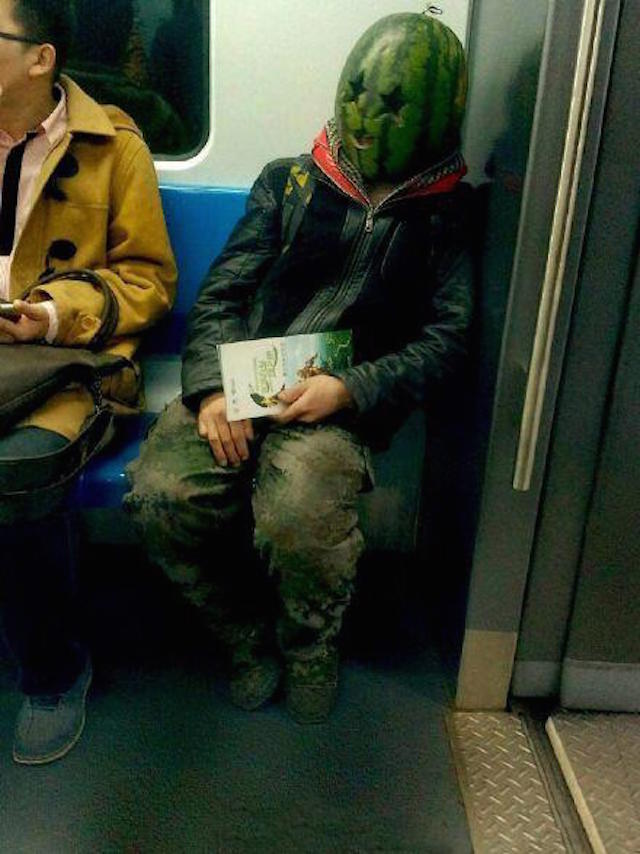 One passenger told the Telegraph:
It was so scary last night when I was on the metro. This guy as just hanging around on the train wearing a watermelon mask with a beer bottle… apparently he was totally drunk.
Another passenger said:
I was scared by this watermelon brother too. I posted some pictures of him on Weibo.
And we thought we had it bad on our transport system. Turns out in China they've got to contend with 'watermelon brothers' and creeps touching up women's legs from underneath the seats.  You'd think China would be used to this kind of bonkers behaviour by now, but nope. Guy probably thought it'd be hilarious to travel with a watermelon on his head but ended up terrifying everyone instead.
More photos of the terrifying watermelon man on the following pages…