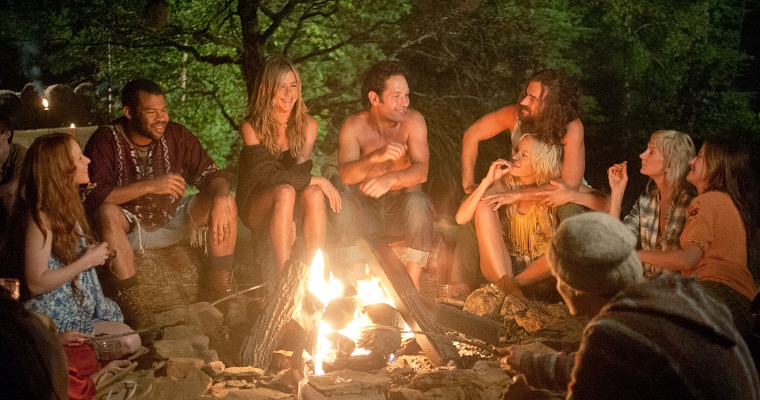 Diehard Friends fans will undoubtedly be flocking to see Jennifer Aniston and Paul Rudd as married Manhattan couple Linda and George in Wanderlust.
They live for good coffee, their Blackberries and each other. But city life takes an unexpected turn, forcing them to abandon their NYC lifestyle overnight. More chance occurrences hurl them into the open arms of the welcoming, if not a little quirky residents of the Elysium, meaning a place or state of perfect happiness. Though the Elysium has all the hallmarks of a hippy commune, its dippy devotees  insist it's nothing more than an 'intentional community'.
In contrast to New York, the Elysium lifestyle of nature worship, free love and mutual trust begins to infect Linda and George. Soon, they're forced to face decisions about whether their hearts belong back in the city, or at the Elysium – but is life there really as stable and serene as it seems?
This movie has some hallucinogenic laugh out loud moments and a few full-frontal surprises. The colourful characters each come with their own list of oddities, getting weirder and weirder by the minute!
There are some great lines, including "We will make love without touching!", and Paul Rudd treats us to another one of his classic cringe-fests.
The film also stars Justin Theroux, Malin Akerman and Ken Marino, and is directed by David Wain. Wain and Rudd prove yet again that they make quite  the creative team, as I'm sure those familiar with Role Models will concur…
Would I say run out and watch it? Naaah. I'd say wait for the DVD, and I offer this with only your optimum viewing pleasure in mind – sharing the laughs will be miles better at home, with a few mates, and a few beers. Wanderlust has the classic feel-good factor, delivered with a powerfully fun twist. This movie doesn't want to be taken too seriously, so don't – just see it, and enjoy! Here's the trailer.
[yframe url='http://www.youtube.com/watch?v=Oz7xMY1AbbI']