This story comes out of St. Louis, Missouri and took place at the Timber Creek Bar, which sounds precisely the type of place this kind of thing would go down.
Featured Image VIA
28-year-old Brittany Sullivan was serving up 'vodka butt shots' at the bar and men were lining up for it.
I'll let this dude named Tim Wolfson, who was there, break it down:
Yeah, this chick was real drunk. She went over to the corner with a funnel, a bottle of Kettle One and her girlfriend, poured the vodka in the back door and stuck a straw in there.

She let loose a good one and clear liquid flew out. So several of the drunk dudes in there just went for it. But it was the last guy that got more than he bargained for. It was the most disgusting thing I had ever seen in my entire life. Especially the corn, when I saw that I lost it.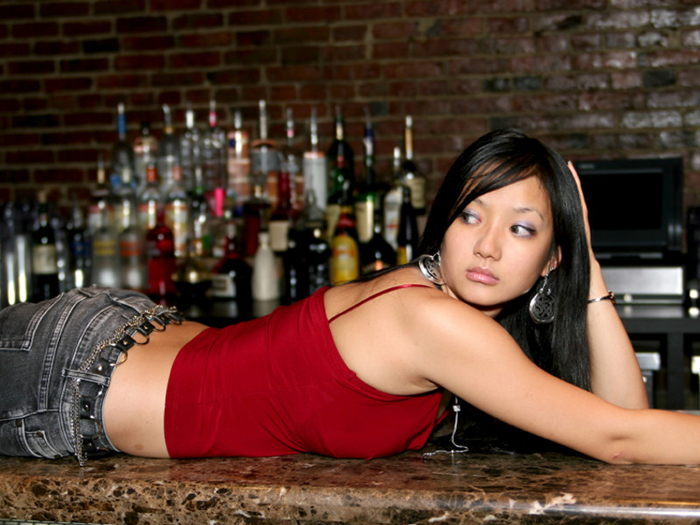 Image VIA
According to witnesses, Brittany began serving men with a straw but eventually dropped everything and served up the juice raw-style.
Unfortunately for the last dude, who wishes to remain anonymous, Brittany blasted out "the remains of the corn chowder soup she had for lunch" instead of the vodka, prompting him to start puking everywhere. A bunch of other people freaked out, and someone pushed Brittany off the ledge of the bar, resulting in her picking up a concussion.
After that a full-on royal rumble ensued, resulting in the arrests of several people including Brittany Sullivan who was charged for her inappropriate behaviour. She was also found to be four times over the blood alcohol limit and says she doesn't remember much of the incident, and is suing the bar for "their inability to control the situation".
Timber Creek Bar have banned body shots from ever being given at the bar again. Probably a good shout.
Don't suppose Russians stopped doing flaming vodka shots after this little incident?