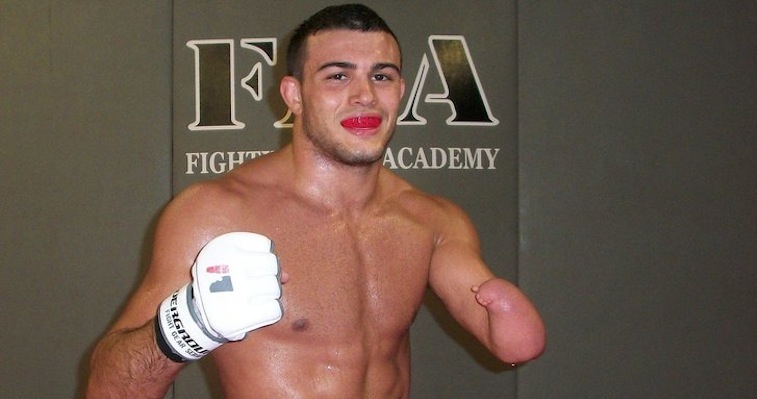 At first you may be thinking 'what is up with this dude's hand?', and I'm not gonna lie, it is pretty gross. It kinda looks like a small baby's foot has been attached mid-way down his forearm instead of a normal hand. I guess everyone's different and this dude's 'quirk' is having a really weird fucked up arm. None the less, it hasn't stopped this guy achieving his dream of being a total bad ass and beating up people.
If I didn't have a hand the last profession I'd consider taking up would probably be cage fighting. I mean, you're already at a massive disadvantage because, well, you've only got one hand to punch with. This guy's kinda lucky in that it's only his left hand and not his right so he can still do all necessary stuff (wiping his ass, five knuckle shuffles etc), and hey we even learned here on Sick Chirpse that you don't even need hands to drive a car these days.
☛ Read Next: Watch This Video And Be Thankful That You Have Two Working Arms
So this guy's become a professional cage fighter with only one hand, and he's won some kind of title fight because he's now the 'Champ of XFC' whatever that means. I would have definitely put all my money on the other dude too because he obviously had the clear advantage, so whoever decided to back this fella would have been in for a pleasant surprise when he kicked the other guy's ass.
Check it:
[yframe url='http://www.youtube.com/watch?v=Yd0n7XlQS5o']