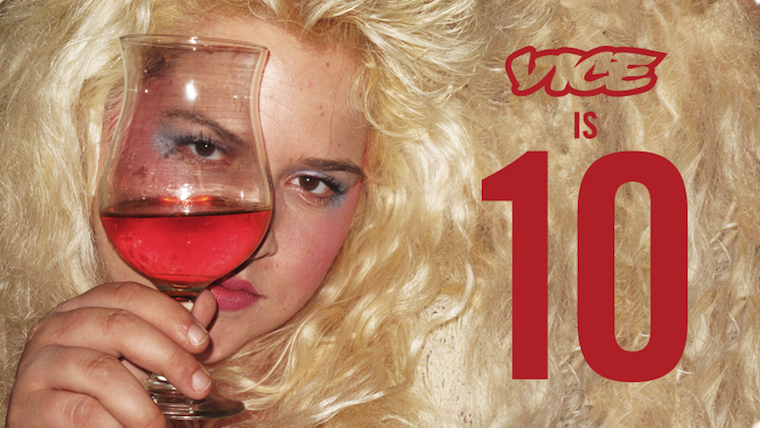 So our friends over at Vice are celebrating their 10th birthday next week on Thursday 29th November down at Cable in Bermondsey Tunnel in London and it looks like it's going to be pretty sick. I mean for a start it's a Vice party so that means it will be full of good looking/scutty (depending on your definition of either) hipsters and full of free drinks and probably laughing gas balloons too. In addition to this they've assembled a pretty killer lineup too that has pretty much something for everyone. Check this out:
Crystal Castles
Wiley
Danny Brown
Andrew W.K.
Trash Talk
Thunderbird Gerard
Mark Ronson (DJ) Klaxons (DJ)
Actress (DJ)  Rory Phillips (DJ)  Mumdance (DJ)  GETME! (DJ)
Nova Dando (DJ) Mischa Mafia (DJ)  Deadly (DJ)  Sexbeat (DJ) Seventy Times 7 (DJ)
The party is only running for 5 hours from 9pm-2am so I'm not really sure how they're going to get all those people to play in that time – I mean I would want to see Andrew WK play for at least an hour for example, but I doubt that's going to happen and you would expect people like Crystal Castles and Wiley to play pretty long sets but there's only five hours to get through them all and changeovers!! I guess maybe there are two rooms or something.
Anyway, it looks pretty sick. Sick Chirpse are going to be going down so maybe if you're lucky and manage to get in you can meet they guys behind the site timw_brap and tourist. I would say buy us a drink but a) you probably won't know who we are  b) you probably won't get in and c) the drinks are free in any case. There's a chance you actually might be able to attend as Vice are giving away a bunch of guestlist places to members of the public and all you need to do is head on over to the Vice website and sign up to their mailing list. Too much of a price to pay? Possibly, but you can also choose to opt out of email updates so your inbox doesn't get clogged up with inane hipster junk all the time, so it's a win/win situation really. Maybe we'll see you there, we'll be the guys trying to get a picture with Andrew WK.
If you don't manage to get on the guestlist maybe check out these pictures from the last Vice party we went to and get really jealous/be really thankful you didn't get a ticket depending on what kind of a person you are: We Went To A VICE Party And Here Are The Pictures  
☛ More: Andrew W.K. The Past Ten Years
☛ More: Italian Chav Rave Party 
☛ More: Girl Advertises 15th Birthday Party On Facebook, 5000 People Turn Up And Start A Riot