Things have gone from shit to shitter for American university student, Otto Warmbier.
Featured Image VIA
Back in March 2016 he was sentenced to 15 years hard labour by the North Korean government for trying to steal a propaganda sign from a hotel. Pretty bad going right?
Well, according to US Secretary of State Rex Tillerson, Otto has been released from jail after 17 months and is on his way back to the country to be reunited with his family in Ohio. Now before you think this story has had a happy ending, reportedly Warmbier is in a coma.
The Washington Post states that his father said that his son has been medically evacuated after contracting contracted botulism, a rare illness that causes paralysis, following his trial last year. He was given a sleeping pill and has been in a coma since – probably from his illness as well as all the stress.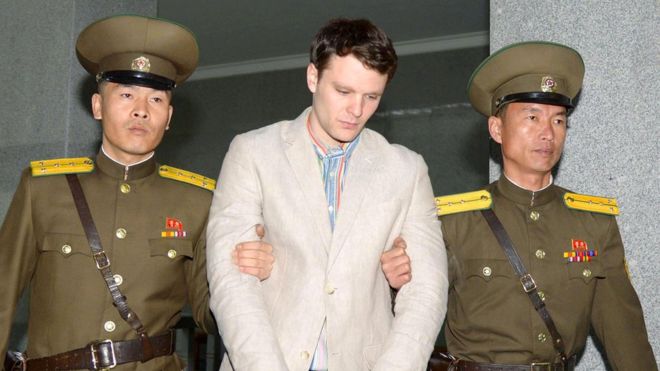 Fred Warmbier said:
Our son is coming home.

At the moment, we're just treating this like he's been in an accident. We get to see our son Otto tonight.
What a fucking rollercoaster of a story. I hope that he pulls through and makes a full recovery and when that does happen, I hope that the family and US government investigate Warmbier's illness, because it all sounds a little suspicious.
However, the main thing now is that he will soon be back in his family's arms and then hopefully he can start to rebuild his life. Because for a while things weren't looking too great. Get well soon, dude.