In the midst of the Harvey Weinstein controversy, all eyes were on Uma Thurman after she spoke out about an incident with the man but refused to divulge the details as she was still too angry about the situation.
Featured Image VIA
Now though, the time is finally right for Thurman to discuss her history with Weinstein. Speaking to the New York Times, she said the following (quoting from the article):
"I used the word 'anger' but I was more worried about crying, to tell you the truth.

I was not a groundbreaker on a story I knew to be true. So what you really saw was a person buying time.

I knew him pretty well before he attacked me. He used to spend hours talking to me about material and complimenting my mind and validating me.

It possibly made me overlook warning signs. This was my champion. I was never any kind of studio darling.

He had a chokehold on the type of films and directors that were right for me."

Things soon went off-kilter in a meeting in his Paris hotel room. "It went right over my head," she says. They were arguing about a script when the bathrobe came out.

"I didn't feel threatened," she recalls. "I thought he was being super idiosyncratic, like this was your kooky, eccentric uncle."

He told her to follow him down a hall — there were always, she says, "vestibules within corridors within chambers" — so they could keep talking. "Then I followed him through a door and it was a steam room. And I was standing there in my full black leather outfit — boots, pants, jacket. And it was so hot and I said, 'This is ridiculous, what are you doing?' And he was getting very flustered and mad and he jumped up and ran out."

The first "attack," she says, came not long after in Weinstein's suite at the Savoy Hotel in London. "It was such a bat to the head. He pushed me down. He tried to shove himself on me. He tried to expose himself. He did all kinds of unpleasant things. But he didn't actually put his back into it and force me. You're like an animal wriggling away, like a lizard. I was doing anything I could to get the train back on the track. My track. Not his track."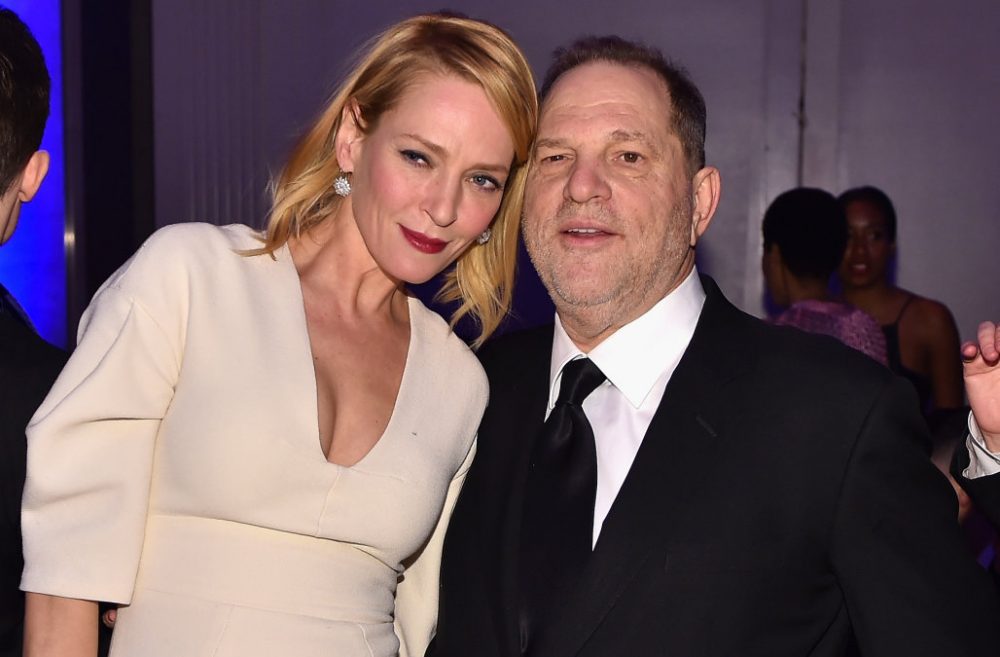 She was staying in Fulham with her friend, Ilona Herman, Robert De Niro's longtime makeup artist, who later worked with Thurman on "Kill Bill."

"The next day to her house arrived a 26-inch-wide vulgar bunch of roses," Thurman says. "They were yellow. And I opened the note like it was a soiled diaper and it just said, 'You have great instincts.'" Then, she says, Weinstein's assistants started calling again to talk about projects.

She thought she could confront him and clear it up, but she took Herman with her and asked Weinstein to meet her in the Savoy bar. The assistants had their own special choreography to lure actresses into the spider's web and they pressured Thurman, putting Weinstein on the phone to again say it was a misunderstanding and "we have so many projects together." Finally she agreed to go upstairs, while Herman waited on a settee outside the elevators.

Once the assistants vanished, Thurman says, she warned Weinstein, "If you do what you did to me to other people you will lose your career, your reputation and your family, I promise you." Her memory of the incident abruptly stops there.

Through a representative, Weinstein, who is in therapy in Arizona, agreed that "she very well could have said this."

Downstairs, Herman was getting nervous. "It seemed to take forever," the friend told me. Finally, the elevator doors opened and Thurman walked out. "She was very disheveled and so upset and had this blank look," Herman recalled.

"Her eyes were crazy and she was totally out of control. I shoveled her into the taxi and we went home to my house. She was really shaking." Herman said that when the actress was able to talk again, she revealed that Weinstein had threatened to derail her career.
Well, that is all awful and gross but it's pretty typical behaviour from Weinstein and doesn't really shock me that much considering all the stuff we've heard about him previous to this. This obviously doesn't excuse it though. I'm just hoping that we're finally going to see some legal ramifications from all this, but considering how long it's dragging on, it seems unlikely. Fingers crossed though.
For more of the same, check out all the recent allegations in Hollywood. So many.