A Chinese alcoholic named Hong Shu has developed a fatty deposit around his neck, making it look like that of a horse. It occurred after he drank at least one litre – and usually two – of a Chinese spirit called baiju every day for thirty years.
Shu was diagnosed with the extremely rare disease (there have only ever been 400 cases worldwide) known as Madelung, where fatty deposits accumulate in certain areas of the body. He had been suffering from it for over a decade but it was only recently diagnosed as it spread down from his ears, to his throat and neck, causing his neck to swell to six inches wide and five and a half inches long.
Shu also had two lumps on his neck which both measured seven inches wide. Not a good look basically.
Images VIA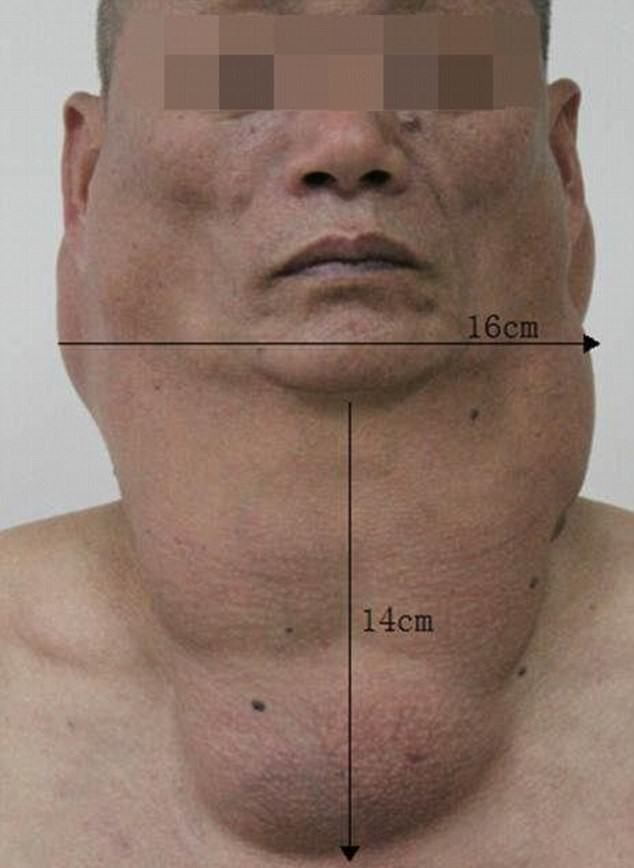 As you might expect following his new appearance, Shu became depressed and withdrawn and very rarely went outside, although he continued to drink excessively every day. Then, at the turn of the year his neck had grown so big that he was having trouble swallowing and breathing and he was forced to see a doctor.
Fortunately, the doctors were able to remove the tumours – it took three surgeries though – and Shu is now living a relatively normal life again, although probably still drinking copious amounts of baiju. In case you're wondering, baiju is made out of rice, sorghum or other grains and typically is around between 40 and 60% proof. Basically Hong Shu was a total wrecked for thirty years and it's doubtful anyone has ever seen him anything anywhere near approaching sober in that time. Fair play to the lad I suppose.
If this whole story isn't a good enough reason for why alcohol sucks balls though, then here are another five.