Donald Trump's presidency just seems to get more and more ridiculous, and every time you think that it can't get any worse, he goes and excels himself yet again.
Featured Image VIA
This time, we're on Twitter where Trump thought that it would be a good idea to retweet a post that mentioned him with a meme entitled 'The Best Eclipse Ever'. It shows a four panel sequence of him slowly moving in front of a picture of Barack Obama to 'eclipse' him: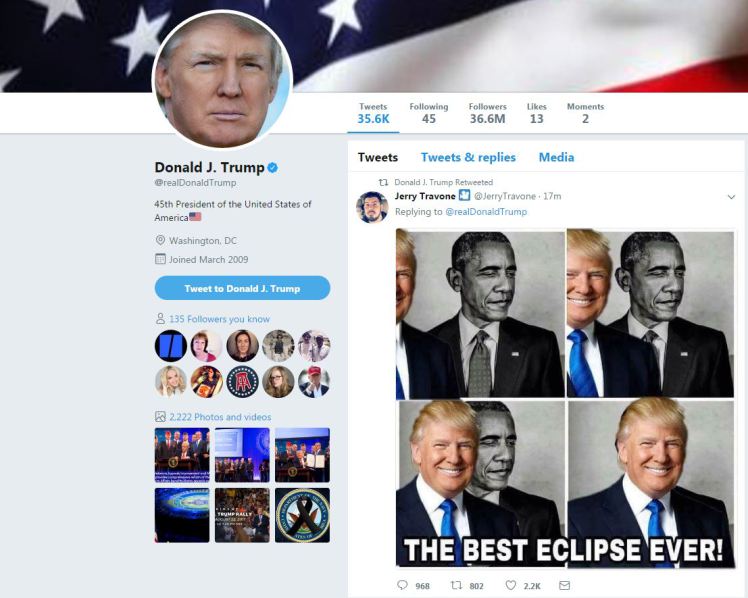 Yes, this is seriously what the President Of The United States thinks is appropriate to send out to his millions of followers all over the world. Once again setting a fantastic example for his people and creating a magnificent impression for people of other nations. Here are some of the reactions from the twitter community:
This is actually correct. The Darkness of Trump has overtaken the brightness of Obama. The Sun is what gives us life and energy!

— Ed Krassenstein (@EdKrassen) August 24, 2017
You really retweeted this? Just. Wow.

— Tripper Allen (@tripperpalooza) August 24, 2017
You can really understand why the creators of 'South Park' are refusing to satirise the guy anymore. It's too damn hard when he willingly offers stuff like this pretty much every day of his Presidential reign. We live in interesting times.