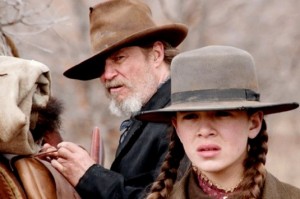 As has felt increasingly customary, we head into another Oscars build-up with the Coen brothers heavily featuring among the nominations, or noms as our clipped hacks have dubbed them.
The smart Jewish kids from Minnesota have blasted into the Hollywood fraternity and show no signs of heading for the hills anytime soon.
They return to our screens with True Grit; based on a 1968 Charles Portis novel – which itself was made into a Henry Hathaway directed picture a year later with the same title, starring "The Duke" John Wayne — but it is the book that the Coens cite as their primary source.
Mattie Ross (Hailee Steinfeld) has just seen her father murdered by blockhead farmhand Tom Chaney (Josh Brolin) in Arkansas who has now absconded.
The 14-year-old girl seeks retribution and enlists Deputy US Marshal Rooster Cogburn (Jeff Bridges) to track him down so he can be brought to justice.
Cogburn – an alcoholic, half-blind ruffian is initially reticent but eventually agrees to take on the job, however he insists Mattie remain at home.
The fly in the ointment appears in the form of LaBouef (Matt Damon) a cocky Texas Ranger who wishes to bust Cheney for the shooting of a politician in his native state.
Mattie refuses his assistance as if LaBouef succeeds, Cheney won't face any charges for the murder of her father and will face prosecution in Texas.
She also rebuffs Cogburn's desire to carry out the task on his own and thus all three set off into the wilderness to tackle Cheney but quickly find the unforgiving environment — and its inhabitants — could scupper their plans.
The Coen's flights of fancy are recognisable from the offset; biting humour mixed with laconic social realism.
A native American about to be executed attempts to speak his last words but is killed before he can finish, Mattie and Cogburn encounter a bedraggled bearded individual in the forest with a grizzly's head for a hat who claims to be a doctor.
The film is also infused by the ornate Kings James English dialect which only enhances the setting ; in response to a question about why a man was hung so high from a tree, Cogburn replies "I do not know. Possibly in the belief it'd make him more dead"
Hailee Steinfeld is terrific as the pint sized, straight-talking heroine; school masterly in the Jean Brodie sense, belying her teenage years – however sadly her character develops little throughout the film.
Fresh from his Oscar winning turn in Crazy Heart, Jeff Bridges seems to have retained the grubbiness and southern drawl his performance in that picture contained and he is highly entertaining as the grumpy sidekick to Steinfeld.
Perhaps outshining both is Matt Damon whose arrogant and unflustered LaBouef is strangely affecting; flicking through the movie's changing gear shifts with ease.
One problematic aspect to the proceedings is how little True Grit strays from the well trodden path of the Western genre — the Coen's playful inversions of convention such as their rollicking treatment of the police drama in Fargo or their otherworldly approach to prohibition era America in Miller's Crossing are what has made the duo such respected luminaries.
But the straight-faced delivery with which True Grit develops leaves one feeling a tad unsatisfied despite how enjoyable the viewing experience is.
And the views are stunning as regular Coen collaborator and cinematographer Roger Deakins brings the rugged, exhausting Texas landscape to the fore; from the striking mountain peaks to the beads of sweat running off a stallion's back.
The Coen stagecoach may continue to roll and while this cannot compare with their very best, it is still a highly captivating and boisterous watch.