Boxing legend George Foreman was left a little red-faced this week when he was trolled to the max into sharing a photo of Raoul Moat – you know, the guy who shot three people on a rampage before turning the gun on himself.
Images VIA
The 70-year-old shared a picture of the gunman after being pranked into thinking he was a huge fan of the athlete.
It all started when user @BradleyHilditch tweeted the image and wrote:
@GeorgeForeman hi George. My uncle was a huge fan of yours, you was his favourite heavyweight of all time.

Sadly he's lost his life long battle with nits about 8 and a half weeks ago.

It would mean the world if you would notice this tweet.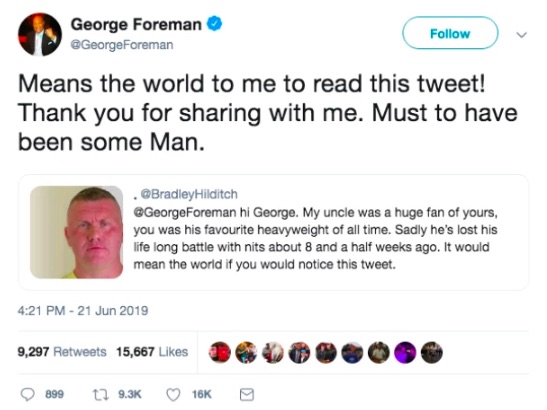 Despite the ridiculous circumstances (nits… seriously), Foreman was none the wiser to who Moat was and went ahead and retweeted the picture, alongside the caption:
Means the world to me to read this tweet!

Thank you for sharing with me. Must have been some man.
Whoops. Soon enough, fans flocked to Foreman's aid to explain the blunder he'd made. And let's just say that when he found out who Moat was, he was a little embarrassed.
After deleting the original tweet, former heavyweight champion said:
Thanks for having my Back! These guys get me every time. Gotta keep up with The News.

I gett'm next time. Crazy guys.
This isn't the first time the Twitter troll has duped a celebrity, as he pulled the same trick with Liam Gallagher, only this time he used a picture of Gary Lineker's brother, Wayne. He wrote:
Liam, my uncle was one of your biggest fans. Went to all of your gigs and it would mean the world to him if you noticed this tweet. Died 18 weeks ago today.
To which Gallagher replied:
RIP my man.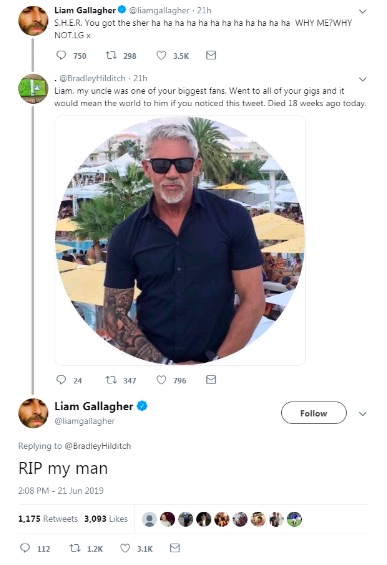 He's definitely taken a more controversial route with the Raoul Moat picture. It begs the question: when will he strike next? And who will be his victim? Watch your back celebrities, or at least maybe read a newspaper.
To read about the time Paul Gascoigne went to help Moat after he'd huffed a load of cocaine, click HERE.