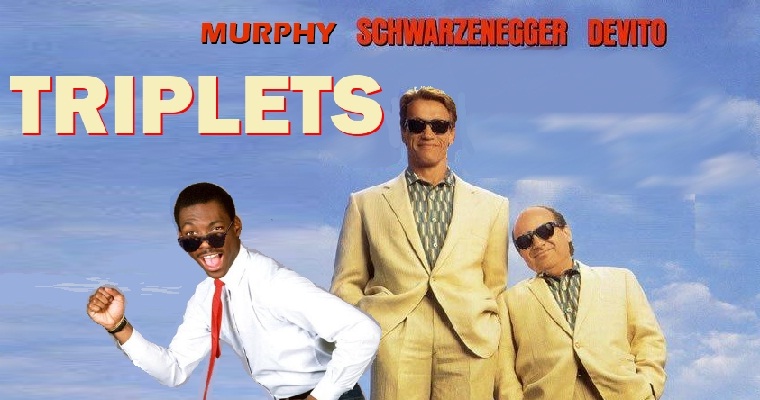 Hot on the heels of 1988's Twins, which saw Danny DeVito and Arnold Schwarzenegger cast as unlikely twins Julius and Vincent, will be follow up "Triplets". OK so it's not hot on the heels, but obviously the 24 years between the movies gives the impression that this movie will be nothing less than amazing.
Well that's actually bollocks, what has happened is that good old Hollywood has been scratching their bonce as to what will fill their wallets quick, so what better way then to do a sequel to a popular film and chuck in Eddie Murphy for good measure, yes Eddie Murphy. Eddie Murphy is set to be the long lost third brother, so long lost it has evidently took 24 years to find him. As for the plot, well there isn't one, I don't think even the most dedicated script writer could polish this turd of an idea.
[yframe url='http://www.youtube.com/watch?v=cY2E7vZn_o4′]
Danny DeVito has been reported to say that he would be on board if the story was right, well good luck on that front. It may be conceived by some that it would be easy to automatically shoot down this idea without even seeing the finished product, and they would be right, it's so easy. Other than The Nutty Professor, Eddie Murphy has about as funny as having shit posted through your letterbox.
But wait, if Ivan Reitman is to direct surely that would soften the blow? Well yes it would, but guess what, he's only coming on as producer, meaning that it wouldn't have that retro comedic charm we had with Reitman's movies in the 80s, and what made Twins the film it was. This isn't the first time the "idea" has been thrown around, it first reached the surface back in the 90's with Roseanne Barr being drafted in as a possible long lost sister. Fortunately someone had taken their medication that week and the idea was put to bed.
This isn't the first sequel idea and won't be the last, but it has to be said that barrel is truly having it's fair share of scrapings. The idea of Arnie and DeVito working together again is a brilliant one, but why not just launch a new production rather than raping an idea and tarnishing it's good name. Or at least get Arnie in some sequels we want to see.