If you haven't heard of Tremors then it is legitimately one of the best horror-comedies of the 90s, telling the story of some people living in an isolated desert town who are forced to defend themselves from some scaryass burrowing worm like creatures that are trying to eat them called Graboids. It really is a lot of fun.
Featured Image VIA
The movie was so successful that it inspired several direct to video sequels and a short-lived TV series back in 2003, but original star Kevin Bacon is rejoining the cast for the latest sequel TV show, set 25 years after the original. His character Valentine McKee will be returning, and Jason Blum – the man behind Blumhouse Productions, who are responsible for several of the best horror movies of recent years like The Purge, Insidious and Sinister – is also involved. Exciting.
Here's what Bacon had to say about his return to the show: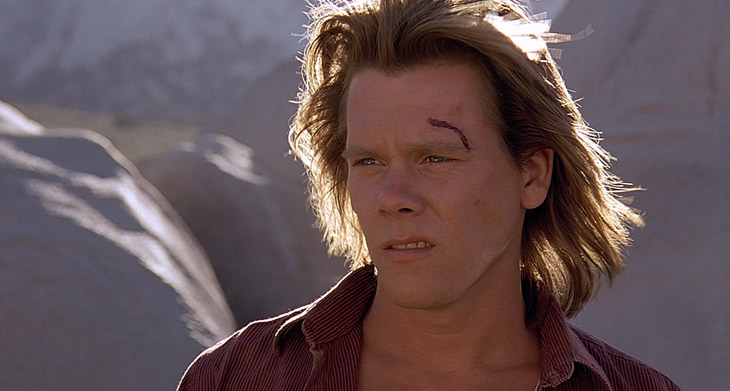 This is the only character I've played that I've ever thought about revisiting. I just got to thinking, where would this guy end up after 25 years?

Andrew Miller has a fantastic take on it and we hope to create a show that will be fun and scary for fans of the movie and folks that have yet to discover it. Let's kick some Graboid ass!

The thing is, to me what's interesting about that guy is that he was doing nothing, working as a handyman.

And then because of this extraordinary circumstance, he gets to become a hero!

So, what happens after you've become an accidental hero? 25 years later. And that's the thing we want to explore in this series.
Doesn't really sound like it's going to be that much about kicking those weird Graboid worm's asses, but I'm sure it's going to be pretty entertaining with the team they've assembled and the worms will be appearing at some point. Definitely excited for this one.
For more horror movies, check out some of the best of all time. Can't believe Tremors wasn't included.