It was Kourtney Kardashian's birthday the other night, and Travis Barker celebrated the occasion with a series of aggressive Happy Birthday posts on Instagram that showed the pair acting like a couple of first year uni students in love.
Click through the IG slide show below to see for yourself:
View this post on Instagram
What about this one… mama mia!
No one show Mason Disick this video Travis Barker just posted pic.twitter.com/X8Zfl6CvuF

— Chicks in the Office (@ChicksInTheOff) April 18, 2021
I'm not sure what to say really. Maybe this is what true love is all about? Deep throating each other's thumbs on your birthday and sharing it with the world on Instagram? Maybe the rest of us just don't know what love is because we've never had our other half's name tattooed on our bodies after just a few weeks of dating:
View this post on Instagram
And what about this photo of Kourtney nestled on her Instagram between pictures of her kids enjoying a day out at the park and eating dinner with her family? Was this even meant to go up on IG or no?
View this post on Instagram
Kourtney Kardashian just don't give a f-ck! Just two young kids (well, a 45 and 42 year old) fully in love and not caring who knows it! What could be more beautiful than that? Not many things, if you ask me.
There was also this shot from Travis's Story: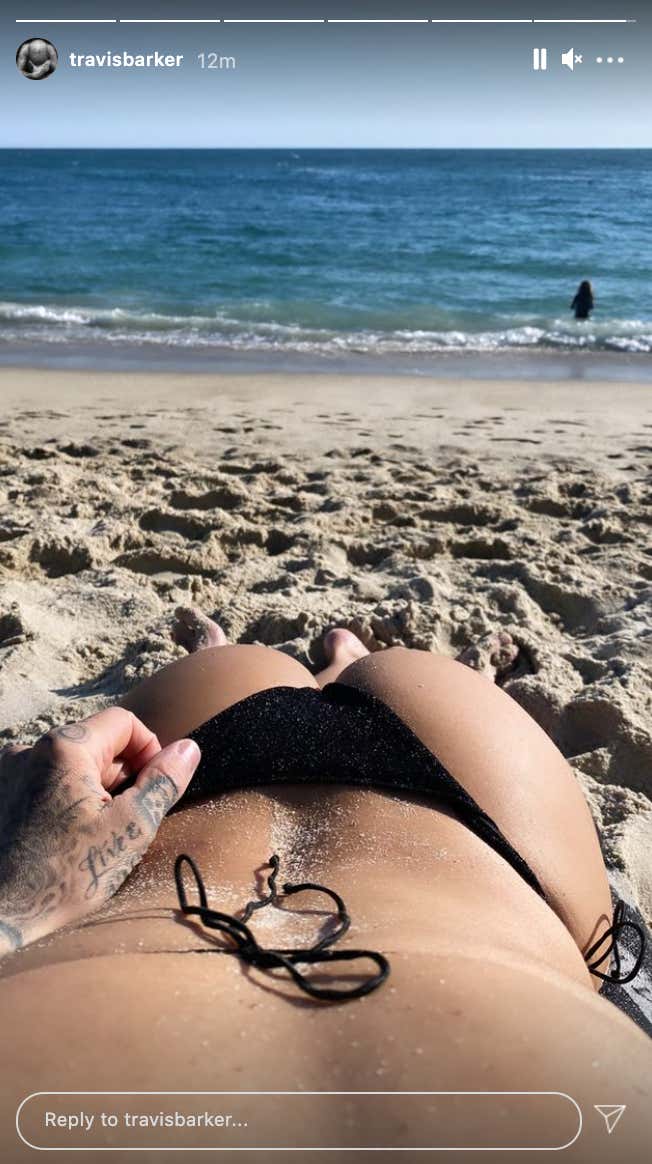 Well, let's hope Kourtney has a great birthday aside from the thumb-sucking and hanging out at the beach. I wonder what else they got up to? Can't be too far from a couples OnlyFans at this rate. Maybe next year?
For a look at 37-year-old Scott Disick's new 19-year-old girlfriend, click HERE. People aren't too happy about that one.