The makers of Always sanitary pads has given in to claims of discrimination by transgender men and removed the 'Venus' symbol (associated with the female sex) from its wrapping and branding.
Featured Image VIA
You see, trans men still have their periods and thus use sanitary products, and so urged Procter & Gamble – the parent company of Always – to remove the branding as it makes them feel excluded.
As per the Metro, the campaign started back in July when trans activist 'Melly Bloom' Tweeted the following:

Another activist, Ben Saunders (featured image above) – named young LGBT campaigner of the year by charity Stonewall  – contacted the sanitary pad makers with a similar complaint.
The Always marketing team took their complaints into consideration and ended up making the change, as explained in a letter they wrote to Ben which he shared on Twitter:
We listened to you and our marketing team worked a solution. We are glad to inform you that as of December we will use a wrapper design without the feminine symbol.
Some people on Twitter thought it was a pointless and damaging move:
Why are corporates so willing to alienate their core demographic at the drop of a hat because a few people tell them that recognising female biology is 'exclusionary'?
Leading feminist campaigner Julie Bindel agreed:
Removing the female symbol from sanitary towel packaging is basically denying the existence of women.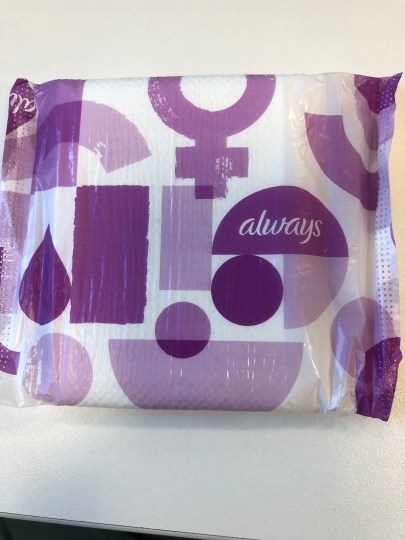 Procter & Gamble responded with a further statement:
For over 35 years Always has championed girls and women, and we will continue to do so.

We're also committed to diversity and inclusion, and after hearing from many people across genders and age groups, we realised that not everyone who has a period and needs to use a pad identifies as female.

To ensure that anyone who needs to use a period product feels comfortable in doing so with Always, we updated our pad wrapper design.

Our mission remains to ensure no girl loses confidence at puberty because of her gender or period and we do this through our puberty education programs, by providing access to period products with programs such as #EndPeriodPoverty, and by using our brand voice to tackle societal barriers and stigmas like we did with #LikeAGirl.
The strangest part about this is Procter & Gamble already lost $8 billion through Gillette by cowing to activists and releasing that dumb toxic masculinity advert earlier this year, and now they risk the same thing happening as women around the world threaten to boycott Always products.
It obviously doesn't affect me personally and I'm just trying to put myself in each party's shoes here, so I just think if I was bleeding from my vagina and needed a sanitary pad to sort that out the last thing I would be bothered about is what the symbol on the packaging is, no matter what my pronoun on gender identity is.
You would have never predicted a story like this even just 5 years ago but hey, here we are. The world is changing and its changing fast. Whichever side you're on or even if you're not taking sides, it's fascinating to watch.
For the guy who claims he gets 'male periods' whenever his female flatmate is in the house, click HERE. Another spanner in the works.