A woman was arrested after being busted using Craigslist to find a horse to hook up with.
Images VIA
The 32-year-old, who identifies as transgender and was arrested under her birth name Donald Waelde, had sent out an ad on the 'Missed Connections' section stating she was looking for a male horse "on which to commit the act of fellatio". Gross. The advert said:
I am 22-years-old and I want to play with a male Horse. Simple as that. If you have access to a Male horse, and can allow me access to a male horse, then contact me please 😉 I will do something in return.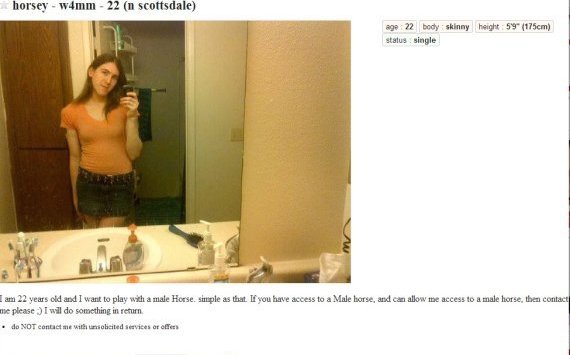 Waelde was notified to the police after a genuine horse enthusiast spotted the ad and reported it to the local authorities. Not long after the investigation was launched, the police were able to locate Waelde and place her under arrest for conspiracy to commit bestiality. Thank goodness that person spotted the ad before Waelde managed to get her hands on a horse. Lord knows what she would've done to the poor thing.
Bestiality is one of the most disturbing taboos there is in modern society, which is why I can't understand how Waelde could be so dumb as to advertise her fondness for animal-loving online. It's even worse than this psychopath who advertised free festival tickets on Craigslist… there was a very sinister catch.