We've been eagerly awaiting the remake of Stephen King's IT at Sick Chirpse ever since it was announced a few years ago, and every subtle development has only increased our curiosity further. This latest one has taken things up yet another notch.
Images VIA 
A bunch of lucky people were treated to an exclusive preview of the trailer to the movie at SXSW yesterday and whilst the trailer hasn't been released onto the internet just yet, people are already talking about how everyone in the theatre was screaming and some people actually ran out because they were so terrified. Whilst that sounds like a little of an over exaggeration, this synopsis from Movieweb does make it sound pretty creepy:
The trailer opens with footage of Bill Denbrough making a paper boat for his little brother Georgie. We then move outside, where Georgie is chasing his boat in a rainstorm as it floats next to the curb.

Suddenly, Georgie runs right into a street barrier, which knocks him down on the ground. He then watches as his boat sails into a gutter. He runs to the gutter and tries to see if he can see his boat.

As he looks deep into the sewers, Pennywise abruptly appears before the screen cuts to black.

Then we are shown the members of the Loser's Club meeting each other and realizing that they've all been seeing the same entity, before one of them finally says 'The Clown'.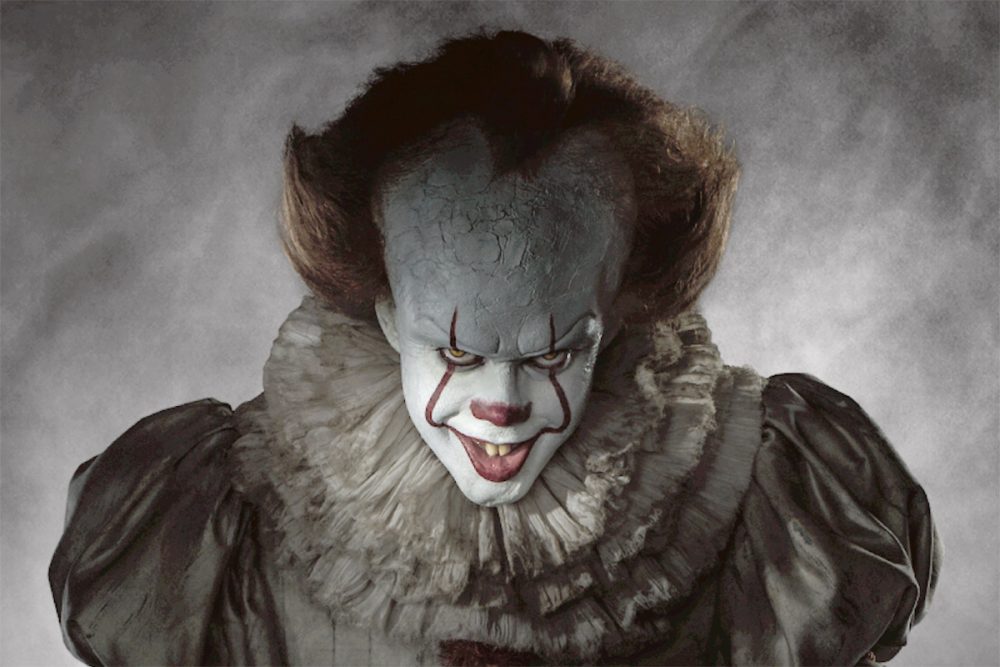 Once that happens, the teaser then moves into its centre-piece, which shows the members of the Loser's Club looking at pictures on a carousel slide projector that suddenly acquires a life of its own and begins moving through the slides at an increasingly alarming speed.

The pictures are of Georgie and his parents, and each slide zooms in on Georgie's face before cutting to his mother, whose hair is covering her face.

As the projector moves from slide to slide, the hair moves out of his mother's face, and her face is revealed to be that of Pennywise himself.

The teaser ends with Bill walking down into his flooded basement, where Georgie's ghost taunts him by repeatedly screaming… before Pennywise rises from the water and rushes at him in a moment that had the entire audience screaming.

The screen then fades to black and we see the word IT.
Eeek. Sounds like it's well on its way to doing the original justice – it's due out on September 8th so it isn't even really that long to wait until we can find out for ourselves. As one of the scariest films I ever saw when I was a little kid, I really hope that it can deliver how ever many years later.
If you need any more convincing, then check out everything we know about it so far right here. Fingers crossed it's going to be good.