I've halfheartedly tried to keep up a miss of the week feature on Sick Chirpse but I've never really been bothered to do it, even though all I would really have to do is copy it from 101greatgoals.com (I guess maybe I'll do it in the future if it's really that easy? Maybe) but I featured the best assists of the season and the best goals of the season so I figured it probably made sense to include the top ten misses of the season as well, and it would probably make up for my lack of regular updates on the subject. Again I guess that's pushing it. In any case, here are the top ten misses of the 2010-11 season, in chronological order. As you can see, even the greatest of strikers are prone to a few shocking errors.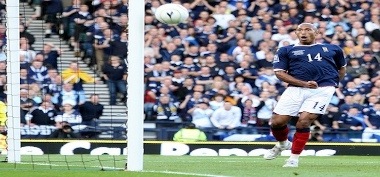 1. David Villa (Spain V Lithuania, October 8th, 2010) This is completely rad because a)it's David Villa who almost always seems to score and b) He goes to place the rebound and not slam it like some people might do in these situations but end up skying it, but he just completely screws it up. At least he hits the post I guess. David Villa's reaction is pretty jokes too.
httpv://www.youtube.com/watch?v=2iZX_khnvok
2. Khalfan Fahad (Qatar V Uzbekistan, November 15th, 2010) This was an early birthday present for me. Fahad capitalises on a mistake by the Uzbekistan goalkeeper Timur Juraev and is clean through with an open net, but decides to hit it with the outside of his left foot across the goal for some reason, when he could have just hit it with the inside of his right (or even his left, he probably has enough time). Needless to say it hits the post.
httpv://www.youtube.com/watch?v=nG8FqQkKVIU
3. Jakub 'Kuba' Blaszczykowski (Freiburg v Borussia Dortmund, November 20, 2010) This happened in the final minute of the match between Freiburg and Dortmund. Kuba is put clean through by Lewandowski with an open goal in front of him and you can feel everyone in the arena about to celebrate the impending goal, but he tries to place it in the top corner ever so cooly but only succeeds in placing it over the bar and wide of the post. Smooth. Kuba trudges off sheepishly.
httpv://www.youtube.com/watch?v=chAXXlwB7vE
4. Veria FC (Levadiakos v Veria FC, December 19, 2010) This is a special one as it isn't just one player responsible for a shocking miss but five. The ball comes to one player in the box unmarked, he smacks it against the post, the striker follows up with a header from about two yards out that he completely screws up and goes off to the left hand side, where another dude spanks it against the bar. The rebound falls to another guy who takes an age to get his shot away and then hits the post. This rebound drops to another dude about three yards out who spanks it over the bar. Special. I think this happened in the Greek Second Division which seems to be unearthing a lot of gems right now, like number ten on this list.
httpv://www.youtube.com/watch?v=KxwF12yDcRE
5. Marlon de Jesus (Ecuador U20 v Uruguay U20, February 3, 2011) This miss actually inspired me to do the very first Miss of the Week feature. It's pretty horrendous and what's more is that it actually had a huge impact on the tournament and future of U20 South American football. Check the original article for details.

httpv://www.youtube.com/watch?v=wzxgMix5oUE