The Premier League has been going strong for twenty years now and a hell of a lot has happened in that time. Eric Cantona practiced his Kung-Fu skills on an unsuspecting fan, Paolo Di Canio's 'ref-push' led to the longest fall in footballing history, and Alex Ferguson is believed to have finished 11,000 pieces of chewing gum (it's unknown how many of these he picked off the floor). That's why there has been an award ceremony setup to mark the best of the best in the premiership where you can get your vote in. With 11 different categories and only ten places in each one there are some controversial decisions as to who has and hasn't made the shortlists. That Eric Cantona has been nominated in 5 of the 11 categories shows they have got it right.
In 20 years of the premiership there have been some wonder goals – fine, but a great goal deserves a great celebration. Yeah, you may have just scored a 40-yard screamer but by going and hugging your mate you are not doing it justice. Put a mark on it and make sure everyone remembers the celebration as much as the goal. Check out the Premierships top ten here:
[yframe url='http://www.youtube.com/watch?v=vJShPo3Opx8′]
Now there are some memorable ones here. Take Eric Cantona. His goal is amazing, he beats three players before lobbing the keeper. Then to top it all he shows no emotion, simply turns and stares into the distance: bossman. Now compare that to Alan Shearer, admittedly one of England's finest strikers. He made himself a trademark celebration — the one handed salute – which was worryingly similar to Hitlers' preferred way of saying hello. Fair play everyone knew what his celebration was going to be. But could it be any more boring? One hand in the air, for each one of his 422 goals: unimaginative doesn't cover it. What's even more disappointing is that in all that time not one person not one of his team mates even tried to give him a high five.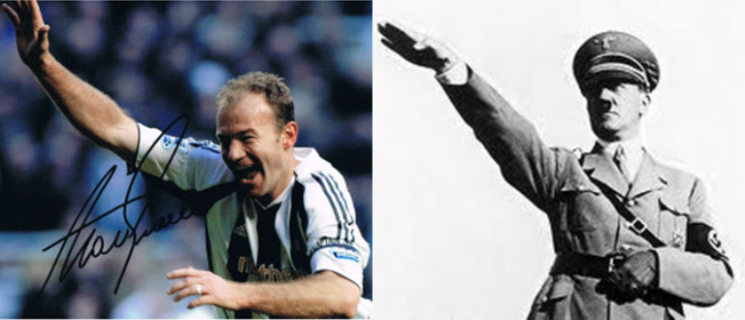 What I am saying is this: other than Jimmy Bullard, who is a top joker – and Ketsbaia- whose celebration still baffles me- Premiership footballers are almost uniquely boring when it comes to celebrations. Now if you want to see some guys that put on a real show for the crowds you need to get down FC Stjarnan. These boys in Iceland really know how to do it!
[yframe url='http://www.youtube.com/watch?v=Z0GByFJ-zMQ&feature=youtu.be']
So this got us thinking…. Surely some of you guys can do better than our uninspiring Premier League footballers? Do you know someone that already has? If so, Tweet them in to us using #SickCelebration or post them on our Facebook wall. They don't have to be football celebrations but they do need to be technical. We will re-tweet and re-post the ones we feel the world need to see. Peace.