Once the Coronavirus has finally begun to die off, international travel will be back on the cards. Having faced what's probably going to be months of self-isolation, one of the best ways to celebrate is going to be going out on a mad one with your friends, catching up, and reminiscing over the past few months spent apart.
Featured Image VIA
What's better is that these wonderful post-Corona hotels are all located in some of the sunniest, most beautiful places in the world. Tick that off your summer bucket list.
La Riad Berb
é
re in Marrakech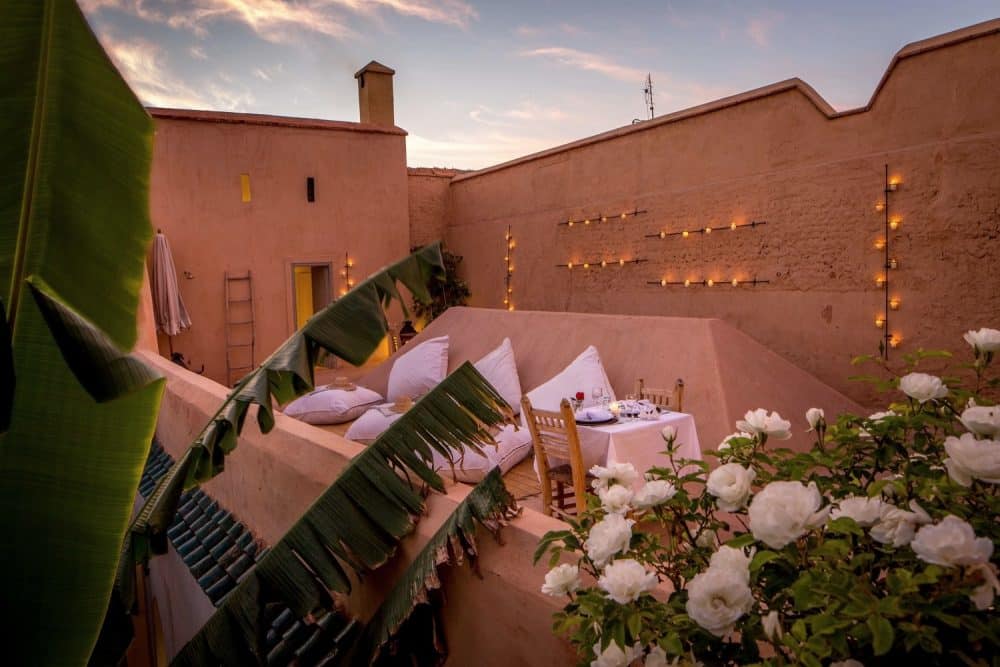 Marrakech is known for being a city of contrasts – from the urban bustle of the medina, to the old leather-selling stands, to the luxury of Le Comptoir. All aspects of Moroccan life seem to blend together at Le Riad Berbére. Located just outside of the medina, you're able to ease yourself into the Red City from within a luxurious – and yet surprisingly affordable – hotel.
For the – frankly, unreasonably cheap – price of 89 GBP per night, you can stay in a gorgeous hotel built by a wealthy Moroccan family from the 17th century.. It features traditional architectural elements such as original cedar-beamed ceilings blending into galleries of archways, and traditional handing lamps and ochre furnishings, really making you feel as though you're a fly on the wall in Aladdin.
The gem of this hotel is its neat little garden, where you can sit beneath the banana trees and enjoy a wonderful afternoon tea, or bathe in the pool at the centre of the courtyard, all whilst enclosed by the refreshing and cooling whitewashed walls. In the evening, you can make your way to the terrace where you can overlook the rooftops of the medina, basking in the orange-red of the evening, whilst sipping on orange-red drinks. A pretty heavenly way to recover quarantine, eh? 
Bambu Indah In Bali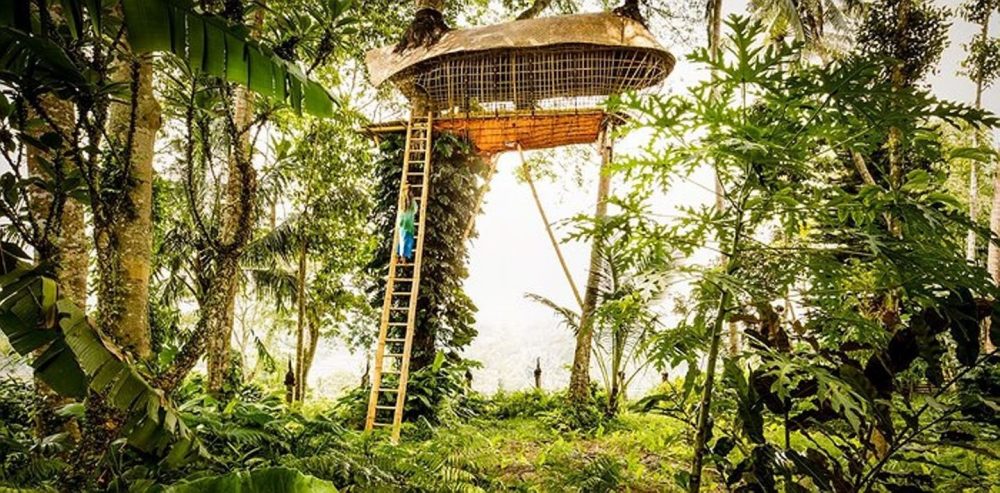 Have you ever heard of a 'sustainably minded jungle retreat' before? Neither had I until I learnt about the Bambu Indah in Bali. Their website is a little pretentious, I'm not going to lie, saying things such as 'listen to the orchestra of sounds of our jungle retreat and absorb the natural elements into your soul,' but honestly, I'm sold.
It's set in the most idyllic surroundings, where you can stay in their antique Javanese homes and unique bamboo structures, with each set of accommodation being individually designed and, I've got to say, absolutely jaw-dropping gorgeous. They offer three different "experiences" – the Romantic Experience, the Experimental Experience, and the Relaxation Experience. Depending on how you feel after quarantine, you might just be interested in all three.
Everything about this place is environmentally friendly – with sustainable design, a natural pool, and just an overall responsible living program. It's very interesting, and honestly, if the earth continues clearing up the way it has been with the humans off the street, this place is only going to further it. Get a couple pals together and split the 115 GBP per night, and prepare yourself for weeks of kicking back, relaxing, and, um, meditating?
47 Jobner Bagh In Jaipur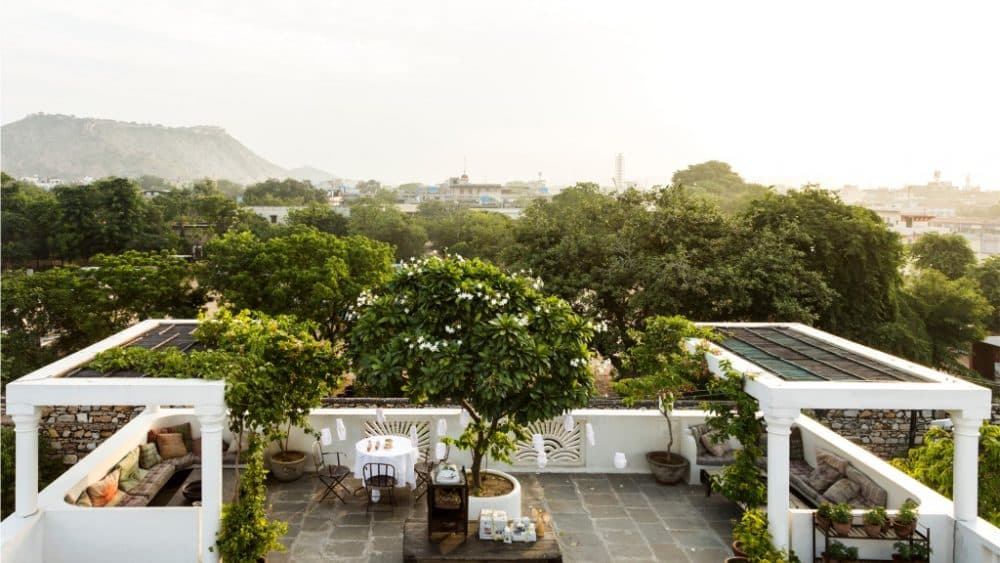 You know the movie, The Best Exotic Marigold Hotel, in which a bunch of old people rock up to a death retreat expecting to stay at some fancy palace, but instead turn up to ruin? Well this hotel looks like the hotel that they should have turned up to in the movie, with the whitewashed, curved detailed walls and wide terraces, and sunlit interiors furnishes with beautiful antiques and vintage Indian pieces.
Jobner Bagh was once part of the Maharaja of Jobner's Gardens, located in one of Rajathan's royal cities, Jaipur. One of the very best things about this hotel is the fact that it's built opposite the original walls of these famed gardens, offering a terrace view of the Aravali hills and its Tiger Fort and Ganesh Temple, and the 18th century Mahargarh Fort.
According to the hotel's website, 'staying at 47 Jobner Bagh is like moving in with an old pal and meeting their interesting, creative friends.' If that doesn't give you a hard sell, then frankly, I don't know what will.
Another plus side about this hotel is that Shiva, the owner's wife, cooks wonderful Indian suppers each night which you can eat in the garden or the candle-lit dining room. There's also a lovely little spa which offers Ayruvedic and aromatherapy massages. Ahh, Bliss.
Kaju Green In Sri Lanka

Kaju Green is actually a private island adjacent to the Sri Lankan Bird and Wildlife Sanctuary Eluwila. Similar to Bambu Indah, this hotel is also driven by their passion for nature and sustainability. They also seem to have quite a pretentious website, detailing 'an ecolodge designed to rejuvenate your body and spirit.' That's quite a big promise.
 'Kaju' is the local Sinhalese name for the ancient cashew tree which grows around the whole island, and is incorporated in the dishes in their kitchen. They state that this is used for 'important deep connections' to 'gather you into its circle of life,' but I personally think that it's just there to be tasty.
Their rooms are gorgeous, all open-plan and overflowing into the wilderness. With a whole island to make use of from 66 GBP per night, it'd be perfect for rounding up a bunch of friends and play-acting the graduation ceremony you never got to have because the coronavirus cancelled it all. Too soon?