For most of us growing up in the late 90s/early 00s, Tony Hawk Pro Skater was a bigger influence than we could have possibly fathomed at the time. While our real life older brother might've backed us up in a school scrap or taught us how to smoke grass, Tony Hawk showed you how to bust a gnarly Switch 360 Flip and, most importantly, about rad music.
Images VIA
Yes, the Tony Hawk Pro Skater games were the absolute must-have skate simulators and while there were a number of spin offs such as THUG and American Wasteland, nothing else was as much of a centerpiece for youth culture as the Pro Skater series. Hell, it was most likely even the clincher that convinced you to pick up your first skateboard and land your first (dodgy) ollie.
As mentioned, one of the key aspects of the Tony Hawk games that keeps them in the forefront of our memories is the incredible soundtrack. The overwhelming nostalgia surrounding these masterpieces comes more from the soundtrack than it does from the feeling of euphoria that comes after collecting the final 'E' of SKATE. Here's what Silvio Porretta, the lead artist on THPS, had to say about the soundtrack during the development stage:
It was unusual but it made complete sense for Tony Hawk's Pro Skater to have real bands. Slayer was not into it because they don't do promotion or commercial stuff, but we finally got them because my ex-wife had a connection with their manager. She knew one of the guys at Suicidal Tendencies as well, so it was a no brainer to get that band in. We were so small, we didn't have any marketing funds, so we were the ones going out promoting the game. We'd go to a skateboarding event with a big TV and demo the game for the kids. We were doing everything DIY. All the graffiti in the first game was also real. That came from a guy I knew who was doing a lot of graffiti around LA.
Not only were the bands real, but the soundtrack featured an eclectic mix of rap, hip-hop, punk, ska and metal. At a time when the edgiest music on the radio for us secondary kids was Smash Mouth and Nickelback, the soundtrack to THPS was like a shot of pure musical adrenaline. Tony Hawk discovered a way to pump decent punk into the ears of young people in a relaxing environment. Goldfinger, The Dead Kennedys, Primus, Suicidal Tendencies, The Vandals – there was no other playlist like it. As a result, the video game had an incredibly powerful influence on the taste of our generation, even more so than your dad and his dusty record collection. Tom Barnes, writer and THPS fanatic, said:
Punk band Bad Religion claims that the inclusion of their song 'You' on THPS 2 is what made them famous. They've since been credited as a major contributor to the punk revival movement along with Green Day and Offspring, who both had songs included in the later Tony Hawk games. Heavy metal legends Motorhead claimed that 'Ace of Spades' appearance in THPS 3 gave their aging fan base a huge infusion of youthful energy. Alternative rock band My Chemical Romance once claimed they would not have been a band if not for Tony Hawk's Pro Skater.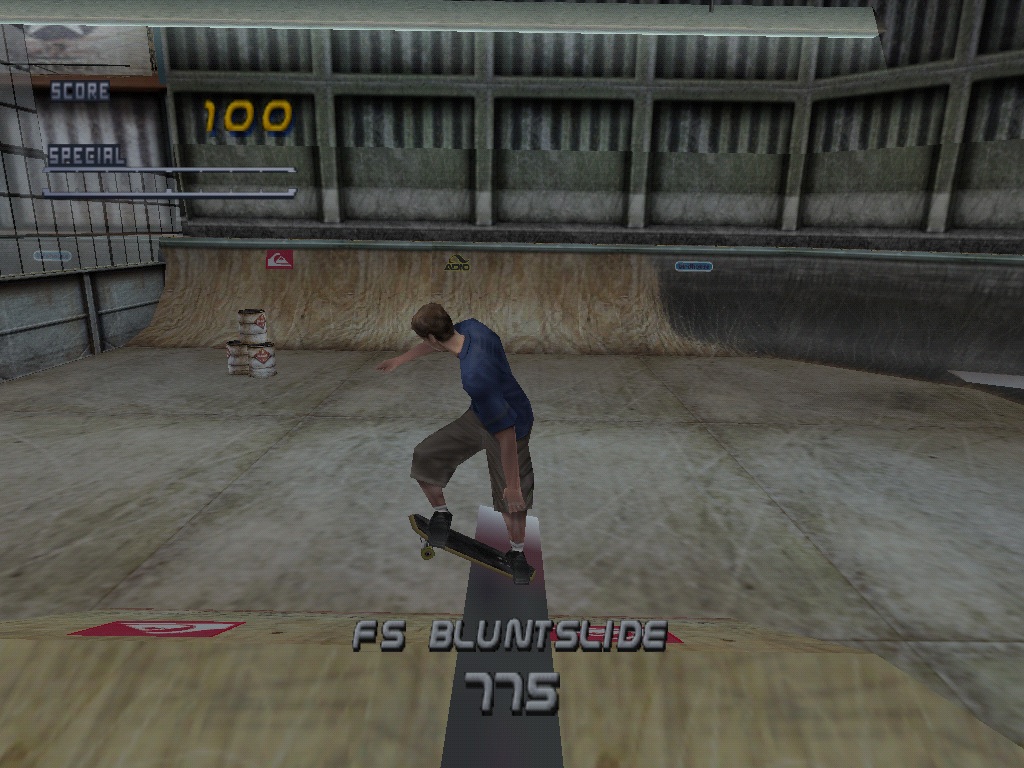 Never before and never since has a video game had such a strong influence on the music industry itself, as well as a generation's lyrical taste. In this case, the music was just as important as the gameplay. In memory and honour of THPS's inspirational soundtrack, SB Nation put together a definitive list of the 81 best songs from the original games, rating them on how good the song is and how much the song makes you want to hold down X in preparation of releasing it to ollie. Here goes:
Mad Capsule Markets – Pulse
JFA – Beach Blanket Bongout
Zeke – Death Alley
The Offspring – Blackball
Lunchbox Avenue – Standing Still
Fu Manchu – Evil Eye
Speedealer – Screamer/Nothing to Me
Zebrahead – Check
U.S. Bombs – Yer Country
Even Rude – Vilified
The Ernies – Here and Now
Alien Ant Farm – Wish
Red Hot Chili Peppers – Fight Like A Brave
The Faction – Skate and Destroy
Unsane – Committed
The Vandals – Euro-Barge
Muskabeatz feat. Grandmaster Melle Mel – I'm a Star
Alley Life feat. Black Planet – Out with the Old
Powerman 5000 – When Worlds Collide
Papa Roach – Blood Brothers
Lunchbox Avenue – Everything and Anything
Nebula – Giant
System of a Down – Shimmy
House of Pain – I'm a Swing It
Muskabeatz feat. Biz Markie – Bodyrock
Muskabeatz feat. Jeru the Damaja – Verses of Doom
Eyedea & Abilities – Big Shots
CKY – 96 Quite Bitter Beings
Rocket from the Crypt – Savoir Faire
Styles of Beyond – Subculture
Goldfinger – Spokesman
Hot Water Music – Freightliner
Toy Dolls – Dig that Groove Baby
Suicidal Tendencies – Cyco Vision
Consumed – Heavy Metal Winner
Primus – Jerry Was a Race Car Driver
Reverend Horton Heat – I Can't Surf
The Cult – Bad Fun
Rollins Band – What's the Matter Man
Del the Funky Homosapien – If You Must
Haiku D'Etat – Non Compos Mentis
Agent Orange – Bloodstains (Darkness Version)
The Bouncing Souls – Manthem
Delinquent Habits – House of the Rising Drum
City Stars – Bad Dreams
Millencolin – No Cigar
Adolescents – Amoeba
The Nextmen – Amongst the Madness
Aesop Rock – Labor
Avail – Simple Song
Ozomatli – Cut Chemist Suite
Gang Starr – Mass Appeal
Bodyjar – Not the Same
Run-DMC – My Adidas
AC/DC – TNT
Sex Pistols – Anarchy in the UK
AFI – The Boy Who Destroyed the World
Naughty By Nature – Pin the Tail on the Donkey
Lootpack – Whenimondamic
The Distillers – Seneca Falls
$wingin' Utter$ – Five Lessons Learned
Redman – Let's Get Dirty
Dub Pistols – Cyclone
KRS-One – Hush
The High and Mighty feat. Mos Def & Mad Skillz – B-Boy Document 99
Less Than Jake – All My Best Friends Are Metalheads
Flogging Molly – Drunken Lullabies
Lagwagon – May 16
Public Enemy – By the Time I Get to Arizona
Xzibit – Paparazzi
Iron Maiden – The Number of the Beast
Dead Kennedys – Police Truck
Rage Against the Machine – Guerrilla Radio
De La Soul – Oodles of O's
Ramones – Blitzkrieg Bop
N.W.A. – Express Yourself
The Suicide Machines – New Girl
Bad Religion – You
Anthrax & Public Enemy – Bring the Noise
Motorhead – Ace of Spades
Goldfinger – Superman
Ultimate nostalgia. I don't know about you, but I think I'm going to crack out the old THPS games tonight and have a bit of a session.
For more classic PlayStation games, click HERE.