Have you sent all your Christmas cards yet this year? Do people actually still send Christmas cards?
If you haven't and are planning to, then we've got some really good news for you – you can now send a Christmas card to your friends and loved ones that has a picture of Tony and Cherie Blair on the front. To make the card even better, Tony is standing there looking really really awkward whilst Cherie just stands there looking like her usual self i.e. that she's just had a stroke.
This has been a real year to forget for Blair, beginning with some dumb barman trying to arrest him for crimes against peace and now culminating in this: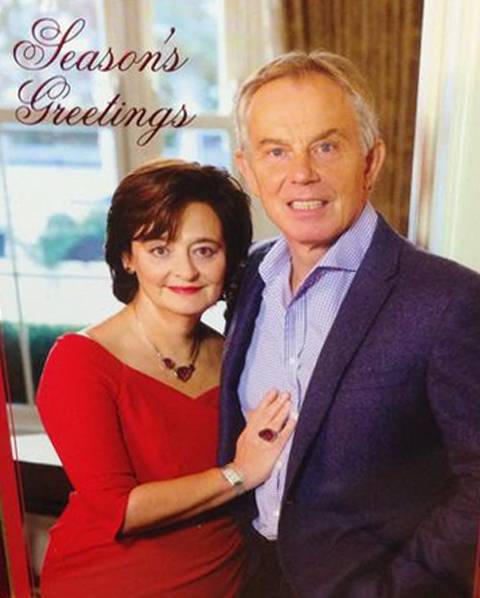 Perfect to send to your favourite aunt this Christmas I'm sure you'll agree. Whoever came up with this idea is clearly a marketing genius because these badboys are surely going to have people flocking to their local ASDAs all over the country in an attempt to find them, as they'll inevitably sell out super quickly because it's just such a good product. We can only thank the powers that be that they weren't on sale on Black Friday as that would have seen even more carnage than what actually happened.
Of course, I'm being sarcastic and can't imagine that even someone who voted for Tony Blair would want to receive this Christmas card because it's utterly horrific and the equivalent of someone telling you they hate you in Christmas card format. It is also 100% real in case you were wondering – confirmed by the Blair's representatives themselves – despite looking like someone cobbled it up on Photoshop in about two minutes for a joke.
Predictably, everyone on Twitter has completely ripped the piss out of it and come up with even better versions of it themselves. Here are some of our favourites, as well as a couple of lookalikes:
@MarkCollyerReal Hahaha!

– Nicola Neyhaul (@NicolaNeyhaul) December 1, 2014
Tony and Cherie Blair's Christmas card shows you what's behind the politics. pic.twitter.com/AXYf3VTqIQ

– Richard Littler (@richard_littler) December 1, 2014
Other greetings cards we can expect from Tony Blair. Get Well Soon. [2/4] pic.twitter.com/mjoXRJiKMa

– The Poke (@ThePoke) December 1, 2014
Is Tony Blair getting advice from Chandler Bing on how to pose for a photo? pic.twitter.com/nOpeWBkn6b

– kelly turner (@kellyvturner81) December 1, 2014
Is it just me or does Tony Blair resemble The Demon Headmaster in his new 2014 Christmas Card? pic.twitter.com/lZSwimZPcL

– Lucy Wood (@IamLucyWood) December 1, 2014