Tinder has completely revolutionised the dating game in the modern world, but with the thousands of other people signing up to the app every day, sometimes your profile can get lost amongst the competition.
Featured Image VIA
That's why the dating app has decided to launch Tinder Boost – a new feature that allows users to have their profile shown first in the feed. It works by bumping up users' profiles to the front of the feed for 30 minutes so that while it is activated, other relevant potential matches in the area will see your profile before anyone else's.
Here's what Brian Norgard, Head of Revenue and Core Product, had to say about it:
We are always looking at ways to improve our user experience. Our tests in Australia and the U.K. show us that users receive 8-10x more profile views and 3x more matches on average when Boost is activated.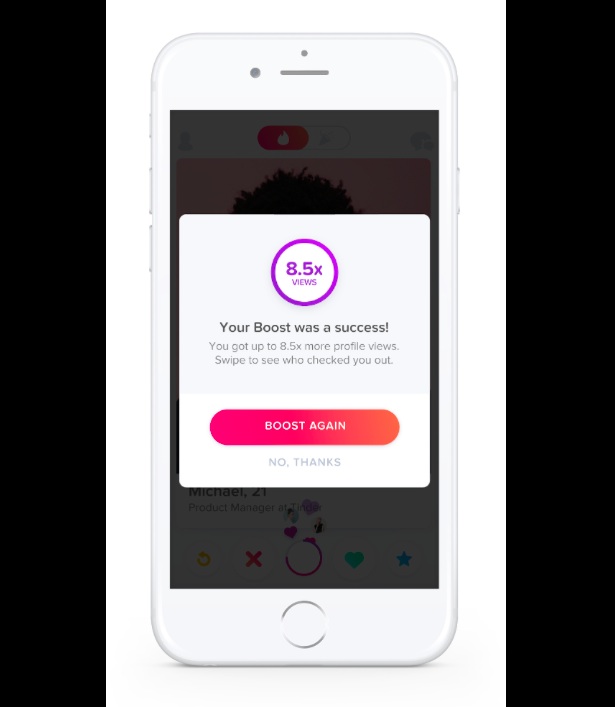 Tinder is currently still test pricing, but at the moment in Australia boosts cost between $1.99 to $3.99, which is practically nothing if it you're looking to get laid at the weekend. And they're also thinking of launching packages at a discounted price.
Tinder Boost is going to be treated as a separate feature for those who already have Tinder Plus, so the only downfall is that you're going to need to invest in this if you haven't already. But again, doesn't seem like a big price to pay if you're looking to get those swipes in. The app is slowly making its way into the App Store, so if you're interested in making the most of this new innovation, keep an eye out over the next few days.
Just make sure once you seal the deal and get a match, that you don't turn into an absolute psychopath and put them off for life. That's never good.