Fashion brand 'Revolve' has apologised after their Coachella event turned into 'Fyre Festival 2.0' – leaving influencers stranded in a car park and passing out from heat exhaustion after they'd paid $2,000 for tickets to attend.
Revolve released photos from the event showing smiling influencers in trendy outfits, posing in front of picture-perfect scenes…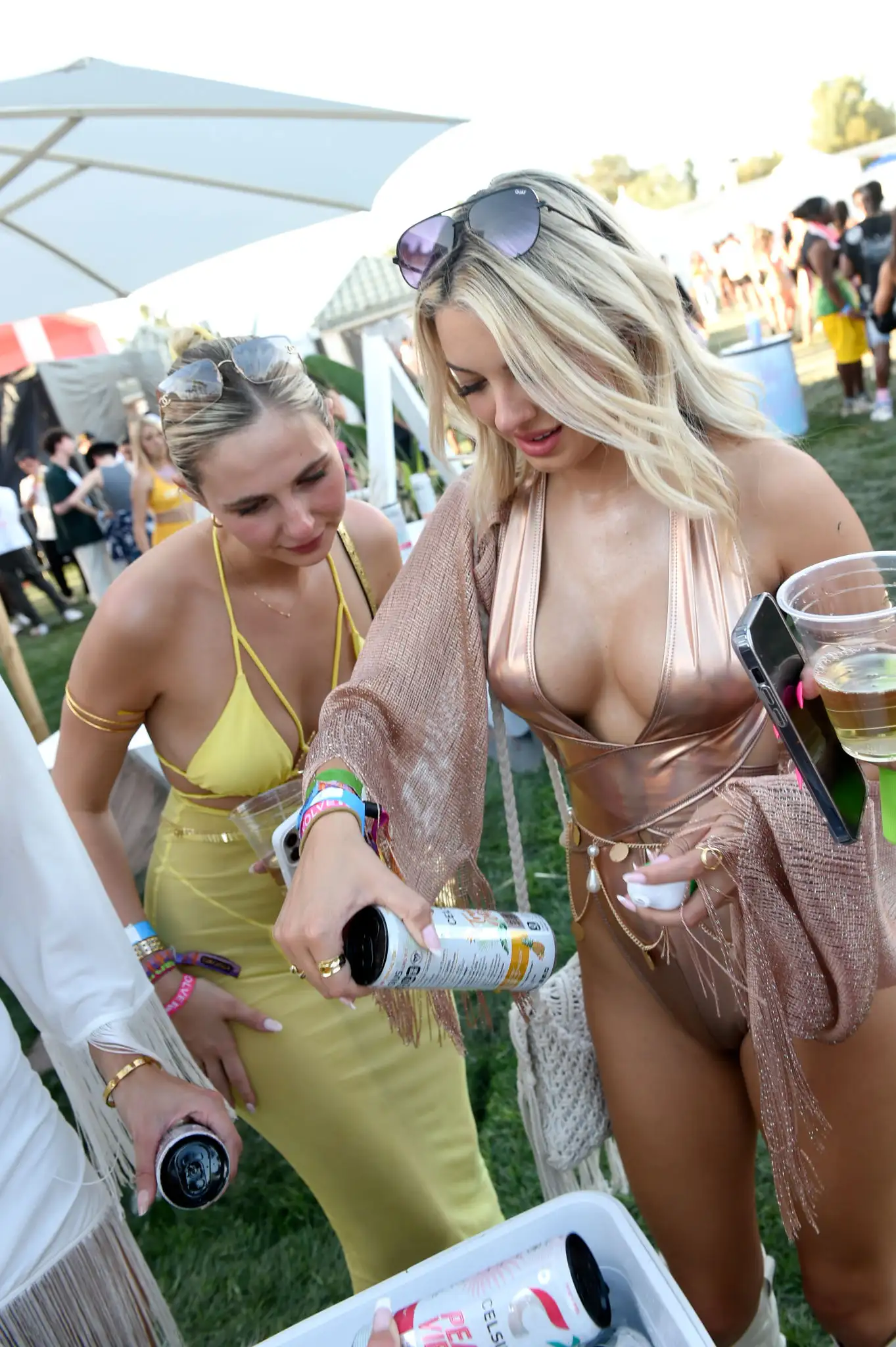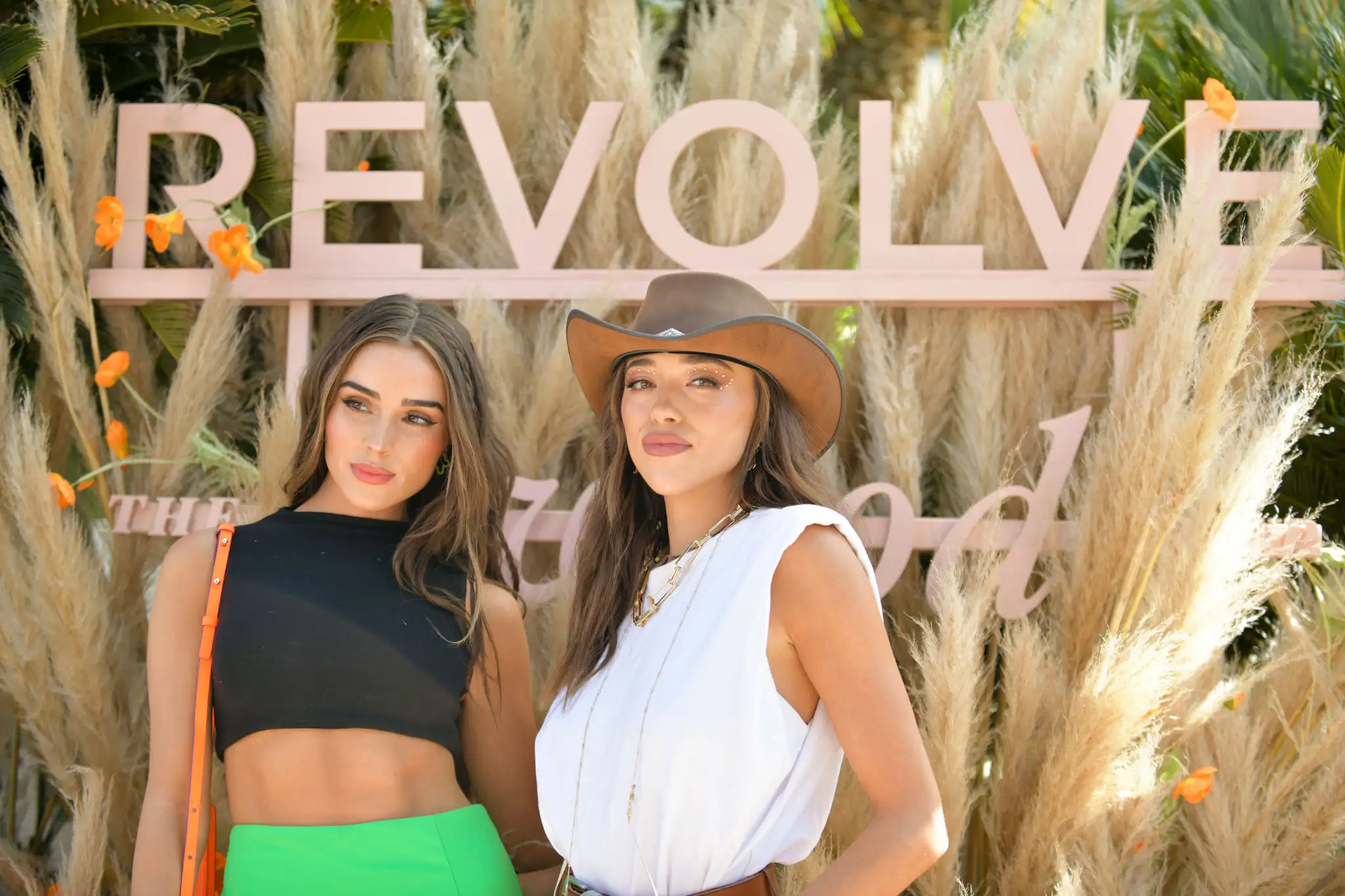 But the reality was very different, according to those who splashed a small fortune to attend…
As per MailOnline:
Several attendees at the event, which played host to several celebrities, including Kim Kardashian, Halsey, and Kendall Jenner, have complained of 'poor transportation' and 'bad management,' saying that they were stranded in a parking lot for hours waiting for shuttles that didn't come.

Antsy ticket-holders were left hot and dizzy with no water, leading to several allegedly passing out.

Some complained of 'pushing, shoving, and shouting' as influencers fought for spaces on buses when they finally did arrive – prompting comparisons to the infamous Fyre Festival and the dystopian Hunger Games series.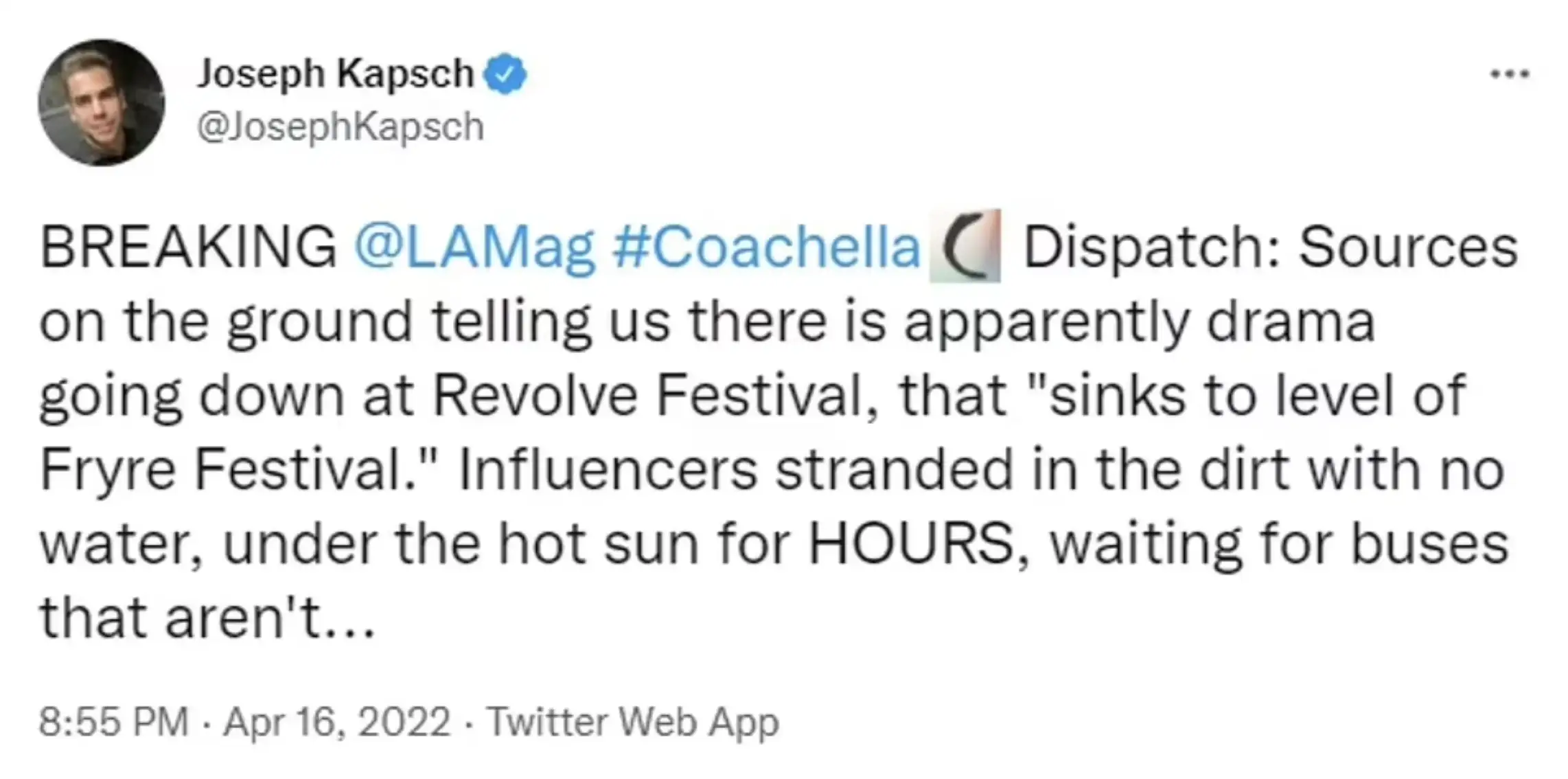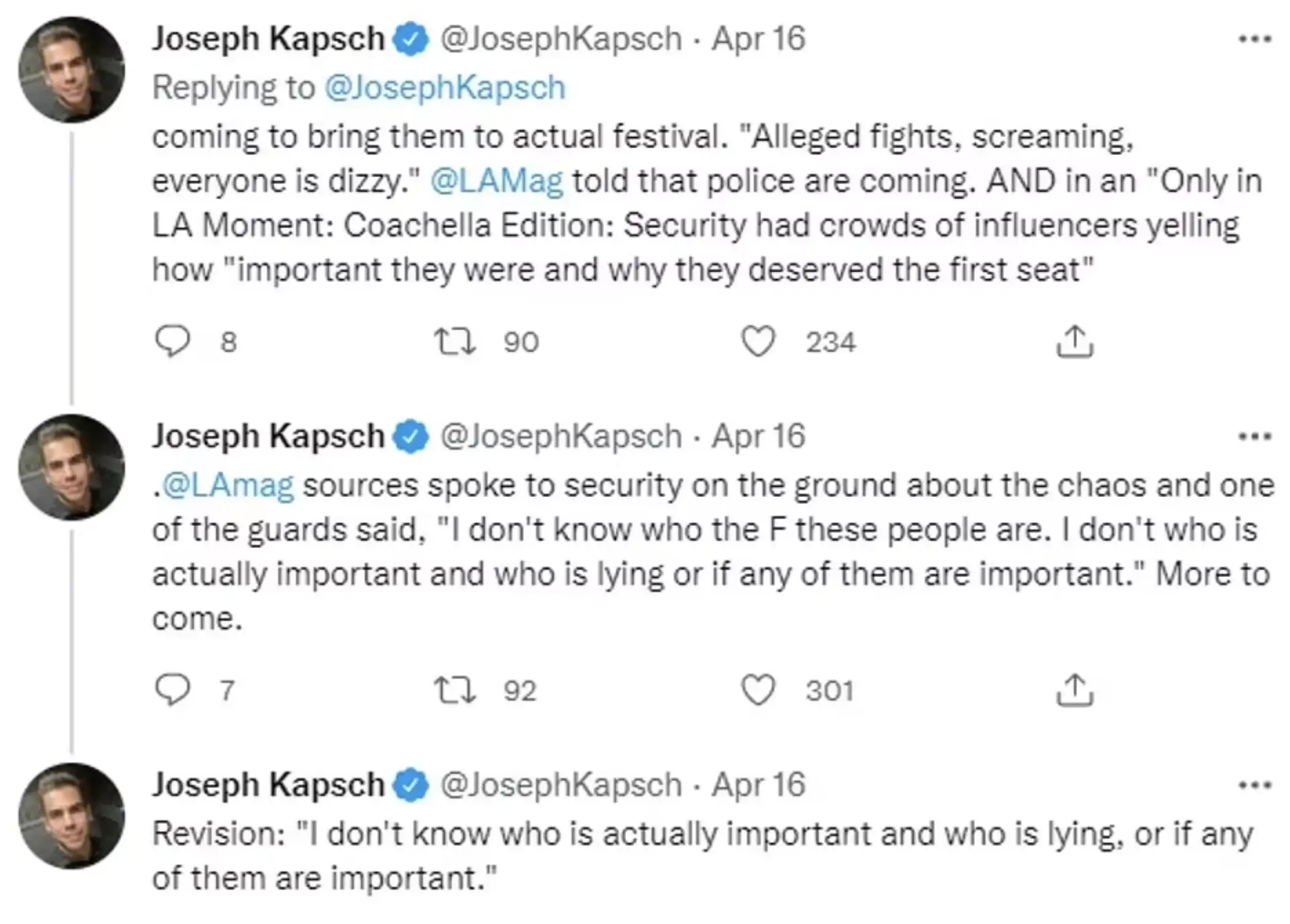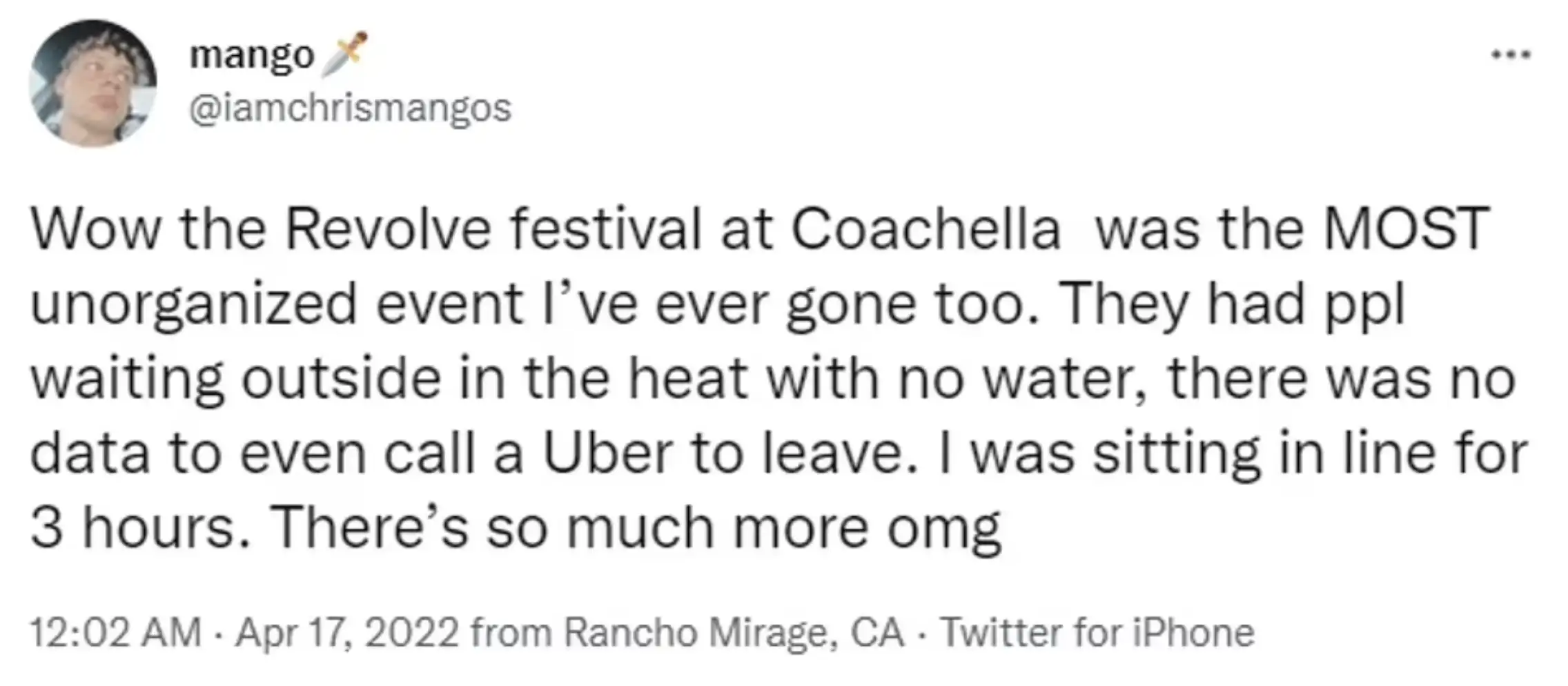 As a fashion brand, the last thing you want to do is bruise the egos of TikTok influencers who only care about two things; 1) having experiences they can show off on social media for status, and 2) mobilising their followers to destroy the lives of anyone who ruins 1). Pretty sure all these TikTok videos flying around are not what Revolve wants to be dealing with right now…
Los Angeles Magazine's Joseph Kaps wrote that there was 'drama going down at Revolve Festival' which 'sinks to level of Fryre Festival.'
'Influencers stranded in the dirt with no water, under the hot sun for HOURS, waiting for buses that aren't coming to bring them to actual festival,' he wrote, saying that there were 'alleged fights, screaming, [and] everyone is dizzy.'

'Security had crowds of influencers yelling how "important they were and why they deserved the first seat,"' he continued.

He described 'chaos,' quoting a security guard who said: 'I don't know who the F these people are. I don't who is actually important and who is lying, or if any of them are important.'

Accounts soon began coming in from influencers who were there — but never actually made it to the festival, giving up after hours of waiting.
More negative reviews from attendees:
TikToker Hannah Kosh confirmed, saying: 'You guys, it was all of that and more. People were raiding the buses. The bus drivers refused to come back. I saw three people pass out in line myself. Wild.'

Another TikToker, Kristi Howard, said she flew in from Nashville with her boyfriend to attend the event, but never got inside.

'Waiting 5 hours in line like we were told didn't get us anywhere thx to great security & organized transportation,' she said.

'Now I love Revolve, everything I wear is Revolve, but Revolve Festival was a sh**show, it was a disaster,' she went on.

Kristi insisted she's 'not entitled at all,' but there was 'poor transportation, communication, and bad management' that ruined the experience.
On the flipside, this might actually do Revolve a big favour? Any company that f**ks over a bunch of annoying TikTok influencers until they're left stranded, fighting, screaming and passing out in a car park is probably making some potential clients happy. Put a smile on our faces, anyway.
For word on how Fyre Festival's Billy McFarland is getting on in prison, click HERE.