If you're going to partake in the taboo of incest, then it probably isn't a good idea to post about it on a public social network like Facebook.
Images VIA
To be fair to 44 year old Melissa Nell Kitchens, from Weaverville, North Carolina, the message she posted on a photograph of her son – 25 year old Shaun Thomas Pfiffer – isn't that obviously trying to get into his pants, but it is really creepy and weird and now that we know that they were apparently fucking, it's pretty easy to read between the lines. Take a look at it and let us know what you think: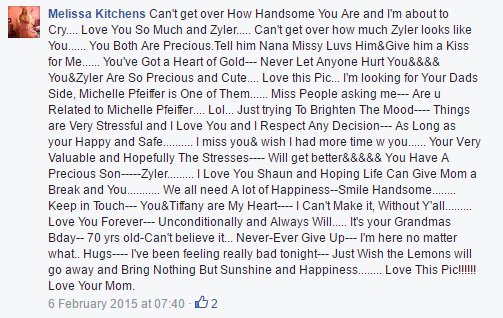 Yeah I mean, it's just kinda freaky and weird – and that's just her use of capital letters, before we even get into whatever the hell she is actually trying to say with it.
Well, I think it's safe to now say that it was some weird kind of cry for attention from her son because both of them have been rested on incest charges now. Kitchens is solely facing incest charges, whereas Pfiffer is also facing accusations of communicating threats, indecent liberties with a child and being intoxicated and disruptive. Indecent liberties with a child doesn't sound too hot does it?
Both of them are scheduled to step before a judge before the end of the month. Pfiffer's bail is an incredible $70,000 whereas Kitchens' is only $5000, which kind of tells you the difference in gravity of these crimes. I hope Zyler is OK and this messed up family doesn't succeed in completely screwing up an innocent little kid.
For more incest, check out these horrible movies on the subject. At least they're not real.