The year 9 disco – an event where grotty teenagers fill the school hall with alcopops, sexual confusion and hormones.
Featured Image VIA 
Most of the time the best you're going to get is a cheeky snog in the girl's toilets… unless you go to Norfolk grammar that is. This school's year 9 disco event page has been infiltrated by thousands of internet trolls and drug users who simply cannot wait to get off their nut.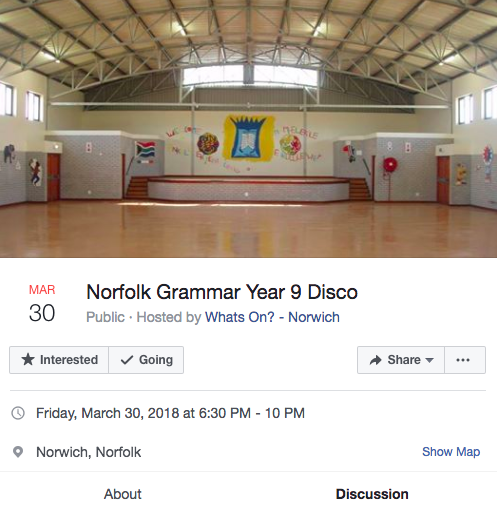 What started out as a modest evening that might've involved around 50 students has turned into a massive party, with 8,600 people confirmed to attend and 6,000 interested.





However, there is one problem, as detailed on the Facebook event page:
Please note this event finishes at 10pm and students will not be allowed to enter without the written form signed and returned to their form tutor by 21st March latest.
Something tells me those 8,600 people aren't going to have a signed consent form. Although I doubt Norfolk Grammar is splashing out on a large security team.
If you're interested and in the area then why not attend the event? It's not until Friday 30th March from 6.30pm-10pm. That gives you more than enough time to stock up on drugs and figure out your after party plans. We'll see you there.
For the music festival that managed to hold a secret rave in its filthy portaloos, click HERE.