A self-proclaimed professional life-hacker has leaked the Domino's discount codes for every store in the UK.
Featured Image VIA
Tom Church, 26, spent three months tracking down the vouchers for over 800 Domino's stores, with some of the vouchers offering up to 50% off. What's more, the tool updates daily, so they never go out of date. Tom – you might just have saved us from a very boring Monday dinner.
Apparently Tom started the Domino's project by sharing codes on Facebook:
Once a week I started to do an online party called Project D.

People would give me their postcode, and I'd find them a Domino's discount.

The Chancellor's budget means some people, especially the self-employed, will be worse off.

With this tool, I hope to help save people money so they can keep enjoying the best thing in life: pizza.

I've helped thousands of people get a code.

Usually, it's people who love Domino's so much, but can't quite afford it, or groups of friends.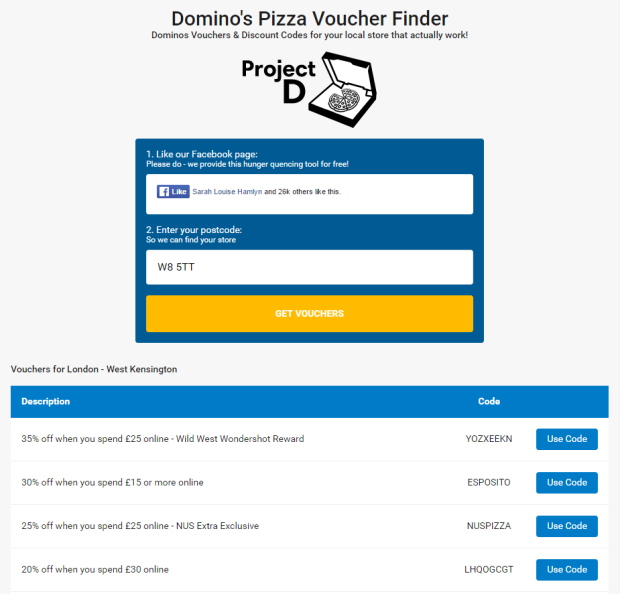 It sounds like Domino's are totally into Project D too:
We work hard to get our voucher codes out to our valued customers, and frequently use promotions to raise money for our charity partner, Teenage Cancer Trust.

We're pleased Tom is also helping people enjoy the great taste of our freshly handmade pizza, whilst donating to charity – it would be great to hear how much he raises!
I know this is only a story about pizza discount codes, but I still think this is a truly heartwarming story. I mean, Tom has carried out this altruistic task purely to help people to afford the food that they love. Tom, you're a true hero of our time.
If you would like to eat delicious Domino's pizza for dinner tonight at a fraction of the price, just head on over to Tom's website and put in your post code. Easy as pizza pie.
If you need any inspiration, take a look at this 2 foot long pizza slice.