'I went on a private tour of the Rock N Roll Hall Of Fame back with Panic! and I got to hold some lyric sheets from The Clash. They're laminated and you have to wear gloves, but to actually see those physically makes you realise that we don't do this anymore. It was such an awesome piece of history to hold in your hands.' Dallon Weekes – bass player, singer and primary song writer of I Dont Know How But They Found Me and former touring bass player in Panic! At The Disco – is talking to me on Zoom at 9am on a Thursday morning over in Utah after dropping his kids off at school and even at this early hour, his love and affection for the forefathers of rock and roll when articulating the above story is positively infectious.
Featured Image VIA
While this is already clear from that anecdote, it's emphasised even more when I ask him if he's excited about playing the main stage of the Reading and Leeds festival for the second time with his band in the next couple of weeks, stating that a couple of artists that I've spoken to in the past have told me that the experience had been fairly meaningless for them as they weren't aware of the festival's history. Dallon can barely disguise his disgust for that notion: 'I think I might need to have a little chat with those guys because that's a real shame – I guess we might have to put that down to American sensibilities and lack of knoledge,' he trails off in an attempt to be diplomatic, but not really sounding that convinced by the idea.
It's clear that the history of rock and roll really means something to Dallon Weekes.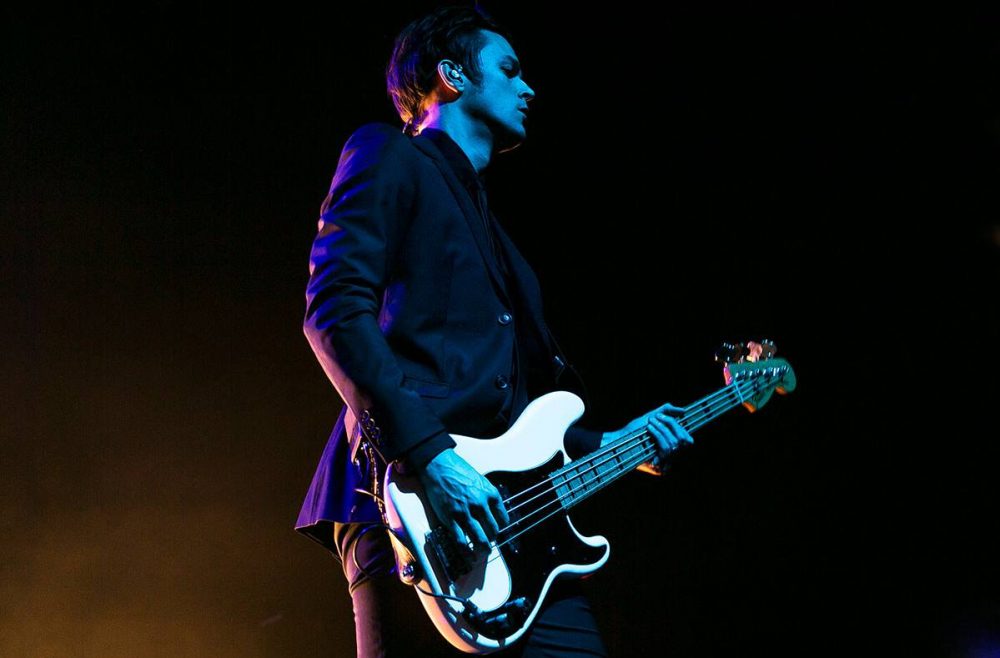 You only have to look at the trajectory of I Dont Know How But They Found Me – the lack of punctuation is deliberate, somewhat of a dig at his old gig in Panic! where the exclamation mark is so important – over the past five years from their formation to the release of their debut album 'Razzmatazz' last November to see how inspired they've been by the artists of yesteryear, not only in terms of their music but also their marketing techniques and style choices. The tunes themselves are a groove laden dance party full of catchy hooks and sexier baselines – reminiscent of a 2020 amalgamation of 80s new wave, Britpop and 70s glam – whereas Weekes has also looked to his elders in the rock scene such as The Beatles and David Bowie in creating a secret narrative through their releases that fans can spend all day and night researching and theorising upon that will only enrich their experience and enjoyment of the songs.
Bearing all this in mind, it's hardly surprising that their second single 'Choke' – released back in 2018 – now has over 100 million streams on Spotify and 35 million views on YouTube. It's safe to say that they're already well on their way to becoming a part of the rock and roll history that Weekes himself is already so enamoured by:
iDKHOW – the official abbreviation of the group – existed as a project that was two whole years in the making before Weekes and drummer Ryan Seaman infamously made their live debut at legendary dance club Emo Nite's second year anniversary in Los Angeles on December 6th, 2016 to a crowd of people that had absolutely no idea who they were or where they had come from. Instead of embracing the hype that this performance generated there and then though, the duo then proceeded to positively deny that the band existed – even when confronted with literal videos of themselves playing – whilst simultaneously gigging at their local dive bars to next to nobody in order to jam out their sound and figure out exactly how they were going to pull off these songs in the live environment.
Paradoxically, the fact that the pair vehemently refused to acknowledge that they were involved with the project – both Weekes and Seaman had fairly high profile gigs as 'hired gun' musicians with Seaman also playing in Falling In Reverse at the time – and that there was hardly any information whatsoever forthcoming about it only served to increase the hype surrounding them, leading to them becoming one of the hottest new bands on the planet. It wasn't long until their first two self released singles 'Modern Day Cain' and the aforementioned 'Choke' started to pick up some serious traction and they were signed by Fearless Records, with their first EP '1981 Extended Play' subsequently released on November 9th 2018.
After then finally revealing their identities and quitting their other bands, the duo hit the road for the next two years in support of it until it was time to record their debut album 'Razzmatazz' with former Sugarcult singer turned hitmaker extraordinaire Tim Pagnotta.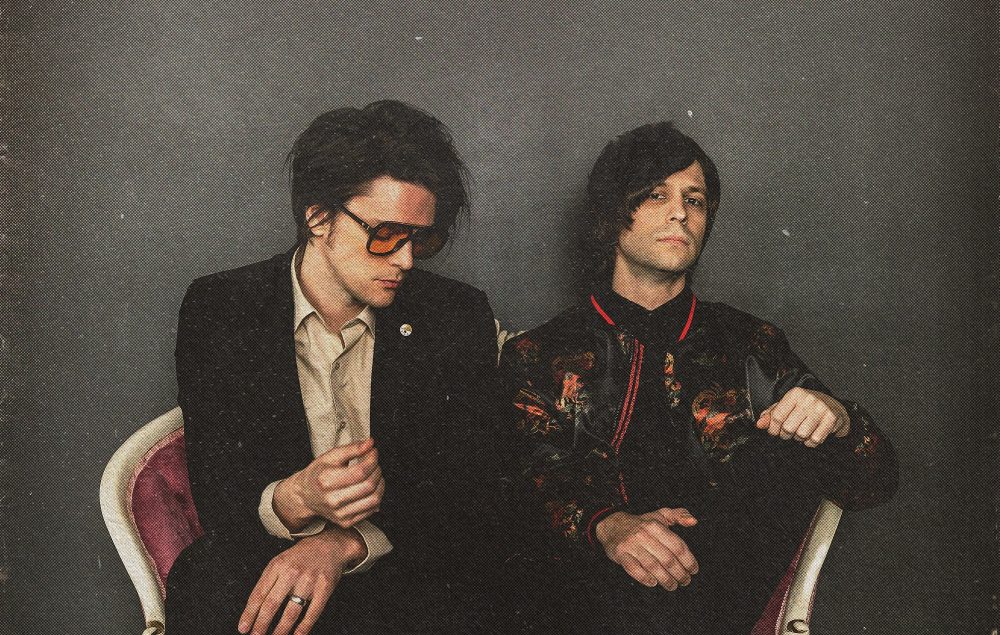 Unusually for a highly anticipated record like 'Razzmatazz', Weekes tells me that a lot of it was actually recorded at his kitchen table on his MacBook rather than in Pagnotta's California studio. 'About 75% of the sounds used on the record were ones I created myself – all the pianos, key and effects and things like that were done at home or on a tape machine and then it was just the bass, guitars, drums and vocals that were done in the studio with Tim. My ability to record myself is limited so I eventually had to take it to someone else so they could piece it together. Tim was perfect because he has this really great pop sensibility that I appreciate and I really wanted the record to be grounded in that.'
It might sound strange for a guy making what can loosely be described as rock music to admit that he wanted everything rooted in the basis of pop music for his debut album, but Dallon expands on this idea by telling me that he doesn't mean stuff that's in the charts now and 'more your new wave, aggressive, really garage music from back in the 70s', citing Elvis Costello as the perfect example. 'People have different definitions of pop music,' he explains and it suddenly makes a lot more sense, especially in the context of his love of the history of rock and roll.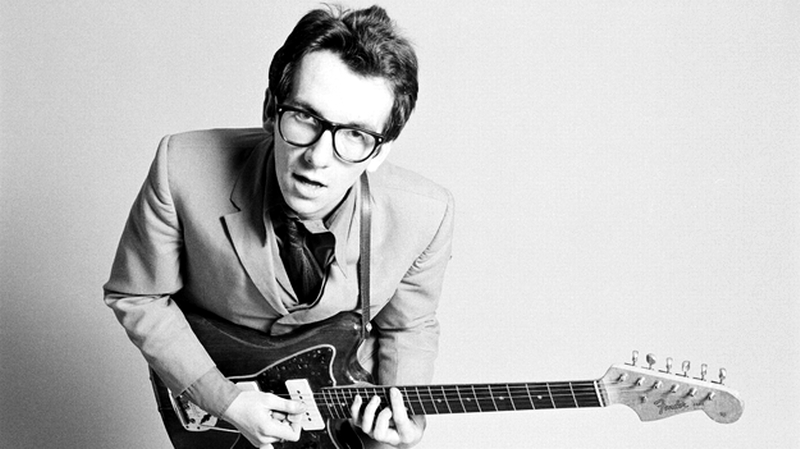 Despite the fact that musically, 'Razzmatazz' features the kind of tracks that you could whack on at an 80s disco night and wouldn't seem out of place, Weekes' lyrical content is a lot darker than you might associate with this kind of music and that also fits in with his love of Elvis Costello too. He's spoken before at length about how dissatisfied he was with the celebrity lifestyle whilst he lived in Los Angeles for ten years and the fake attitudes and personalities he encountered there during his time playing with Panic! At The Disco and he's written a lot of songs about hating people in iDKHOW related to this experience.
Dallon explains that he really detested that side of residing in Los Angeles and is much happier these days now that he's back in Salt Lake City, Utah with his wife and children. There's still more than enough bad experiences for him to draw on from back during that time though as he tells me, 'I guess it's my way of exorcising that stuff and those demons out of my mind, or a way of dealing with things in a healthy way. If you write about it then you revisit it whenever you play that song and you leave it there (on the stage), so if it is aggressive and the subject matter is dark then that's where it stays rather than in your head, you have this little piece of art that you put out into the world and that's where it stays,' and in fairness to the guy that does sound like a way more healthy way of dealing with your demons than most us probably end up handling it. As an added bonus his songs kinda rip too and he gets to play them to thousands of people every night, so there's that too.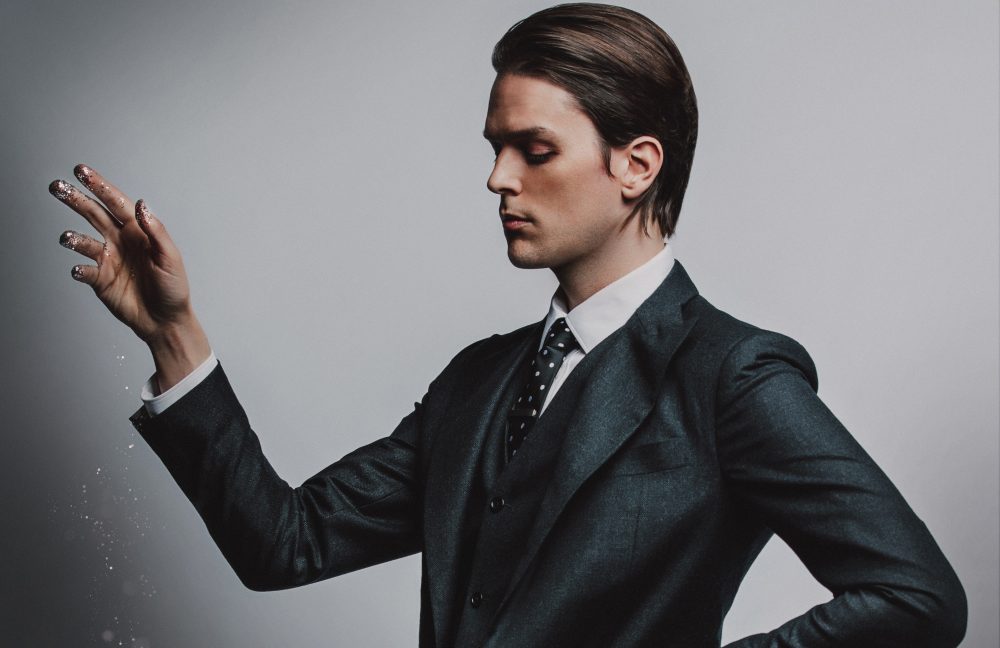 These lyrical themes continues on 'Razzamatazz', and are possibly at their most prominent on lead single 'Leave Me Alone'. The song is literally about how Dallon wants some big shot asshole who might have a lot of money but doesn't have a lot of friends to fuck off and stop talking to him and is obviously accompanied by a shit hot groove that will have you dancing and singing along before you even realise the subject matter is kinda mean spirited, although no doubt deserved. (N.B. Dallon comes across as so polite and downright nice in our conversation that it's hard to believe that any anger he holds towards another person wouldn't be justified.)
The video features iDKHOW performing whilst trapped in some kind of cage/bubble in a mysterious facility which is not only apt considering the themes of the song but also something every one of us can relate to after the past 18 months of living with Coronavirus and various lockdowns. It also serves as an introduction to how Weekes has adapted the band's narrative for the new album, but more on that later:
Major banger, although it must be said that not every iDKHOW song is quite that dark – the album also features a couple of songs that Dallon wrote about his wife – the aptly titled 'Kiss Goodnight' being one of them – and another that he wrote about missing his kids whilst on tour – the melancholic 'Need You Here' – so it isn't all doom and gloom from the band lyrics wise. It's just interesting to note when the songs are so danceable and upbeat that a lot of them convey very negative emotions as it's a major part of iDKHOW's mass appeal.
Whilst Weekes describes the studio experience with Pagnotta as generally positive and he's clearly very happy with the results, he's also not afraid to share that he had to take two weeks off during the process because he was feeling so overwhelmed by the pressure of recording a follow up to the phenomenally well received '1981 Extended Play' EP. 'The EP was something I made on my own time with no real goal in my mind other than to get those songs out and it just kinda got away from us With 'Razzmatazz' there were all these fans lying in wait to see what we were going to do. That's a weird experience, but it's a good problem to have.' Dallon can laugh about it now as it's a problem that he seems to have solved with the release of the album seeing iDKHOW go from strength to strength, but it's important to recognise that even though he may appear effortlessly cool, confident and stylish that he's a human being with the same anxious mindset as the rest of us.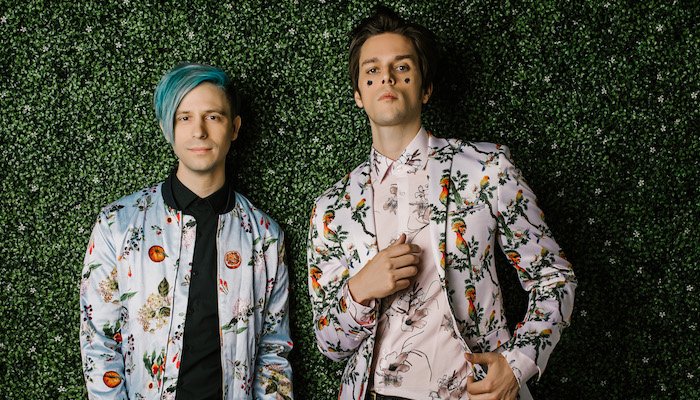 This can be seen by the reaction to lead single 'Leave Me Alone', which hit the top of the Billboard Alternative Airplay Charts back in January of this year, giving the group their first ever number one of any kind. The pair also secured their first slot on late night television with an appearance on The Jimmy Kimmel Show playing the song and again Weekes reveals his vulnerability and normality by saying that he was incredibly nervous before they recorded the song and that he thought that this was recognisable in his performance.
This is compounded even further when he tells me that because of COVID, the band didn't even end up going to Kimmel's Los Angeles studio and playing live in front of the cameras and instead just recorded it themselves at a local venue that they rented out, which I would have assumed meant that it was less of a high pressure situation. I was expecting this to actually be noticeable when I checked out the clip, but Dallon just looked the picture of hipster confidence that he pretty much always does. Take a look for yourself:
Killed it didn't he? Not really sure what he's talking about to be honest, but it's refreshing to hear celebrities talk about their nervousness as we often view them as these fearless icons that don't share the same emotions and fears as the rest of us.
Surprisingly, Dallon also once again communicates some apprehension about his upcoming UK tour in the next couple of weeks, not only because of the ever looming spectre of Coronavirus and the fact that his favourite UK restaurant Nando's had been facing a chicken shortage, but also 'because it's been so long since we've done this'. He predicts that this anxiety will probably evaporate after the first couple of songs though and he's completely right about that when I catch the band at their sold out headline show at London's Kentish Town Forum a couple of weeks later.
Dallon and Seaman completely own the stage and Weekes in particular has the crowd eating out of the palm of his hand – when they aren't singing along to pretty much every word that he's singing that is – and it's almost hard to believe that this is the same unassuming and polite guy that I talked to on Zoom a couple of weeks prior who was slightly worried about his upcoming tour. He exudes confidence and swagger and looks every bit the part in his white jacket, white t shirt and tight jeans combination, whilst simultaneously crushing all the singing and bass playing requirements seemingly without even breaking a sweat.
Judging on a performance like this, it probably won't be too long until Dallon Weekes and iDKHOW are inducted into the Rock And Roll Half Of Fame. Check out the opening song below (I've included this video to illustrate how loud the crowd were singing along to the songs, it's not great quality or anything):
Such is Dallon's charisma during the set that he even manages to pull off something that I don't think I've ever seen during all my years of attending live performances. Whilst playing a cover of the pair's old band The Brobeck's song 'Visitation Of The Ghost', Weekes splits the crowd in half – not to get them to perform the wall of death or a circle pit a la Sick Of It All or any similar hardcore/metal/punk bands out there, but instead so he can jump down into the crowd and walk up and down the length of the venue singing.
I'm not sure if it's because Dallon might not yet be in the ranks of some of the superstars of music – although given the fanatical level of support present at the show, with one person even collapsing halfway through the set because they were so excited, this might be somewhat of an understatement – but I find it amazing that nobody in the crowd breaks ranks and tries to hug him or touch him during this section. Surely if someone like Gerard Way or Jared Leto attempted something like this you would expect them to be mobbed immediately?
I'm not sure if Dallon has achieved that status yet, but it's still testament to his skill as a frontman that no one in the crowd dared go near him after he specifically said that nobody should be touching him – or anyone else in attendance for that matter – without first acquiring their consent:
iDKHOW are clearly a progressive band as Dallon was clear to tie in this section of the performance with the idea of consent – which shouldn't be an issue anymore but sadly is – and another highlight of the set came during the song 'Sugar Pills' where the band made their stance on vaccinations clear. Dallon changed the lyrics of the bridge to encourage everyone in the crowd to make sure they go and get theirs so that 'life has the best chance of going back to normal.' By the way that the new words were sung back to him, it seems like everyone in attendance was on board with the idea, but this shouldn't be a surprise given the nature of the the crowd.
The band's progressivism and aesthetic – both members have been photographed wearing makeup and flamboyant clothes – have clearly attracted the misfits/weridoes/outliers/whatever you want to call them of society (meant in the nicest possible way of course) with people of all ages, races, genders and sexualities bopping along to the songs, many of them sporting face paint of various symbols that iDKHOW have used in their albums and music videos. Again, this shouldn't be an issue in 2021 but the fact is I don't think I've ever seen two teenage boys making out at any of the 'traditional' rock shows I've been to over the years, and it's testament to the band that they've managed to foster a safe space and culture where their fans can be themselves without facing any kind of prejudice.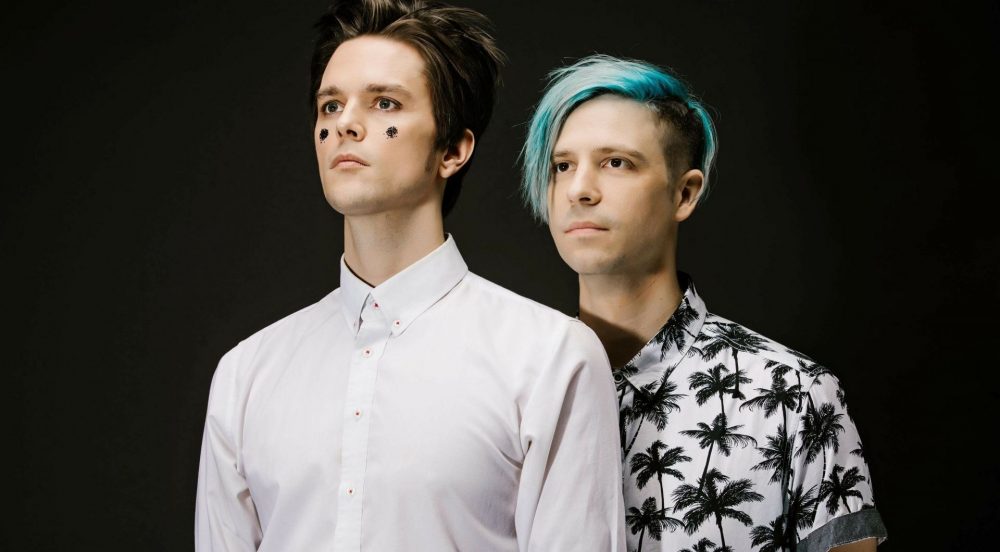 I'm not entirely sure how they've managed to achieve this inclusivity at their shows, but clearly their look and presentation has played a big part and I think the narrative that Dallon has created to accompany the songs has also had a massive impact too, leading to what can only be described as almost fanatical levels of support within their fanbase. The storyline of the band was established with their initial anonymous beginnings – it really does seem that if you don't give people any information, then the 'weirdoes' of the internet will flock together on message boards and the like to share their fan theories and investigations into the unknown – and then continued on the release of the '1981 Extended Play 'EP, with the idea that the band were originally active in the 1980s and only started to become popular in 2017 after someone found their old songs and videos and started sharing them. This was exemplified in the original video to 'Choke' which features the band playing on a 'Top Of The Pops' style foreign TV show that could quite easily have been conceived back in the 70s or 80s, with the fact that it's constantly marked with a 'Not For Broadcast' watermark only adding to the intrigue:
Almost seems like it could be real, right? For the 'Razzmatazz' cycle, Dallon seems to have expanded the narrative to include a shady corporation called Tellex that are referenced in all the latest videos, artwork and on the band's website. As far as I can tell, Tellex seem to have been involved in some kind of mass mindwipe explaining why nobody could remember iDKHOW until their re-emergence in 2017, although Dallon doesn't want to fully explain the narrative behind the records to me or anyone else at this point, but is careful to say that everything the pair of them do is deliberate and that 'there's a reason for everything, we're not being lazy'.
He also explains the psychology behind this comes from an interview with a horror director he saw once, whose name he sadly can't recall: 'the guy said something along the lines of 'the thing behind the door or the thing under the bed is way scarier until you see it'. So leaving people's imaginations to fill in those holes is an entertaining way for me to present that material.' Indeed, Dallon reveals that he's looked on Reddit and Twitter at the theories that people have developed themselves thanks to the missing information and says that he often finds them way better than the stuff that he has devised and he thinks that's completely awesome, as well as proving how invested fans are in the band and the narrative.
Weekes also explains the lengths that he went to in order to add those extra layers of depth for the fans, saying that it was 'an incredible pain in the ass' to make sure that two tracks on 'Razzmatazz' that were integral to the narrative – 'Indoctrination' and 'Tomorrowland' – were only available on physical copies of the record and not Spotify as a reward for the diehard fans eager to uncover more Easter Eggs in the storyline: 'There's just something about taking a record home, pouring over the artwork and getting lost in the album for a while. It was definitely worth it,' says Dallon, and I feel like that's a sentiment that more and more people are starting to understand and connect with these days with iDKHOW having definitely played their part in that mentality shift.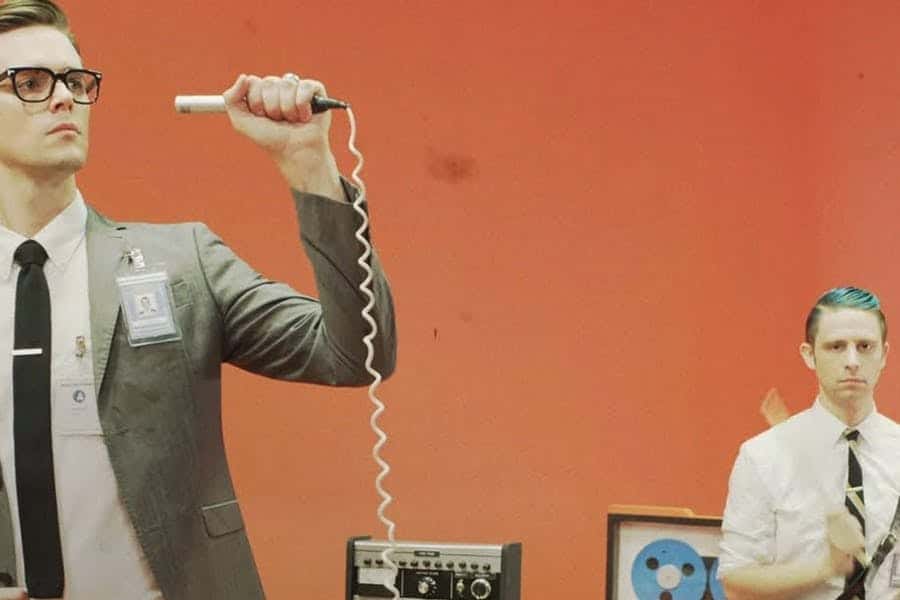 Dallon has spoken fairly extensively before about how one of the deciding factors in presenting the band anonymously and then creating these narratives was also because he didn't want to cash in on the success from his time in Panic! At The Disco or for iDKHOW to be referred to as a side project or supergroup, but he's also prescient enough to realise that he can't really talk about his current project without that coming up, especially when it comes to its origins. He's also keen to stress that Panic! At The Disco was a great job for him as he was able to travel the world doing what he loves and get paid for it, but he's also articulate enough to explain that he felt disconnected from the audience at times because he wasn't involved in the creative process after 2013's 'Vices and Vices' album. Ultimately as 'merely' a touring musician, that's all the role was for him at that point – a job – and this is why he decided to start working on his own songs with Seaman during the early days of iDKHOW.
With this in mind, I found it curious to think that Dallon had come out of Panic! At The Disco with his bass guitar and not moved onto playing regular guitar or lead guitar – not only is it probably harder to play bass live and sing, but guitarists are almost always synonymous with being band leaders/songwriters/lead singers. When I questioned him about this, again he couldn't have given me a more enthusiastic answer about his love for bass guitars, rock and roll and how he has no plans of ever switching it out:
'There was this old TV show on in the 90s called Sessions At West 54th, it was on public television on Saturday nights. Rather than partying and chasing girls, I would spend my Saturday nights watching that music show and finding new bands and stuff. I had tuned in to watch Beck play and he was on his 'Midnight Vultures' tour and the opening act was 'Ben Fold's Five'.
'I had never heard of them before and they had this band with no guitar and a bass player called Robert Sledge who was just up there shredding and doing things that I didn't know that you could do on the bass guitar. After seeing that I said that this is my new favourite band and I want to play bass forever now.'
And he seemingly hasn't shown any signs of changing his mind in the past couple of decades since that moment. Indeed, Dallon tells me that he only recently bought a guitar for the first time in a decade a few weeks ago and has never even had formal piano lessons – everything he makes in iDKHOW comes from samples in his home studio on Logic – and it seems clear that he doesn't have any plans any time soon to switch instruments and renounce the bass guitar. If anything, it sounds like he'll be out there championing it for years to come. Rock and roll.
After that revelation my time with Dallon is up, but not before he tells me that the band have already developed an album and a half of new material since the release of 'Razzmatazz'. These are the first songs that Ryan has been involved with in a songwriting aspect of the composition – a development which Dallon says he's completely stoked on – and combining this new information with their already fervent fanbase, you get the feeling that it probably won't be too long until one of Weekes' bass guitars or maybe even one of his lyrics sheets finds its way into the Rock And Roll Hall Of Fame.
And you get the impression that that's something Dallon Weekes might just appreciate more than most.