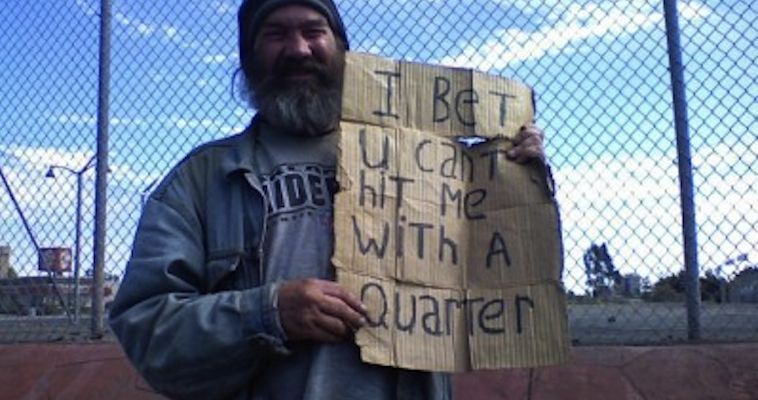 I'm a fan of documentaries. This nation is addicted to soaps. Stories. And badly managed stories at that. Documentaries are the way forward, they are full of the same drama as Eastbenders but you don't have to deal with the stilted prose and farcical retard-isms. They're as passionate as Christ but without the Hollywood sheen.
The Team follows an American team of down and outs as they embark on the 1st Annual Homeless Soccer World Cup in Graz, Austria in July 2003. None of them really know bollock all about football, they are just ultra up for not being in a doss house for a change. A European adventure. I mean, the US of A aren't exactly renowned for their football prowess are they, so this should be good right off the bat. Whether spending all that cash on flying a handful of tramps from America to Europe is money well spent is another question. But that's not why we're here is it? Was it entertaining for us lucky couch slugs? And the answer is a big 'ol "Yes Siree!"
My favourite character is Harris, he's got more of the text book homeless vibe, crazy long hair and a luxuriant unkempt beard. He's volatile but meager at the same time. A joy to behold. There's also a big old boy, Jose, who used to play for a Peruvian football team but is currently trying to ween himself off the methadone. If someone made a feature film about these guys, you would tell them to stop mucking about, but this actually happened.
The reason I decided to write a review for this film in the first place is that it gave me the holy trinity of entertainment on a stick: LOLs, WTFs and FMLs. Any film that can fold that in to my brain creases in 100 minutes is alright with me.  The idea that someone even decided to make a football tournament for the homeless is amazing. Totes amaze. I am proud of humanity if there is just one person that can be arsed to big up the tramps so thoroughly.  Honestly, you need to make a window in your life big enough to post this film through because it is a 100% winner. Football/ Anguish/ Wins/ Fails – all in a lovely little envelope of humble pie. As bleak as it is beautiful.
Thanks Harris et al, you can watch THE WHOLE MOVIE below:
[yframe url='http://www.youtube.com/watch?v=eE87ALNwdAg']