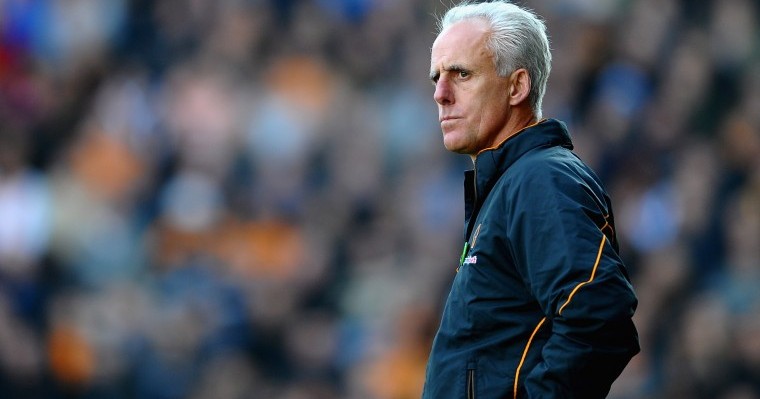 Mick McCarthy got sacked yesterday as Wolves manager (sadface), which is a terrible shame for fans of top notch post match interviews. Inspired by the worst MOTD 2 feature I've ever seen, 'The Life and Times of Steve Coppell' I thought I'd have a look back at our Mick's extraordinary life so far.
On the 7th February 1959 Mick entered the world with a roar in Barnsley. Almost immediately he found himself in the public eye as he became the first child to be born as a result of intercourse between a man (his father, an Irish coal miner) and a plate of bread n'dripping (his biological mother).
Mick's early years in Barnsley were full of the usual childhood stuff like putting in shifts mining coal with his bare teeth, going ferreting with Darren Gough and chinning yards of Tetleys.
Mick however, despite the talent he had displayed in a number of high profile village brass bands, decided football was his game and made his first senior appearance for Barnsley FC aged 9. After bumbling around the basement league with his hometown club, our kid eventually saw promotion to the old Division Two, before making it across the Pennines to Manchester City in 1983. Manchester was a revelation to Mick with its all night dance clubs, 24 hour haberdasheries and curbed pavements.
Defensive hard man McCarthy settled in a treat and won promotion to the first division with City, securing mid table mediocrity the year after. However by 1987, McCarthy was beginning to enjoy life in the city a little too much. Known to the bouncers of the Hacienda nightclub as 'Micky Sore Jaw', McCarthy was legendary for his ability to regularly complete the '10 cowie challege' on a Friday night before going straight to Maine Road and playing 90 minutes of top flight football, often chewing his face off throughout the entire match. It's little known fact, but McCarthy actually gurned his nose into the position it's in after a particularly stimulating night of acid house. However, when City manager Mell Machin caught Mick injecting ketamin into his scrotum before a Milk Cup tie, he acted fast selling him to Celtic in a bid to remove him from the clutches of Bez and Eboneeza Good.
Up in Glasgow silver wear was plentiful and Mick's form was good, though after two years McCarthy was forced to flee the UK as he and Geoff Boycott were papped by the Yorkshire Evening News spit-roasting Aunt Bessie, the Yorkshire Pudding magnate, at a village fete just outside Wakefield.
Fortunately daft Frenchies Lyon took him on for a year as the fallout subsided and he busied himself with learning the harp. Mick's return from France coincided with his greatest playing achievement, leading Ireland to the World Cup Quarter finals as 'Captain Fantastic'. A footballing visionary, McCarthy ended the tournament with the most fouls committed after offering a master class in defensive cynicism – a prototype Mark Van Bommel if you will.
He slinked back to the UK and remained incognito for the rest of his domestic playing career by eating loads of jellied eels, getting involved in illegal urban blood sports and frequently hating on them cursed Hammers as he turned out for Millwall FC. That was the end of the road for Mick the player as he took up the managerial reigns and he started well, missing out narrowly on promotion. He then gambled on the loan signings of a couple of ageing ex KGB members that he was paying 5 times more than the rest of the squad. The Russian bastards were absolute pony and Millwall descended into financial ruin and relegation. Mick however got offered the Ireland job so he didn't give a shit.
Despite having to play Kevin 'sKillbane' in every single game Mick was alright at being Ireland manager. He eventually led them to the 2002 World Cup having tickled Holland's arses a couple of times on the way and beaten Iran in a ruddy play off (crikey!).
Shit however got crazy before a ball had been kicked as Roy Keane, a journeyman wall flower with no notable talents, wet willied Mick as he was supping his morning Bovril. The dangerously ill timed prank meant Mick's meaty brew went fvcking everywhere. An argument ensued and Keane famously yelled, 'You're a fvcking wanker and you can stick your Bovril up your arse', before bizzarely adding 'you can stick it up your bollocks' (whaaaat Roy?) and leaving South Korea in a right huff. McCarthy ploughed on regardless and after all sorts of highs and lows got knocked out by them Spanish lads on penners. Devvo'd.
Mick was so sad about the World Cup incident and some crappy form soon after, he decided to punish himself by becoming Sunderland manger. Relegated from da Prem, he managed to get them back up at the second attempt, 'cos he is absolutely boss in The Championship. Things went tits up again though as the rise of 'Nu-rave' in 2006 saw Mick slip back into his old ways. As his Sunderland side were on their way to collecting the lowest ever points tally in the Premiership at the time, he was often absent and seen drinking the contents of glow sticks at New Yound Pony Club gigs and borrowing money off Gavin McCann to buy wraps of speed with.
From there our lad turned up at Wolves, turning them into a Premiership force before the winds of change struck again. Fortunately the wonky faced bastard will be back with us soon no doubt, after getting gritty in The Championship for a few years. Here's a couple of old favourite video's to enjoy including a special Valentines day gift for all you honeyz out there.
[yframe url='http://www.youtube.com/watch?v=Li4GfSsJxpk']
[yframe url='http://www.youtube.com/watch?v=0OQT1psCoAc']]
You're welcome.
Tell Pete he's a schmuck on Twitter.