The Great British Bake Off jerked back into life yesterday, gracing our screens once again on BBC 1 for it's 6th series. I'm not a baker by any stretch of the imagination, but I like cakes and I like to think that I'm open minded enough to enjoy things outside of my usual areas of expertise or knowledge. However The Great British Bake Off was exactly what I suspected it was going to be; pretty much Strictly Come Dancing with cakes except without Bruce Forsyth and with an added dose of patriotic condescension. I'm all for patriotism, I love the UK and fully intend to live here until I'm 90 and need a helping hand to wipe my own arse. However The Great British Bake Off feels the need to constantly remind you that you're British and therefore "great", and it does it in the type of subtle but sickening condescending manner that makes even the most patriotic among us feel like they've had a teaspoon of red, white and blue icing sugar gently but forcefully tipped down their throat.
Featured Image VIA
The main thing that bugs me about this show is the format, which honestly has to be the most over-used TV show format of all time. If you're not familiar with the show, basically the contestants go through rounds of baking challenges week after week until there is a winner. Yeah, where have you seen that before? The use of this format means that the show either has to be centred around something really interesting or the judges/presenters have to be on top form in order to make it entertaining. Unfortunately, TGBBO accomplishes neither of those things.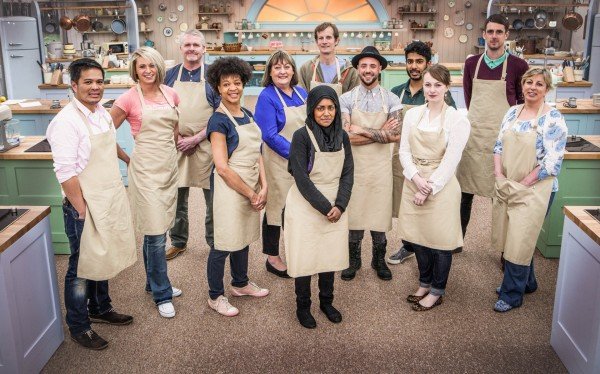 Everyone likes a good cake, so it would make sense for people to be interested in how to make them but I'm going to honest, baking isn't much of a gripping topic matter. It's different compared to cooking shows because with cooking there is such a wide variety of things to be made and lots of different ways to cook them, whereas with baking, it's pretty much just different flavours of sponge or whatever with icing or another slightly different topping. What this leads to is the show pretty much being an hour of literally watching cakes rise, and then watching the judges eat them which isn't exactly my idea of a nice night in front of the TV.
Image VIA
Ah, the judges. Paul Hollywood, the male judge, reminds me of a hair gel iceberg sprayed with fake tan, one that melts a little every time fruit is cut too large and sinks to the bottom of the mixture. Meaning that by the end of the series I fully expect to see the production team furiously stirring flour into his melted remains in an attempt to thicken him up and get him fit for broadcast. Mary Berry is his fellow judge, and has the kind of leering smile that would get her arrested if she pulled it within 500 metres of a primary school. They both saunter around the big white marquee where this show takes place passing their judgement, with Paul attempting to be a Simon Cowell-esque meanie but failing, primarily because there's a limit on how stinging it can be to tell someone that their buttercream is uneven. It seems like the producers recognized the flaws in their judges, and attempted to bolster the entertainment value with the two hosts, Mel Giedroyc and Sue Perkins. They both seem like nice people, and I admire their attempt to breathe life into a somewhat stale show. But the whole arrangement reeks of 'too little too late' with the two of them coming across as unnecessary and more of an afterthought hastily stuck onto the end as opposed to presenters who play an integral part in the show.
Despite all my criticisms, the show is ridiculously popular and has won 2 BAFTAS so it turns out the British public have a soft spot for bad TV. The Great British Bake Off no doubts represents a decline in television. You'd have thought that in an age of really, really good episode driven TV shows such as True Detective, Game of Thrones, Breaking Bad, the BBC could come up with something a little more original and substantial that yet another reality TV show re-skin that pretends to be something it isn't: entertaining. Regardless, have a look at these Game of Thrones tattoos to soothe the long wait till season 6 because The Great British Bake Off certainly won't be stepping up to that challenge.