It's true that we don't tune into The Jeremy Kyle Show for inspirational stories that will motivate us through our day, but even so this tattoo featured on the show today is too grim not to mention.
It belongs to the woman you can see above whose name is Heather and was appearing on the show to prove that she hadn't cheated on her boyfriend David, despite the fact that he openly bragged about having cheated on her at least four times. A real catch there.
Anyway, despite the fact that they had only been going out for 56 days, Heather decided to get David's name written on her stomach with an arrow pointing to her vagina, indicating that he owned it. That's gross enough already, but when you see how awful the tattoo looks then you'll really be wondering just what the hell she was thinking with this one: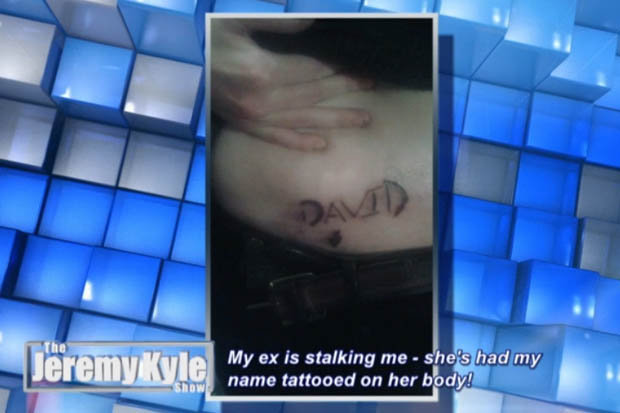 Images VIA 
Absolutely godawful, like actually retarded. Why in the hell would you let anybody do that to you? Makes absolutely no sense whatsoever.
They also had the tattooist on the show – some guy called Carlos – who tried to defend his work by saying that Heather wriggled too much. Pull the other one mate.
Watch below:
Well yeah, quite. I'm not surprised Jeremy Kyle had to sit down on the floor because those three are some of the most awful people I think I've ever seen on the show.
If you care, it turned out that the girl hadn't slept with anyone else when she took the lie detector test. Unfortunately though she still has that awful tattoo and there's not really anything anyone can do about that.
It might not be as godawful as these ones though.