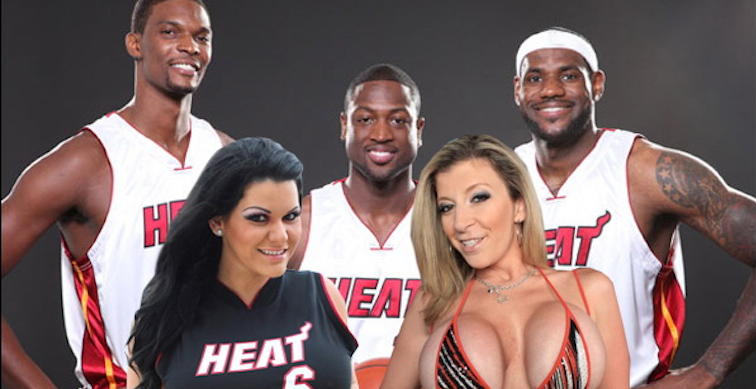 So Rafel pointed me in the direction of this site yesterday, perhaps indicating that  I could do with a blowjob. Little does he know I got one last week. But anyway having checked out this website (or maybe just webpage, I think it's just one page?) I knew I had to write something about it because it's completely outrageous and kind of cool and gross/depraved in equal measure.
Basically these two sluts (don't bang on at me about being sexist here because there is NO WAY you can't call these two women sluts) called Angelina Castro and Sara Jay are offering you a free blow job if you follow them both on twitter. There's some talk of breaking the world record for the most blow jobs ever in one place at one time too, but that doesn't seem that important to them as they'll turn away people who show up who aren't following both of them twitter, and like if you were really going for a blow job world record I don't think you would be turning people down, right? This is all about improving their social media presence. And maybe selling some DVD's of the event afterwards.
Apparently the whole idea came about when Angelina Castro and Sara Jay – who are both smut stars, obviously – decided to give the fans of the Miami Heat basketball team a little treat during the playoffs to say thanks for sticking with the team during all the tough times or whatever. I don't think they actually have any affiliation with the Heat though, apart from the fact they both live in Miami, so I'm not really sure why they would do that or anything. Other than to get more twitter followers obviously.
They said that if the Heat managed to win then they would give ALL the Miami Heat fans who followed them on twitter blowjobs. This wasn't even like a dumbass bet that went wrong either – everyone knew the Heat were gonna win because they've got Lebron and Chris Bosh, it was obvious. So basically what you have essentially is two smut stars who are going to give guys blow jobs if you follow them on twitter. Pretty sweet deal huh? I mean these women are smut stars so they know how to suck a dick so it's probably going to be the best blow job you've ever had and all you have to do is have them on your twitter feed for a bit. Seems like a no brainer, and you can probably unfollow them straight after you shoot your load in their face if they're clogging up your feed or whatever.
However, of course it isn't that easy as just turning up and getting a blow job and leaving. I mean sure you don't have to do any cuddling or spooning or listen to how their day was (although 'yeah honey I sucked about 300 dicks before lunch' is probably just about more interesting than 'Oh Stuart in accounting stole my stapler') but you have to pay for an STD test beforehand and also consent to being filmed for the DVD and possibly live streamed too. Although you are allowed to wear a mask when you're getting your blow job, which is kinda kinky but also kinda considerate for all those guys with small peckers out there who don't want their friends who are watching the LIVE STREAM finding out about the little guy. I was just thinking if I had any friends who I think would be watching something like that and I don't THINK I do, but then I realised if you're a guy who's going to go get a free blow job off a smut star because you follow them on twitter then you probably have friends who are going to be livestreaming that shit too. Birds of a feather flock together yo.
But if you think about it there are a lot more questions that arise from this as well, like how can these two girls guarantee that they'll be able to suck everyone off? I don't know how long the average blow job takes but sometimes it takes me a while to get off, you know? I mean granted these girls are probably experts but really, can they guarantee that they'll be able to get everyone seen to in this period? I checked Sara Jay's twitter and she has almost 300K followers – what if they all show up looking to get some dome action? There's no way they'll be able to get through all that.
Also, unless you're a professional smut actor wouldn't you feel kinda gross getting filmed having a blow job? Especially if there are loads of other dudes in a line waiting behind you for their turn. You kind of think they might do it in a private room but I thought maybe they would do it in a big open plan room so they have somewhere to put all the spunk. I mean they can't be expected to SWALLOW it all can they? There's no way that much semen would be good for your body.
See, so many questions and I've only really been thinking about it for a couple of minutes. I guess the main one though would be DO YOU WANT TO BE THE GUY WHO DOES THIS? I mean as cool as it sounds, it's probably cooler to get a blow job off a hot girl you like, or even a hot girl you don't like. Or maybe even a prostitute, I mean at least you're paying her in cold hard cash and not social networking kudos. I mean it's a system that, albeit gross, is kind of accepted in modern day society whereas this is totally new and frankly kind of weird. How can you be so desperate for followers, you're literally willing to suck someone's dick to get them?
As well, I can't really imagine talking about it afterwards to anyone and everyone knows that's probably the best part of getting a blow job. You know, telling your buds at the bar afterwards how you picked up some girl at your local Wetherspoons and she couldn't wait until you got ome so she  gave you a blow job in the corner of the car park. The lads love that shit. I can't really imagine someone asking me how my weekend was and saying something like 'well yeah, I just started following this girl on twitter, so I drove over to this huge warehouse full of other dudes and waited in line until she gave me a blow job. It was gnarly.' I imagine the blank look of puzzlement and revulsion on the face of most people after telling that story would be at least equal to the one that was present after telling the Wetherspoons story.
So is this a cool idea or just completely weird and gross? I can't decide, let me know what you think. If you're interested in participating all you need to do is get to Miami for August 2nd  and follow these two babes on twitter  @SaraJayxxx and @AngelinaCastroX . Check out @timw_brap too. Also make sure you get tested otherwise your dick isn't going anywhere near those babes, and well I guess it would be kind of a wasted trip for you to go all the way to Miami and not even get that blow job. Although I'm sure if you're an English dude in Miami it isn't hard to get a blow job.