In a recent bid to watch the pennies and the ever-expanding waistlines (caused by a love of takeaways, pub food, Christmas dinners, mince pies & selection boxes) the boy and I decided to get our arses into gear and start cooking. Following in the footsteps of my hero (well if my review of his restaurant is anything to go by) Jamie Oliver, we made his delicious yet simple 30-minute chicken & mushroom pie, minted peas and carrot mash. As a popular stocking filler, 'Jamie's 30 Minute Meals' is an absolute godsend for those averse to cooking. With uncomplicated recipes for scrumptious comfort food, anyone has the capacity and time to rustle up a quick meal to impress friends and family.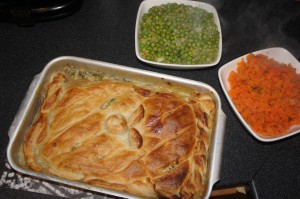 But because we are so techno-savvy, we opted to create the pie and side dishes by watching Jamie on YouTube instead of using the cookbook. Seeing him doing it at the same time makes it a lot easier to follow (although we did have to pause it many times to catch up). If you want to follow by our example, watch it here:

httpv://www.youtube.com/watch?v=h_VNuW23lD8
INGREDIENTS: (serves 4)
CHICKEN & MUSHROOM PIE:
4 x 180g boneless chicken breasts
Knob of butter
Bunch of spring onions
150g button mushrooms
1 heaped tspn plain flour
2 tspns English mustard
1-heaped tbspn crème freche
300ml chicken stock
Fresh thyme
½ nutmeg
Puff pastry
1 egg

MINTED PEAS:
Knob of butter
1 tbspn flour
300ml chicken stock
Bag of frozen peas
Fresh mint
½ a lemon
2 little gem lettuces
CARROT MASH:
Bag of carrots
Fresh thyme
Ingredients assembled, it's time to get cooking!!
Follow this quick & easy step-by-step guide:
1) Turn oven to 200C/ 400F.
2) Fill & boil kettle.
3) Put a large pan on a medium heat & a medium saucepan on a low heat.
4) Cut chicken into 1cm strips.
5) In a saucepan of oil & butter, cook the chicken for 3 minutes.
6) Throw in spring onions & mushrooms.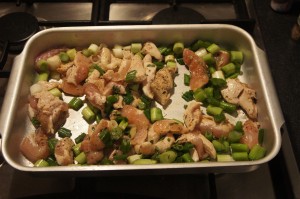 7) Add heaped tbspn flour & stir.
8)Add 2 tspns mustard, 1 heaped tbspn crème freche & 300ml chicken stock — stir.
9) Stir in thyme, nutmeg, salt & pepper.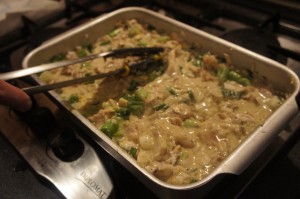 Next is the Minted Peas and Carrot Mash.
10) Chop the carrots and toss into the saucepan with a lug of olive oil, thyme and salt & pepper.
11) Cover with boiling water & cook for 15 minutes until tender.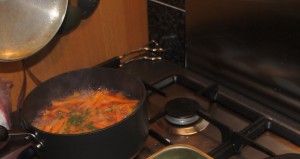 Back to the chicken pie,
12) Unroll sheet of puff pastry on to floured surface, lightly score it with a knife.
13) Pour chicken filling into baking dish.
14) Cover with puff pastry.
15) Brush a beaten egg over the top of the pie.
16) Decorate with a pastry flower (as seen below).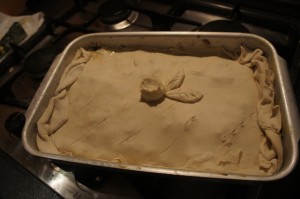 17) Pop it in the oven for 15 minutes.
18) Re-boil kettle.
19) The minted peas are then cooked in a pan on a high heat with a knob of butter, 1 tbspn of flour and 300ml chicken stock.
20) Add lettuce and mint leaves.
21) Squeeze in lemon, a splash of boiling water and seasoned with salt & pepper.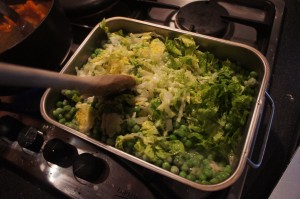 22) Drain carrots and mash up.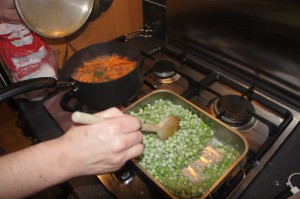 Et voilà : a yummy chicken & mushroom pie with delicious accompaniments in (just over) 30 minutes.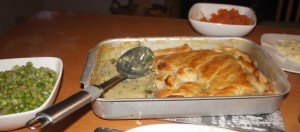 Although I must confess, despite making it for just the 2 of us, we followed the guidelines to a tee & made enough to feed a small army. After 2 portions each, we covered it up and ate it for lunch the next day. So the ever-expanding waistlines were, ever expanding once again.
Ah well, there's no harm in letting the diet begin a bit later in 2011!