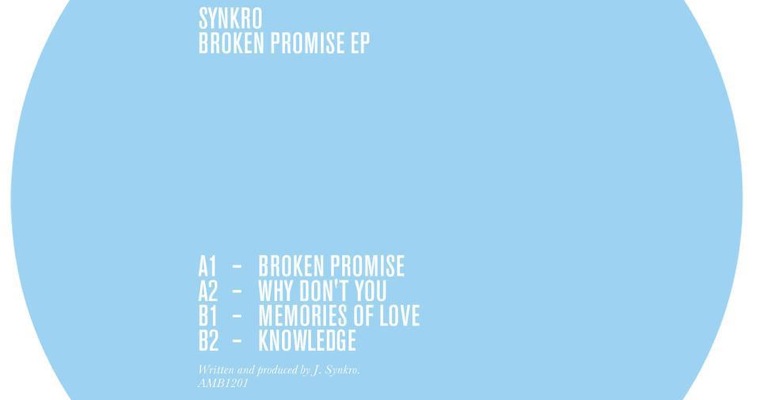 Synkro – Broken Promise EP – Apollo Records – 2012
Synkro has been producing for a good few years now. I first picked up 'Everybody Knows' in 2008 and was instantly excited by the depth to his tunes. Rolling, dark but also melodic and emotionally charged, they were a little rough around the edges but quite different from the other 140bpm-ish tracks of the time, and a hell of a lot more soulful.
Since then he has enjoyed releases on D Bridge's Exit records, as well as Blackout Music, Box Clever and other similarly forward thinking labels. His new EP, on R&S offshoot label Apollo, has just been released. Read on for an exclusive track by track review:
Title track Broken Promise leads with a muted kick drum and builds from there. Synkro's mastery of vocal samples is matched only by Scuba, Burial and Phaeleh and these skills are in full effect here. Pitched echoes of 'do it' are layered with fizzy pads, cosmic swirls and other astronomic niceties. A simple junglistic bass rolls throughout, but it is the progressive layering of horns, piano and pads that make you realise this track could potentially never end – in the best possible way.
[yframe url='http://www.youtube.com/watch?v=gifyYQ4uFQE']

Why Don't You is the standout track on the EP. Reversed, crackled chords and an oddly familiar beep – MSN messenger anyone? – hold the whole thing together, but it is the RnB groove (complete with an oh-so-sexy reversed cymbal), a scattering of guitar licks and luscious male vocals that define what this track is all about – pure sex. As the sample says, 'mmm' – this is 21st century bedroom music.
[yframe url='http://www.youtube.com/watch?v=7I8DecdHBVc']

Memories of Love has more depth than a Buddhist monk on DMT. If the choiral pad, continuously looping from beginning till end, doesn't get you then the snatches of a female voice running though the days of the week (I kid you not) most definitely will. Arpeggiated beeps and the gentlest of percussive clicks and claps reveal an auditory depth of field that's rare to find in any kind of production these days. This isn't just stereo – this is Super Hyper Dolby 700,000.1 Surround Sound Stereo.
[yframe url='http://www.youtube.com/watch?v=wD2ouA3hQjw']

Knowledge is the weakest link of the EP. Depth should not be confused with sparsity, and sadly the latter seems to apply too much here. NASA command centre vocal samples and floaty pads combine with an (admittedly lovely) tribal beat, but this never feels like it properly gets going. Snatches of a sublimely rolling bassline are too much of a tease and at 7 mins this is overly long, adding to the feeling that it is actually an artist's 'experimental soundscape,' as opposed to a completed song.
[yframe url='http://www.youtube.com/watch?v=1hZkTSblU5w']

Overall Broken Promises is a devastatingly deep EP. Despite the slight disappointment of Knowledge, the EP presents four very different but very identifiable songs which reflect the culmination of Synkro's learnings over the last few years and mark out a new level of maturity in his productions. Throughout I've been praising Synkro's depth of sound – both emotionally and technically – and all four tracks have this in abundance. If Synkro continues 2012 in this way we should all be very thankful indeed.