To celebrate the ongoing relationship between the well-loved brands Stussy and Nike, they have once again joined forces. They've only gone and treated us to a new varsity jacket and a pair of fresh Stussy enhanced Nike 'All Court Mid Supreme' trainers.
The co-lab comes as part of Stussy's 30 year anniversary celebrations, and over these years (as you may or may not know), Stussy have become somewhat famous for their varsity jackets; especially their tribe series in which their varsity jackets became an iconic piece of attire for many underground 'tribes'. Their co-lab with Nike's 'NSW Destroyer Jacket' produced this technologically advanced varsity… and if you have any grasp of streetwear you will probably think this is a fvcking sweet piece of outerwear.
As part of the Stussy/Nike collaboration, the team also created 2 pairs of 'All Court Mid Supreme' trainers. This brought streetwear and sportswear together in a wonderful collision creating a piece of footwear EVERYONE should want in their wardrobe. Nike/Stussy have produced the shoes in both black and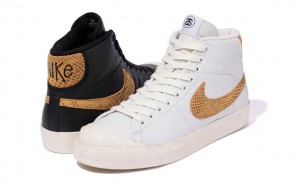 white (catering for everyone's needs – thoughtful of them) leather. The famous Nike tick and branding on the back of the shoe are both in gold snakeskin, and the stussy logo is printed on the front of the tongue. The trainers are something both companies should be proud to have designed – they have managed to in-keep with both of the companies famous styles, and still produce something that is wearable and extremely desirable.
The Stussy/Nike co-lab items hit stores on December 4th, so keep an eye out to see if you can grab yourself a piece of this capsule. These items are definite contenders for the top of my very, very long Christmas list!