It hasn't been a good week for President Donald Trump (I can still say that right now, but only just) after he was last week banned from pretty much very social media platform and then ended up getting impeached last night – becoming the first President in history to be subject to the impeachment process twice.
Featured Image VIA
At the time of writing, one of the only platforms that hasn't yet banned Trump from its service is the notoriously sleazy Only Fans, where fans usually pay a monthly subscription fee in order to see sexy photos of their celebrity crushes in lingerie and sometimes even straight up nudes. This might not sound like the kind of platform that would be appropriate for Trump, but given his recent troubles it may be all he has left – and dating site DatingRoo have also conducted some research which suggests he might do rather well out of it too.
DatingRoo used search volume data to create the definitive list of celebrities over 60 who were searched for alongside the terms 'naked', 'shirtless' or 'topless' and surprisingly Donald Trump was the most sought after male in this category. Can't really believe that myself unless it's in an ironic way – there are a lot of articles out there dedicated to Trump's small ass chode of a penis and he's a major fatass so seeing him with his top off would be kind of funny sure – but I guess you can't argue with the data. Must be for the jokes though surely.
Anyway, with the amount of social media followers that Trump currently has – or had I suppose these days lol – he could stand to make $7.9 million from opening up an OnlyFans account. Thankfully, the other celebrities in the over 60s bracket that people were searching for were a bit more traditional, as you can see below: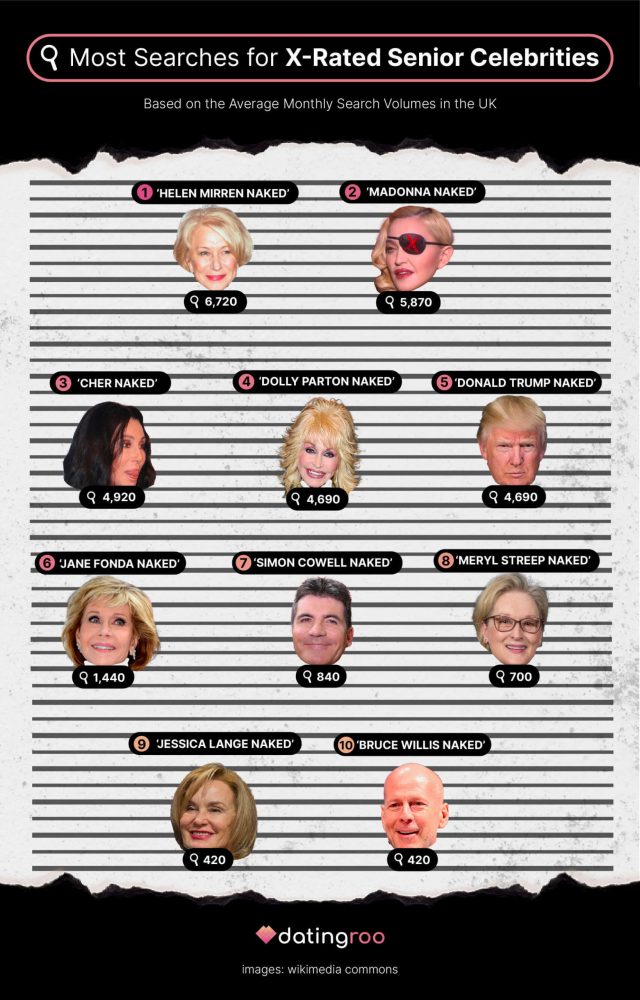 Sadly, one of the other celebrities have anywhere near the amount of social media followers as Trump – although maybe they do now lol – so they wouldn't be able to make the millions that he would, but I doubt any of them would even entertain that option. Come on, Helen Mirren is way classier than that, right?
For more of the same, check out this female football player who started an OnlyFans after getting released from Charlton Athletic and absolutely killed it. Such a great way to make money.